Spot US Corn Futures Reach $5.40,CONAB Cuts Brazilian Crop Estimates Slightly;China Corn/Soymeal Set Record Highs
AgResource Farm Marketing Advice for Wednesday: 1/ No new advice.
6:30 AM CBOT Prices: March soybeans are up 4.50 cents to $14.225, March corn is up 20.50 cents at $5.375 while March Chi wheat is up 9.75 cents at $6.7475.
AgResource AM CBOT Comment & Analysis: Good Morning! CBOT futures continued their bullish romp on USDA's January data with March corn rising to $5.41 – the highest price since July 2013. Soybeans and wheat futures have been followers with March soybeans reaching $14.365 and March Chi wheat $6.8075. The next upside price target for March soybeans is $15.32, the April 2014 price peak, while March Chi wheat targets $7.35, the May 2014 peak.
Tuesday's open interest (OI) exploded upwards with the bullish USDA report as new buyers entered the CBOT marketplace. Corn OI rose 39,138 contracts with soybeans up 2,051 contracts and wheat up 1,957 contracts. A short-term top will not be formed unless CBOT OI falls for a couple consecutive days.
Although CBOT corn is showing the most impressive gains overnight, it's the soy complex that has the biggest demand rationing chore ahead. USDA's 2020/21 soybean export estimates are woefully too low at 2,030 Mil Bu (95-150 Mil Bu too low) while price relationships today do not allow for South American soybean imports. ARC sees 2020/21 US soybean stocks at 0-50 Mil Bu while corn is at a tight, but manageable 1,050 Mil Bu. It's the soy complex that must seek higher prices to shock end users into curtailing their use of oil/meal.
The Argentine Gov't has ended its effort to slow corn sales by abandoning the 30,000 MTs limit on daily registrations. The Argentine farmers are claiming victory following a planned sales strike of corn. As part of the deal, the Argentine Gov't will form a commission to monitor domestic corn prices to assure ample domestic supplies at stable prices. Based on tightening supplies of global corn and adverse Argentine weather, ARC fears that the Argentine Gov't will find new methods to restrictive Argentine ag trade.
China's Dalian corn/soymeal futures pushed to new historic highs overnight. May DCE corn gained $.19/Bu to $11.38 while May DCE soymeal rallied $16.10/MT to $576.20/MT. Dalian soyoil also closed higher maintaining a positive crush margins on imported soybeans. This keeps China's crushers active buyers!
March Paris wheat futures are trading up €4.00/MT at €228.50/MT their highest spot futures price since 2013. EU wheat traders are closely watching for Russia to raise its export duty in coming days with it lasting into new crop.
The South American weather forecast offers one more rain for Argentine crops on Thursday/Friday before a lengthy period of dryness that lasts into late January. N and C Brazilian soybeans will see near to slightly below normal rainfall and seasonal highs in the mid 80's to the upper 90's. Any coming heat (90's/100's) will be focused on Argentina during the 6-15 day period.
CONAB estimated the 2021 Brazilian soybean crop at 133.7 MMTs on a yield of 51.9 BPA and area that was up 3.4%. The slight fall in the crop was well within industry expectations. The Brazilian corn crop was estimated at 102.3 MMTs on a yield of 141 BPA on area that was steady with 2020. ARC sees the near record Brazilian soy yield as too high by 4% with a crop of 128 MMTs.
Russia is planning to place export taxes on barley and corn, in new restrictions to trade. Russia is trying to preserve domestic grain supplies in an effort to battle deepening dometic food inflation trends.
AgResource maintains a bullish outlook with all eyes on S American weather and Chinese buying. NOPA will be out with another record crush report estimate on Friday. Corn will find follow through buying today, but its soybeans that hold the most upside price potential in coming weeks on the acute need to slow US soybean crush and export rates.
South American Weather Pattern Discussion: Argentine rainfall was confined to the far northern fringe along the border with Paraguay with rain totals in a range of .2-.7". The rest of Argentina was dry. High temps ranged from the mid 70's to the lower 90's.
Brazilian rainfall was the best across Mato Grosso do Sul with totals of .5-1.25" while SE Mato Grosso received rainfall of .25-1.00". The rest of the Brazilian crop areas were dry with Tuesday's high temps ranging from the lower 80's to the upper 90's.
The attached 10-day rainfall graphic is from the EU model. Mostly dry weather will prevail across Argentina into Thursday before a front pulls north and produces .25-1.00" of rain. Thereafter, a lengthy period of dry weather follows with temps warming into the 90's to the lower 100's next week. The next chance of meaningful rain is not evident this AM.
A near normal rainfall trend will persist across N Brazil with daily shower chances, while Southern Brazil starts to enter a more arid rain trend. Brazilian high temps range from the mid 80's to upper 90's. It is now S Brazil where the focus will be for lasting dryness.
After another round of showers on Thursday/Friday, the Argentine weather forecasts turns Arid: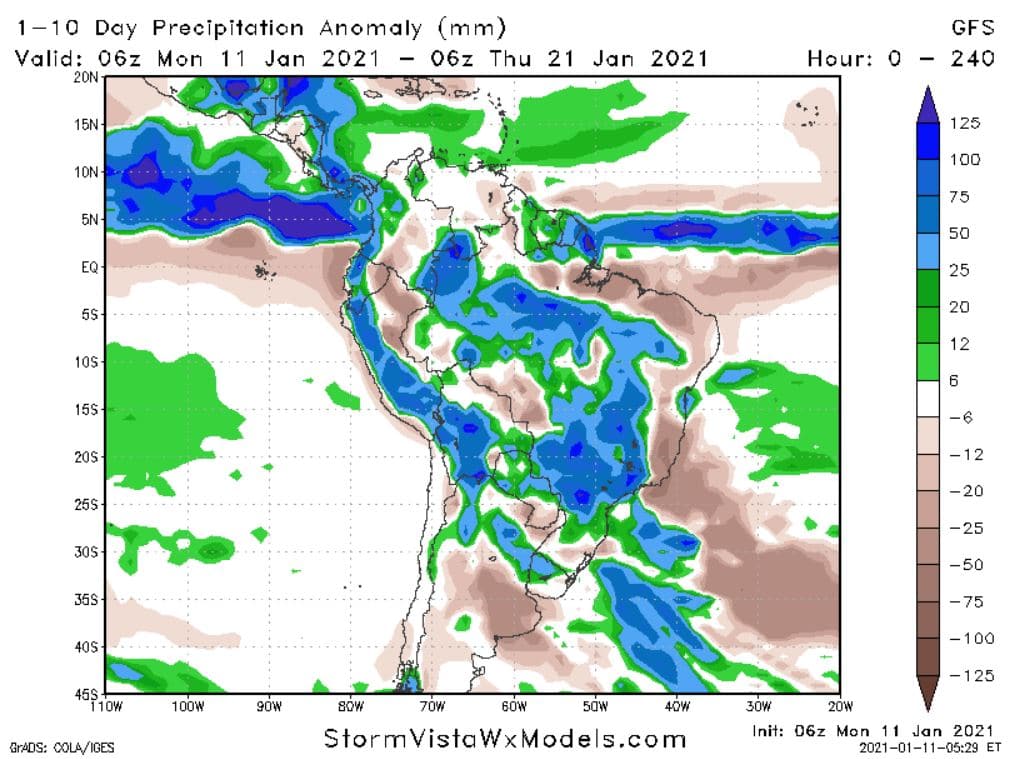 Needed Rains to Fall Across N and C Brazil over the next 10 Days; Concern is for Argentina/RGDS in S Brazil.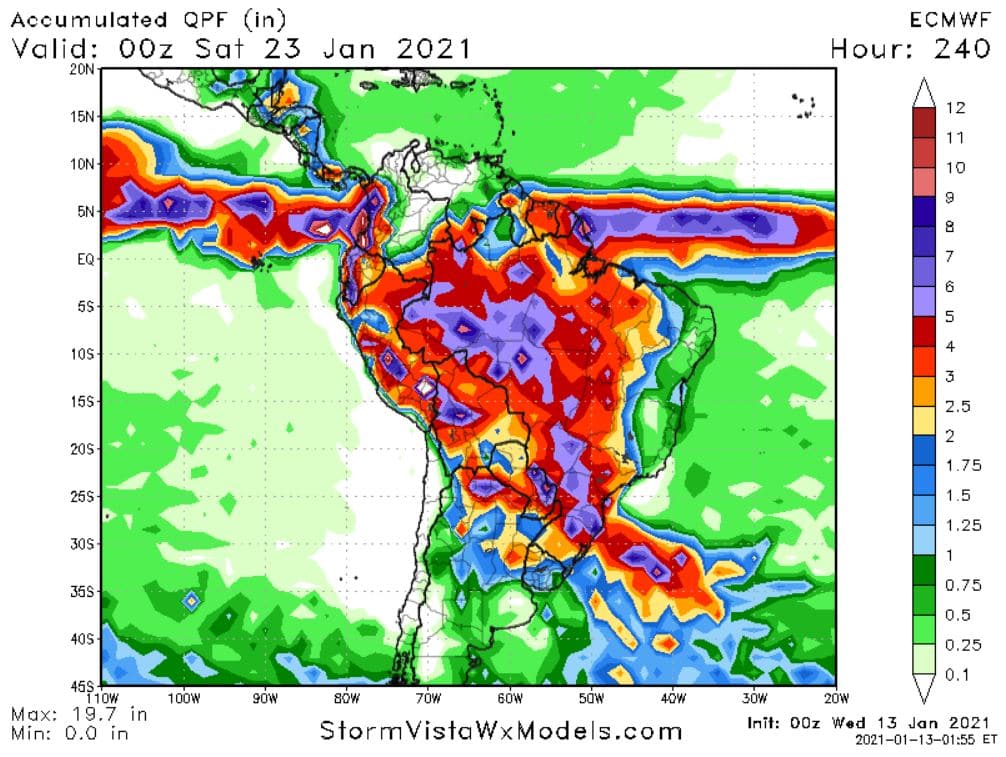 Warm to Hot Temperatures for Argentina Starting Next Week; Until then Mild 70's/80's:
AgResource Daily Cattle Analysis: Cattle futures settled mixed on Tuesday and steady opening is forecast for today. February cattle fell through major moving averages and look to be aiming to test the 200-day moving average near $111. Third and fourth quarter cattle futures pushed to new contract highs on ideas of reduced spring and summer placements.
Feeder cattle futures suffered the largest loss as corn futures soared to limit gains. January-May feeders were off more than $2 with April down close to $3.00. A further decline hinges on strength in back month live cattle.
Light cash trade was quoted in NE and the W Midwest on Tuesday. Overall volume was thin, but early live sales were $1 lower with dressed purchases down $3.00.
The USDA raised its 2nd quarter beef production forecast to 6,760 Mil Lbs, up from 2020, but just 1% under 2019. The 2nd quarter price forecast was unchanged at $113 vs. the CME cash equivalent price at $121.
Technical targets hold at $120-121 April futures. Our view has shifted to neutral on rallies above $120.00 April cattle futures.