Morning Commentary 6/4/21
Northern Plains and Northern Midwest Drought Risks Expand on Arid/Warm 2-3 Week Forecast: China to Import 8 MMTs of World Wheat
6:30 AM CT CBT Prices: July soybeans are up 20.50 cents at $15.83, July corn is up 7.50 cents at $6.825 and July Chi wheat is up 7.50 cents at $6.95.
AgResource Morning Grain/Soy Comment & Analysis: Good Morning! CBT futures are sharply higher on increasing drought worry for the N Plains and the northern half of the Midwest during June. Searing upper 90's across the Dakotas on Thursday and ongoing dry weather forecasts are dramatically raising the drought risk for 2021 US corn/soy/spring wheat crops. AgResource's worry for a deepening 2021 N Plains and Northern Midwest drought is rapidly increasing.
The overnight forecast models have reduced rainfall in their forecast for the N Plains and the N Midwest over the next 2 weeks. The biggest cut came from the GFS with yesterday's wet midday solution now seen as an errant outlier.
Limited rainfall is forecast across the Plains and the northern half of the Midwest over the next 2 weeks. The Dakotas, Nebraska, Iowa, Minnesota, and Michigan will be particularly dry. The best rains will drop across the Gulf States, Delta, and the southern half of the Midwest. Some areas of Louisiana and Mississippi will endure flooding amid saturated soils and new rains of 3-5.00" next week. The combination of too much rain over the Gulf States while drought deepens across the N Plains and the Northern Midwest will produce a fall in NASS weekly crop condition ratings for the next 2-3 weeks.
As AgResource has been suggesting, US 2021/22 balance sheets have no room for any US corn/soybean or spring wheat yield loss. Amid expanding demand from the US ethanol industry for corn as Americans return to post pandemic driving normality, and China having considerable amount of US new crop corn, soybean and wheat yet to secure, and a dire Brazilian drought that knifed their 2021 total corn crop by 18-22 MMTs (700-850 Mil Bu), a deepening US drought could produce a dynamic CBT rally with the potential for new all time price highs. Market volatility is going to be acute, but our concern for Central US weather has been dramatically increased amid existing weather trends and the forecast.
China will remain an active importer of world wheat in 2021/22 despite a bumper harvest estimated at 129 MMTs (vs last year's crop at 127 MMTs). China's National Grain and Oilseed Information Center said today that China will import 8 MMTs of wheat in 2021/22, down slightly from last year's record of 9.8 MMTs, but still the 2nd largest total on record. China has already secured more than 2.0 MMTs of French wheat. China will likely use the wheat as feedstuff for its hog and poultry industries.
In international ag markets, August Malaysian palm oil futures closed 29 ringgits lower at 4,129 ringgits/MT. Paris September milling wheat is up €1.00/MT at €216.50/MT. China's Dalian Sept corn futures settled fell 5.00 cents to $10.71/Bu while September soymeal fell $3.00/MT to $550.50/MT.
The North Central US weather forecast is crop threatening and crop condition ratings are expected to decline in the coming weeks. EU model monthly weather forecasts will be available on Saturday. AgResource's concern for a deepening N Plains/N Midwest drought is rising and we doubt that CBT breaks are lasting. Use corrections to position long heading into mid June.
North American Weather Pattern Discussion: The EU/Canadian forecast models are in strong agreement with the GFS cutting its rainfall totals for the N Plains and the W Midwest – but even then, its forecast is too wet.
ARC's concern for a deepening of the N Plains and N Midwest drought is dramatically rising as the jet stream lifts northward and slows. It appears that the acute dryness of the Western US will progress east during June – which raises our worry for 2021 US corn, spring wheat and soybean crop yields amid temperatures that will stay warm to hot ranging from the mid-80s to lower 100s.
The attached 10-day rainfall graphic is from the EU model (Canadian similar) with limited rainfall chances for the N Plains, S Canadian Prairies, and the Northern half of the Midwest into June 15th. The broad area of limited rain will cause a rapid decline in soil moisture. The best Central US rain chances occur across the Gulf States (where its too wet already and flooding is likely) and the southern half of the Midwest. Delta/S Midwest crops are well-watered.
Heat will be a near constant feature for the N Plains and the NW Midwest. A high pressure Ridge aloft will maintains mid 80's to mid 90's well into mid-June. ARC is hoisting a drought flag of worry for the N Midwest.
EU Model Showing Limited Rain for N Plains and Upper Midwest into June 13th: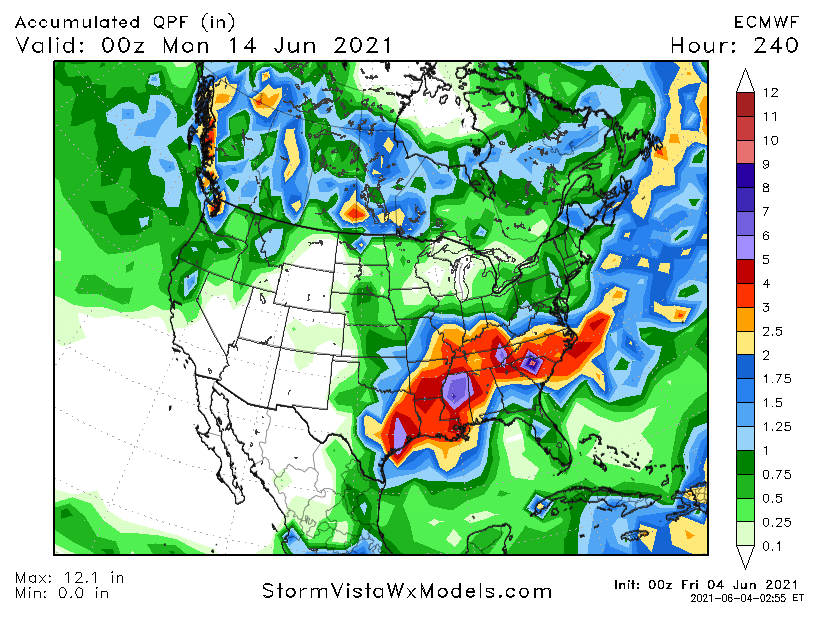 Canadian Model Confirming the dry trend with extreme heat for Northern Plains:
Hot Temps look to be locking in across S Canada and the Northern 1/3 of the US into June 20th:
Soil Moisture Levels to Fall Sharply with the Drought Expanding into late June: