Morning Commentary 6/3/21
CBT Rises on Concerning Central US/S Canadian Weather into Mid June; Extreme Heat for the Dakotas this Weekend; US/China Trade Progress
6:30 AM CT CBT Prices: July soybeans are up 20.50 cents at $15.83, July corn is up 7.50 cents at $6.825 and July Chi wheat is up 7.50 cents at $6.95.
AgResource Morning Grain/Soy Comment & Analysis: Good Morning! CBT futures are higher with soybean and spring wheat futures pacing the advance. Soyoil futures have scored new contract highs while worry over a drought builds for North Central US crop areas. Corn, soybean, and wheat futures opened and have stayed higher in the CBT overnight trade on worsening Central US weather forecasts. It is all about weather with tight old crop supplies meaning that the US cannot lose a bushel of new crop production! The hot/dry weather forecast for the N Plains and the W Midwest has the attention of traders with following a spring which rainfall fell only sparsely across the same area.
The FAS/USDA weekly export sales report will be delayed until Friday due to Monday's Memorial Day Holiday. The report is not expected to show large sales. Yet, Friday's price action will be fixated on North American weather. US corn crop ratings have likely reached their zenith for the crop year as drought conditions worsen amid the building heat for the N Plains and W Midwest.
The North Central US weather forecast is crop yield threatening with extreme heat and limited rain into mid-June. A seasonally strong high-pressure Ridge has produced record heat across the Western US in recent days. This Ridge will slowly progress east over the next 7-8 days limiting rainfall and producing above to much above normal temps for the N Plains and the northern half of the Midwest. The Dakotas will register highs in the 100's from Friday into the weekend. And the often too wet GFS model has knifed its 10-day rainfall totals by 40% and is coming more in line with the arid EU/Canadian model counterparts. There is a rain chance late in the 6-10 day period for the N Plains/NW Midwest before dryness returns in the 11-15 day timeframe. The lack of rain and budding heat is concerning for summer weather trends amid soil moisture profile that is in sharp decline.
China is reporting that recent day US/China trade and economic talks have been a success. There have been two calls this week that lasted about 50 minutes each that included USTR Ambassador Tai and US Central Bank Chair Yellen. China praised the normalization of trade talks and a desire to seek common ground. The US is closely watching to see if China lives up to its Year 2 purchase pledge of $43.5 Bil dollars of US ag goods.
In international ag markets, August Malaysian palm oil futures closed 66 ringgits higher at 4,158 ringgits/MT. Paris September milling wheat is up €3.75/MT at €218.75/MT. China's Dalian Sept corn futures settled rallied 8.50 cents to $10.76/Bu while September soymeal fell $.30/MT to $553.50/MT.
The North Central US weather forecast is crop threatening. ARC doubts that any CBT corn/soy correction will be lasting until corn is past pollination. New CBT highs are forecast by mid-June if yield threatening weather persists. The upside CBT price risk is extreme if the current weather pattern persists.
North American Weather Pattern Discussion: The EU and GFS models are in better agreement this morning. The GFS forecast has trimmed its rainfall forecast by some 40% over the next 10 days which places it more in line with the more arid EU/Canadian counterparts. ARC notes that EU model continues to struggle with rainfall on day 10 – the model has been advertising rain for the W Midwest and portions of the N Plains, but that rain chance never gets pulled forward in the forecast. This means that the N Plains and the W Midwest will endure another 9 days of warm to hot/dry weather, with a chance of rain around June 12-13th on a passing cold front. Thereafter, the forecast goes dry again with another round of heat as a high-pressure Ridge reforms over the Northern Rockies. This Ridge will progress eastward into late June with another round of heat. This is a concerning Central US weather pattern as the jet stream has slowed and migrated northward into S Canada expanding the NC US dryness.
The attached 10-day rainfall map is from the EU model. The rain for Iowa/Minnesota is in question. The western half of the US bakes under intense heat and dryness. It is worrisome that the Western US drought looks to push eastward with time into the W Midwest and the N Plains.
EU Forecast Model 10 Day Rainfall Forecast Thru June 13th. Rain for the N Plains and W Midwest offered on June 12-13th:
Extreme Heat to Persist Across North Central US into Mid June: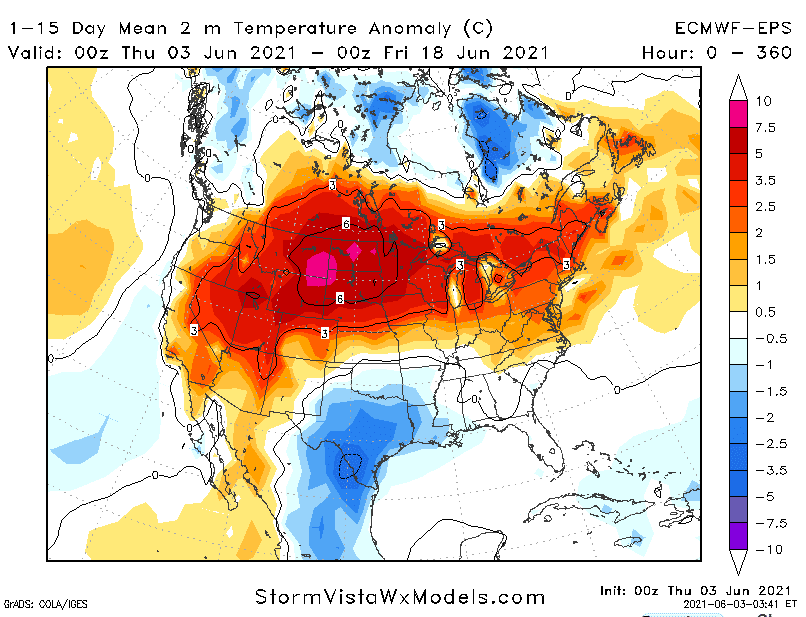 Percent of Normal Rainfall from June 4th into June 11th: Sharp Falls in Soil Moisture