Morning Commentary 6/2/21
CBT Struggles with High Corn Crop Ratings & Threatening North American Weather; China Stays Active in Buying Ukraine Corn; Palmoil Soars
6:30 AM CT CBT Prices: July soybeans are up 4.25 cents at $15.5275, July corn is down 2.50 cents at $6.86 and July Chi wheat is up 2.50 cents at $6.96.
AgResource Morning Grain/Soy Comment & Analysis: Good Morning! CBT futures initially traded lower on better-than-expected US corn crop condition ratings, and then rallied on hot/dry Central US weather concern. Future declines in US corn crop condition ratings had speculators buying the early CBT break. Unless there is a significant pattern change, US corn crop ratings could be looking at their best ratings of the year. And soybean ratings next week are not expected to be as high as corn.
NASS reported that 76% of the US corn crop was rated GD/EX, 2% better than last year and 9% better than the 5-year average. Nebraska, Iowa, and Pennsylvania corn were the best rated state crops. On the other hand, was US spring wheat which was rated just 43% GD/EX with 80% of the crop emerged. The US winter wheat crop was rated 48% GD/EX, up 1% from the prior week and right at the 5-year average. US farmers have seeded 95% of their intended corn acres and 84% of their soybean crop. Seeding progress has not been a market concern this spring amid the drier than normal conditions.
The Central US weather forecast offers searing heat/dry weather conditions for the next 7-9 days with moderation in temps in the 10-15 day period. The Dakotas are forecast to see high temperatures exceeding 100 degrees on Friday and the weekend which will produce acute stress on corn/soy seedlings and jointing HRS wheat. A strong high-pressure Ridge will progress slowly eastward over the next 7-9 days which will limit rainfall and cause extreme heat with highs ranging from the upper 80's to the upper 90's. Neither the Canadian nor European models offer much rain over the next 9 days. The EU model has rain for IA on day 10, but our confidence in this rain is low.
This is a concerning North American weather pattern that is likely to linger well beyond the middle of June and produce increasing crop stress with time.
In international ag markets, August Malaysian palm oil futures rallied 201 ringgits to close at 4,092 ringgits/MT. Palmoil futures rallied sharply on the prospect of improving Chinese import demand while India tries to recover from its latest Covid variant. Paris September milling wheat is up €1.25/MT at €220.20/MT. China's Dalian July corn settled rallied 6.50 cents to $10.855/Bu while July soymeal rose $1.55/MT to $540.35/MT.
New cash Chinese corn demand emerged in Ukraine with European traders discussing that China booked as much as 1.0 MMTs of Ukraine old crop corn for shipment in August. China remains active in seeking August-October world corn.
Private Brazilian corn estimates are shrinking with brokerage firm StoneX estimating the 2021 all Brazilian corn crop at 89.7 MMTs vs their estimate of 100.25 MMTs back in May. WASDE is expected to make another sharp cut in their June report.
It is all about weather and the Central US forecast is crop threatening. ARC doubts that any CBT corn/soybean correction will be lasting until corn is past pollination. New CBT highs are forecast by mid-June on threatening US weather.
North American Weather Pattern Discussion: The EU and GFS models are in only fair agreement on the forecast. The GFS forecast stays too wet, a problem that the model has had going back for weeks. Our preferred models are the EU/ Canadian based on favorable recent track records. Both models offer limited rain for the N Plains and the Northern and Western Midwest over the next 10 days. The EU model places a chance of rain across Iowa on day 10, but our confidence in this rain is low. The EU model has NOT been pulling forward the rains in day 9 and 10 day for over a week. The best preforming model of late – the Canadian model's 10 day rainfall forecast is offered below.
A Ridge of high pressure slowly progresses across the North Central US which will produce 10 days of dryness with extreme heat starting tomorrow.
High temps across the Dakotas will and W Midwest will range from the upper 80's to the lower 100's. This extreme heat along with limited rain will deepen the existing drought. The extreme heat is forecast to wane in the 11-15 day period, but the forecast has been overpromising and underdelivering rainfall for weeks. Amid the dramatic cooling of the Eastern Pacific, ARC looks for a drier N Plains and N and W Midwest to persist.
High Pressure Ridge Limits Rainfall for the N Plains and W Midwest into June 12th: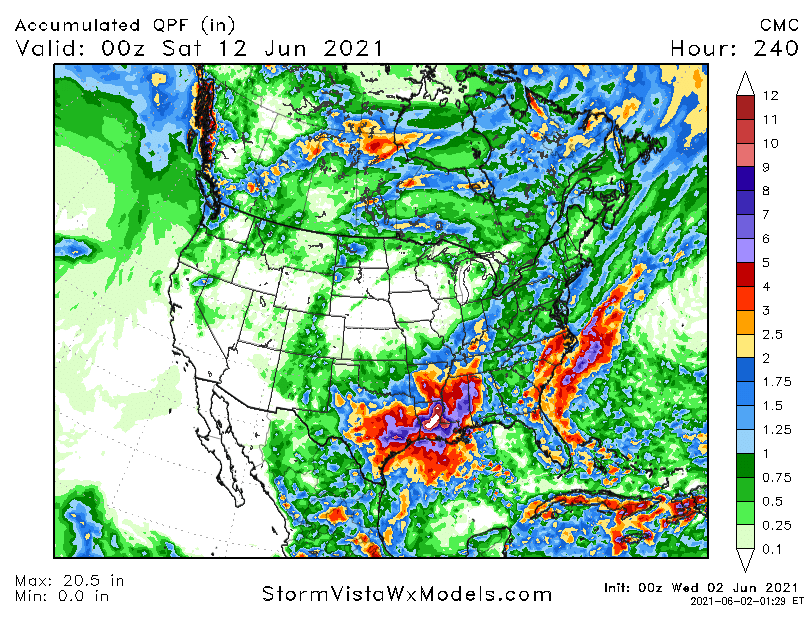 Extreme Heat for Central US over the Next 2 weeks: