Morning Commentary 6/1/21
CBT Rallies on Hot/Dry N Plains/N Midwest Weather; The Key Question; Is this the New Summer Weather Trend? OPEC meets on Crude Supply
6:30 AM CT CBT Prices: July soybeans are up 11.75 cents at $15.4225, July corn is up 10.25 cents at $6.67 and July Chi wheat is down 15.50 cents at $6.7925.
AgResource Morning Grain/Soy Comment & Analysis: Good Morning! CBT futures started the week sharply higher on concerning North American weather forecasts with heat/dryness to adversely impact Northern Plains and the Upper Midwest crops into the middle of June. Also, it is a new month and with OPEC members meeting on future crude oil production plans, risk on appears to be the theme.
Meteorological summer officially starts today, and the North American weather pattern appears to have taken note with a seasonal Ridge of high pressure forming across the Central US and retrograding slowly westward into mid-June.
The high-pressure Ridge will produce extreme heat of upper 80's to lower 100's across the Northern US Plains, the Southern Canadian Prairies, and the Northern Midwest. Fargo North Dakota is forecast to reach a 99-degree high on Friday and 100 degrees on Saturday. This extreme heat amid limited soil moisture will produce acute crop stress. 90's hold across the Dakotas into June 10th. The coming hot/dry Northern Plains weather will allow for spring wheat futures to be the upside leader this week with corn/soybean futures worried that such heat/dryness could be more commonplace in the weeks ahead. The EU weekly forecast holds heat across the N Plains/NW Midwest into July.
EU Model offers High Pressure Ridge Across Western and Central US: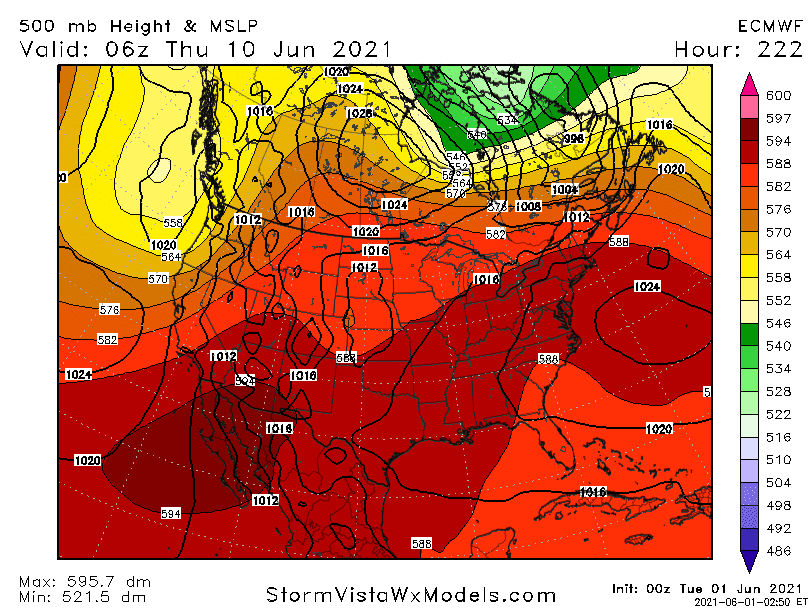 Early July Temperature Forecast for Weekly EU Weather Model: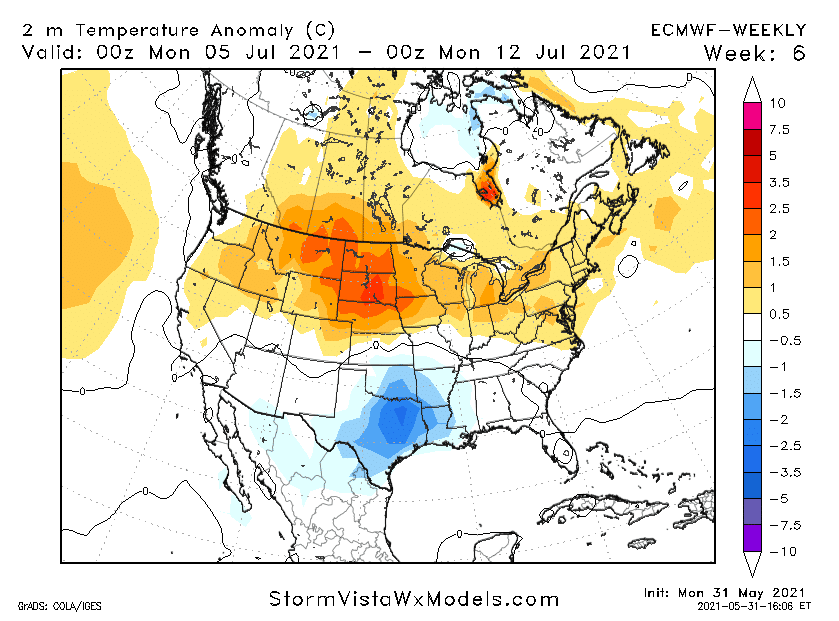 Weekend weather produced patchy frost across N Iowa, North Dakota, Minnesota, and Wisconsin early Saturday morning. The frost could lower today's first corn crop condition rating from 69-72% to 66-68% according to ARC producer sources. And Northern Plains corn/soybean crops are struggling with dry soils and poor emergence. The US's 1st corn condition rating could be just "average".
US and world crude oil prices reached their highest levels since 2018 at $68.00 spot WTI futures as OPEC members are meeting virtually and discussing that the glut of supply built up from the Covid pandemic is nearly exhausted. And Iran's return as a producer/exporter will not be enough by the end of 2021 to satisfy expanding world demand. The next upside price target is $74-76.50.
Weekly Crude Oil Futures Since 2001 - Next Upside Price Target is $76.00!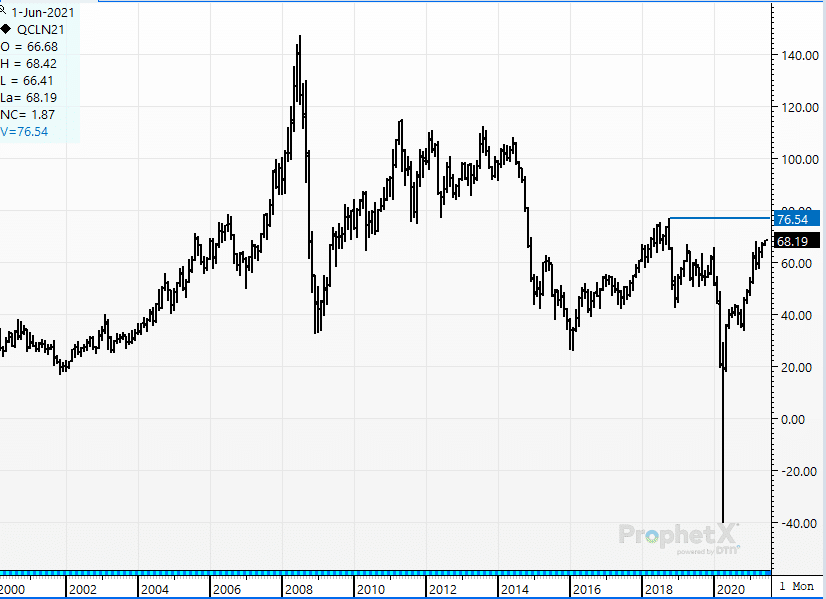 In international ag markets, August Malaysian palm oil futures fell 119 ringgits to close at 3,891 ringgits/MT. Palmoil futures have fallen sharply for the past 2 trading sessions based on the concern of demand loss from India on its lingering Covid infection crisis. Paris September milling wheat is up €2.50/MT at €216.25/MT. China's Dalian July corn settled fell 1.0 cent to $10.79/Bu while July soymeal rose $2.20/MT to $538.80/MT.
India has forecast a normal monsoon this summer which is forecast to start in coming days. The India Meteorological Department (IMD) indicated that the monsoon would evenly distribute 101% of normal monsoonal rain this summer.
Based on vessel counts, ARC indicates US corn exports will stay large at 65-72 Mil Bu based on China's active loading pace. China has pushed up their corn export pace to nearly 1 MMTs or 39 Mil Bu/week.
The key question is whether the coming 10 days of heat/dryness for the N Plains/N Midwest is passing fancy or the summer trend? It's all about weather! Our bet is that the weather trend is the summer pattern, but as we always say - stay flexible in these markets and take weather 10 days at a time. Our concern today is high.
North American Weather Pattern Discussion: The EU and GFS models are in only fair agreement on the forecast. The GFS forecast is too wet, a problem that the model has had going back for weeks. Our preferred models are the EU/Canadian based on favorable recent track records. Both models offer limited rain for the N Plains and the Northern and Western Midwest over the next 10-12 days. ARC notes that the EU model keeps placing a chance of rain across the N Plains in the 10 day – but the rain is not pulled forward into day 9th or 8th. Both models offer improved rainfall chances in the 11-15 day period, but the confidence on any rain that far out is low. The 11-15 day forecasts has not been doing a good job in either North or South America.
The attached 10-day precip forecast is from the EU model. A Ridge of high pressure holds across the North Central US which will produce 9-10 days of dryness with extreme heat starting Thursday. High temps across the Dakotas will and W Midwest will range from the upper 80's to the lower 100's. This extreme heat along with limited rain will deepen the existing drought. The extreme heat wanes slightly in the 11-15 day period with a few showers during June 11-15th. This a concerning weather pattern.
Much Above Normal Temps for Canadian Prairies and Western and Northern US: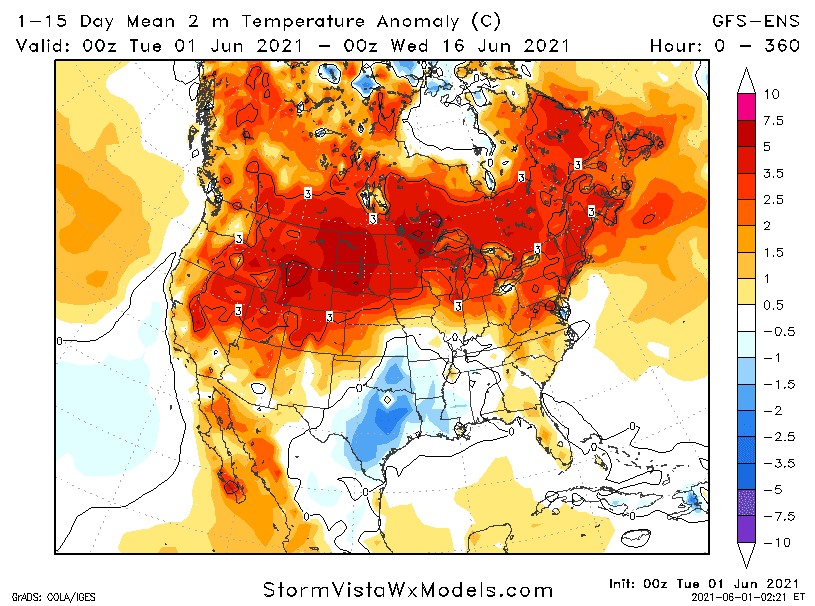 The Rains offered for the Northern US Plains are on Day 10 - June 11th - Low Confidence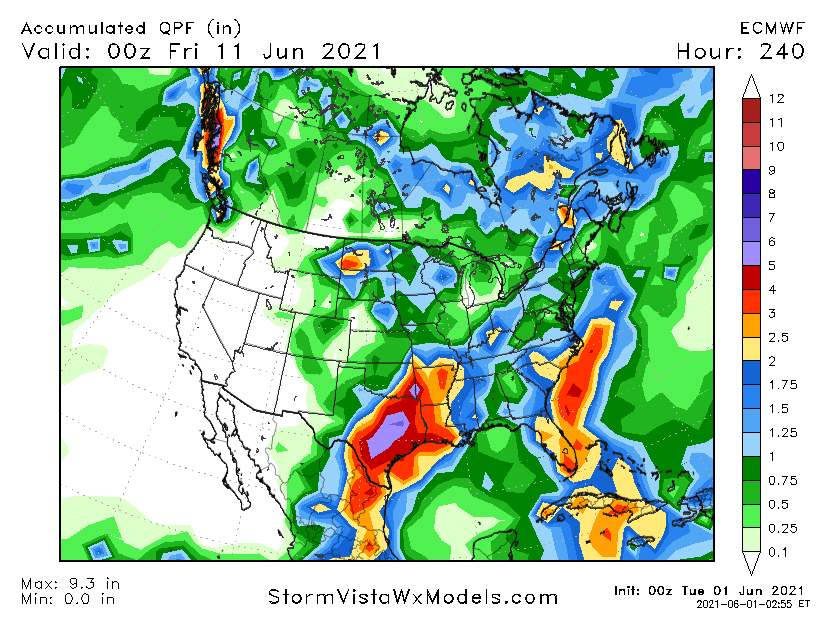 Summerlike Temperatures Persist across South America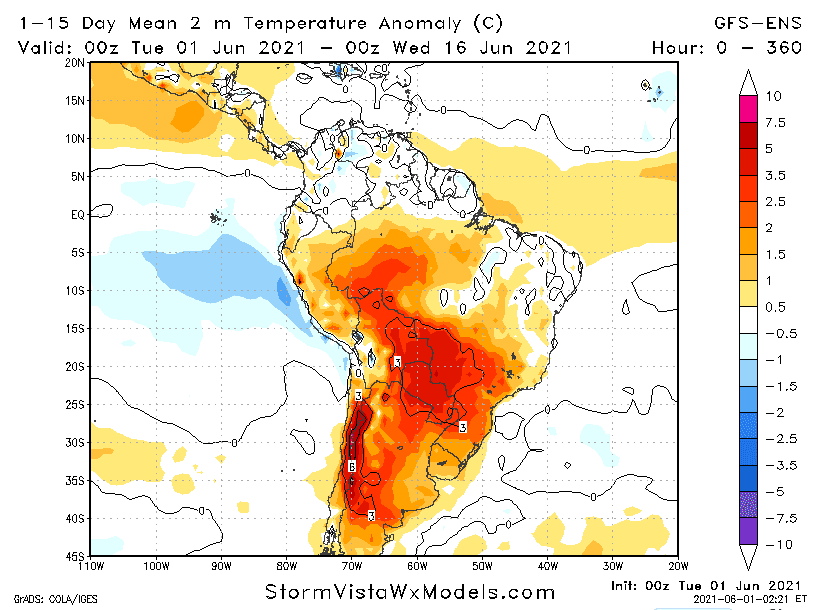 Any Rain is for Southern Brazil into mid June - Historic drought Worsens: