Morning Commentary 5/6/21
Wheat Corrects Slightly; Row Crops Extend Rally; Chinese Markets Catch Up Following Holiday
AgResource Farm Marketing Advice for Thursday: 1/ No new advice.
6:30 AM CT CBT Prices: July soybeans are up 18.5 cents at $15.6035, July corn is up 5.0 cents at $7.135 while July Chi wheat is down 4.75 cents at $7.3975.
AgResource Morning Grain/Soy Comment & Analysis: Good Morning! CBT grain futures are steady to higher in an extension of Wednesday's session. December corn is leading the feed marketplace on adverse North American weather, while bull spreading in soy complex has returned amid rising spot crush margins. Like recent days, fresh input continues to center on firm and rising spot interior basis levels, growing concern over cool Midwest temps and Plains dryness, while there is still absolutely no rain offered to Brazil into the second half of May.
Chinese markets have opened following a 3-day spring holiday and corn and soy prices there are sharply higher in active volume. Dalian corn overnight rallied $.10 per bushel to $10.85. Dalian soy ended $.90 higher at $25.45. Dalian soymeal and oil rallied 2-5%, with oil hitting new contract-highs. Catch-up buying in China was anticipated but China's ongoing participation in the global rally is important.
10-day precip accumulation in far southern Parana is pegged at .10-.25" but otherwise zero rain is expected across Brazil into May 20. Additional Brazilian weather-based premium in corn is warranted.
Assuming the two-week forecast verifies – which is likely – precip across Brazil's safrinha corn production region between April 1 and May 20 will average just 1.9". This is lowest in AgResource's records and suggests yield loss compared to trend will exceed recent major drought years of 2005 and 2016. The trade just now is beginning to trim Brazilian production estimates but AgResource's research suggests that a sub-90 million ton is becoming increasingly possible. If realized, such crop loss forces some 650-750 million bushels of import demand to other exporters in autumn and winter – the bulk going to the US.
Global rapeseed/canola markets have found newer all-time highs, with spot cash rapeseed oil in Europe climbing to $.73 per pound, vs. $.65 just a week ago. Positive crush margins along with worsening drought across the Canadian Prairies is noted. Stats Can on Thursday will release March 31 Canadian crop stocks. Recall data through Dec 31 hinted that Canadian canola supplies would be completely exhausted well before the new crop is harvested. Stats Can stocks data takes on new importance for global oilseed markets.
Weekly US corn, soy and wheat export sales are expected to be rather ho-hum. This morning's data will be the first to reflect massive US corn and wheat premiums to all other exporting markets. Key in the weeks ahead is measuring whether traditional buyers in the Western Hemisphere have changed purchasing patterns? Yet, lofty US offers only works to support grain fob markets in South America and Europe.
The return of demand to the US in late summer mandates record/near-record yields. Only when this is confirmed do markets relax in a meaningful way.
North American Weather Pattern Discussion: 5-day Midwest precip totals of .50-1.50" have shifted slightly northward and will now cover the southern half of Iowa and much of Illinois, Indiana and Ohio. Otherwise the outlook is consistent with prior runs. Arid conditions persist across the Western Plains, North Dakota and Canada into May 15. Cool/wet weather east of the Mississippi River slow seeding/emergence into late next week. The EU model's 10-day forecast is attached.
Extended range guidance maintains the chance that precip expands into NW Midwest beyond May 16 but confidence so far out is low. It's important that this pattern change be pulled into the 10-day forecast by late week. AgResource notes that the forecasting models have been too wet across the Plains and Western Midwest since early April, and so the risk is that of Plains drought expansion into early June. And no model offers needed rainfall to Canada in the next two weeks.
10-Day US Precip Forecast: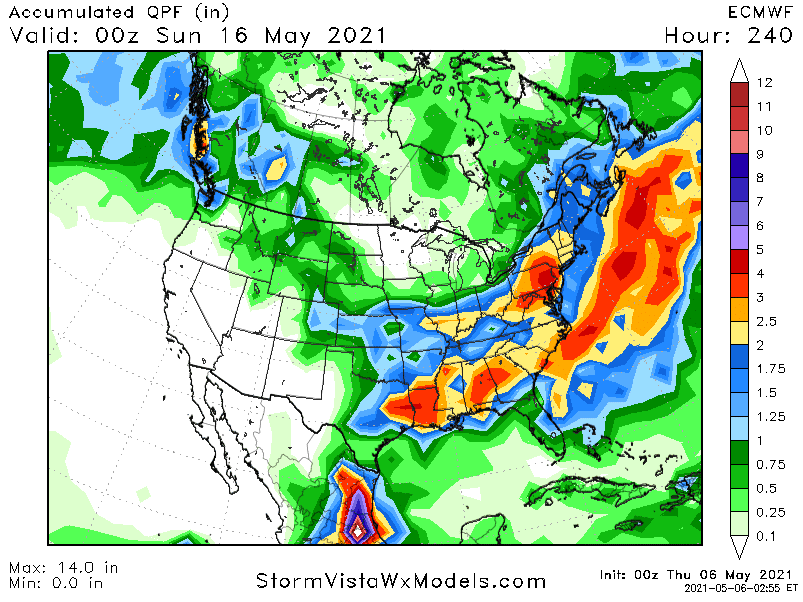 Minimum Weekend Temps:
10-Day Brazilian Precip Forecast: