Morning Commentary 5/5/21
CBT New Crop Leads Overnight Rally on Dry/Cold Northern Half of Central US Forecast;China Buying Rumors for US New Crop Corn;Brazilian Corn Stays Arid
AgResource Farm Marketing Advice for Wednesday: 1/ No new advice.
6:30 AM CT CBT Prices: July soybeans are up 13.00 cents at $15.515, July corn is up 2.25 cents at $6.99 while July Chi wheat is up 2.25 cents at $7.29.
AgResource Morning Grain/Soy Comment & Analysis: Good Morning! CBT futures traded mixed in early overnight trade before drier weather forecasts for the Northern US Plains, Canadian Prairies and the Northern half of the Midwest lifted values into the Chicago sunrise. Midwest spot cash basis levels stay strong on the hunt for old crop supply, but its weather that is gaining the attention of traders which is causing new crop futures to pace CBT advances.
The Central US weather pattern is concerning. Spring seeding will advance swiftly across the Central US, but arid weather is posing germination problems across the Prairies, Northern US Plains and the W Midwest as farmers must plant seeds deeper to find enough moisture for germination. And cold temps will limit emergence and plant growth into mid-May. Rainfall will be placed across the southern half of the Midwest, Delta, and the Gulf States over the next 10 days. For Northern US farmers, the cold and dry weather is not what is desired from Mother Nature. It was hoped that May would be a month of soil moisture recharge which is not occurring. The May weather pattern appears to be following the April prescription, which will retard plant growth and produce drought worry heading into summer.
And the forecasts are barren of rain for Brazil's winter corn crop for the next 2 weeks. The wet season has ended across N Brazil and drought will be deepening and causing further reductions in corn crop size heading into May. Traders are discussing the potential for a Brazilian corn crop of 91-94 MMTs.
No Rain for Brazilian Winter Corn for Next 2 Weeks; Outlook Grim for Rain into Late May
A newswire – Reuters – is reporting that low Parana River level is trimming Argentine ag exports and raising export costs as water levels fell below 1 meter on Tuesday. Vessels must load out less grain, vegoil and meal in Rosario and top off as they leave for the Atlantic. The process of "topping off" can add $12-20/MT to cost and making transit more time consuming. ARC notes that May 2020 Parana River levels were slightly lower amid ongoing dryness.
In international ag trade, Malaysian palm oil futures ended 4 ringgits at $4,311 RM/MT while September Paris milling wheat futures are up €2.00/MT at $222.50. China's Dalian Grain Exchange is closed for their Spring Festival Holiday. Chinese trade will resume this evening and futures are expected to play catch up with Chicago and world grain market gains.
There are strong cash rumors that China has been active securing Brazilian soybeans for late summer and US new crop corn this morning. Although tonnage estimates are vague, most talk that China has booked 1.5-2.5 MMTs of US corn and 6-8 cargoes of Brazilian soybeans. The Brazilian soybean export pace looks to be record large in May with basis bids rising. And Brazilian interior corn is scoring new highs each day via the drought with values rising to $7.60/Bu.
The big cash short has been China and it appears that they are stepping forward with demand. The cold/dry North Central US weather pattern along with new Chinese interest should produce new highs in CBT new crop corn/soy futures.
North American Weather Pattern Discussion: The forecast models are in better agreement and have returned to the dry theme that has been evident in the EU/Canadian models in recent days. The more volatile GFS model is in line with the EU/Canadian models this morning with the rains farther north into Iowa and Central Illinois. Our model of choice is the EU model based on its recent correctness. The forecast indicates a worsening of the drought across the Canadian Prairies, Northern Plains and the Northern 1/3 of the Midwest.
The 10-day rainfall graphic is from the EU model. Mostly dry weather will prevail across the Canadian Prairies and the N Midwest over the next 10-12 days. There are hints of rain in the 13-15 day period, but this is too far out for any confidence. The Dakota drought will deepen.
The details of the forecast call for mostly dry weather across the Central US through the weekend to speed spring seeding. The next storm system is due late Sunday/Monday with the second due late next week. The late week system will take a more southerly track across the Delta/Gulf States. The lack of rainfall across the Canadian Prairies, N Plains and NW Midwest is becoming worrisome with spring not producing appreciable soil moisture improvement. Late May temps warm.
Dry Weather Trend Holds as the Drought Deepens in the Dakotas/Canadian Prairies
Soil Moisture Draws Continue Across N Plains, Canadian Prairies and N Midwest: Soil Moisture Losses Worrisome Ahead of Summer.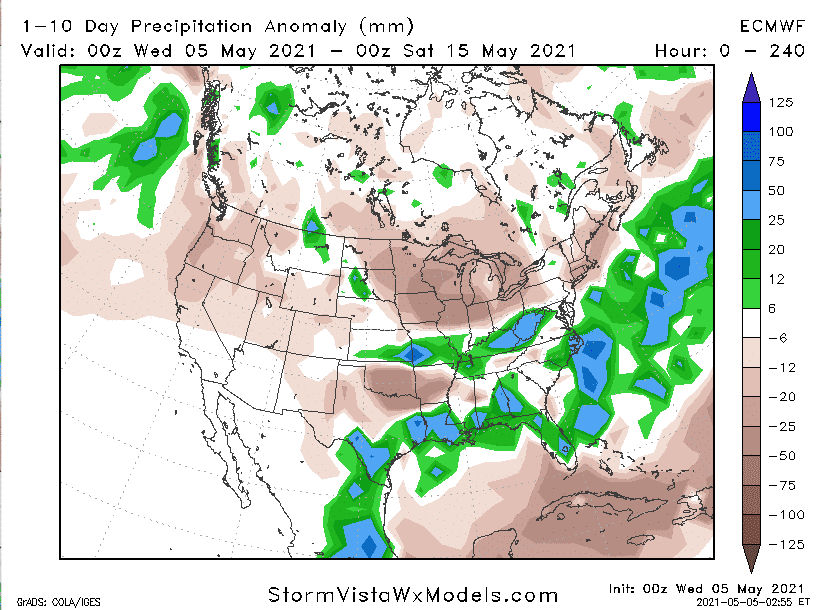 Cold Across the Central US For Next 2 Weeks; Delays Crop Development: