Morning Commentary 5/27/21
CBT Mixed With Soy Weaker While the Grains Firm; Market Awaits Weekly FAS Export Sales Report; US/China Hold Trade Talks Under Biden
6:30 AM CT CBT Prices: July soybeans are down 6.75 cents at $14.965, July corn is up 1.00 cent at $6.25 and July Chi wheat is up 7.00 cents at $6.555.
AgResource Morning Grain/Soy Comment & Analysis: Good Morning! CBT futures are mixed awaiting the weekly USDA FAS export sales report, which is expected to highlight large US corn export sales to China (again) in a new crop position. Wheat has followed corn, while soy futures ease on slowing US export demand.
The USDA projected record large US ag exports in 2020/21 at $164 Bil for the US Gov't fiscal year that ends on September 30th. USDA raised their US corn export forecast $3.5 Bil to a record large $35 Bil, while meat, dairy and poultry exports were raised $1.6 Bil and soybeans $1.50 Bil dollars. USDA forecast that for that same period, that China would take a record large $35 Bil of US ag goods, which is close to Year 1 Phase 1 pledge. Note that this year's ag purchase pledge is $43.6 Bil dollars.
CBT open interest totals for Wednesday showed corn gaining 7,679 contacts while soybeans lost 1,882 and Chicago wheat lost 3,240 contracts. The gain in corn open interest is a surprise amid the mass long liquidation from funds.
US equity futures declined, and the value of the US dollar fell overnight. A patchwork of rising inflation and a strengthening US economic outlook has produced unease amid Congressional fights over an infrastructure project.
The Biden Administration and China held their 1st trade talks. The talks were described as candid with tensions. A top White House aide, Kurt Campbell, the US coordinator for Indo-Pacific Affairs, described a new US policy for China with the dominate paradigm for competition. China Commerce Ministry spokesman Gao Feng indicated that the US/China should both push for a full implementation of the Phase 1 Trade Deal.
In international ag markets, July Malaysian palm oil futures fell 92 ringgits to close at 4,083 ringgits/MT. Paris September milling wheat is up €2.25/MT at €208.25/MT. China's Dalian July corn settled fell 3.0 cents to $10.765/Bu while July soymeal declined $5.10/MT to $526.30/MT.
Saudi Arabia's SAGO has announced a tender for 720,000 MTs of world wheat with the deadline to submit offers being Friday. This is the 1st new crop tender by SAGO and will be closely followed by world exporters. Russian wheat offers have been well above the world market amid the uncertainty of the floating tax calculation which has AgResource doubting that Russia will be a sizeable wheat exporter in the 1st quarter of the 2021/22 crop year.
The Argentine port strike has concluded after deal was offered to give workers vaccination priority. Ag exports are again continuing normally.
The Central US weather forecast holds onto the same pattern with well below normal rainfall for the N Plains and the Northern 1/3 of the Upper Midwest. The remainder of the belt will enjoy near to above normal rainfall. There is no indication of extreme heat through the 10-day forecast period.
April 1- June 10th Percent of Normal Rainfall- Broad Areas of Below Normal Rain for N Plains and Northern Midwest: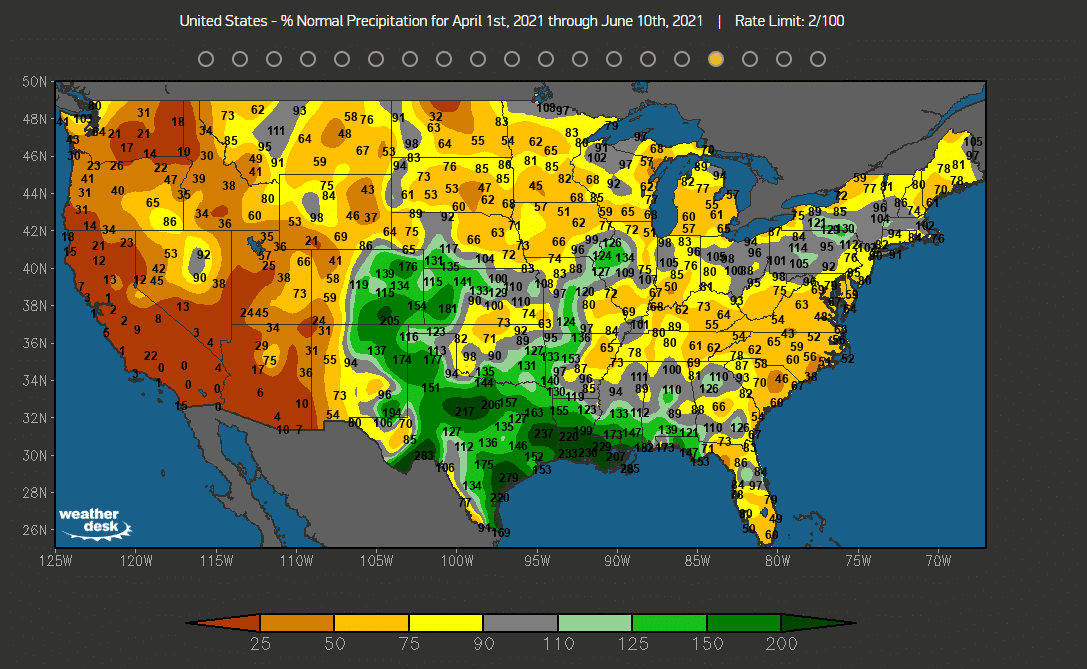 The market is priced for favorable weather heading into a long US holiday weekend. Will the weather be favorable following the holiday–that will be key!
North American Weather Pattern Discussion: The EU and GFS models are in broad agreement on the forecast and our confidence in the solution is high. Below normal rainfall is forecast for the Northern Plains and the Northern 1/3 of the Midwest while near daily storms produce near to above normal rain from the Central/Southern Plains through the SW and C Midwest. The Western US holds in a dangerous drought pattern that looks for fuel considerable heat this summer.
The Northern Plains drought will deepen with the recent rains only providing temporary relief. North Dakota is ground zero from the drought with producers reporting germination issues. Crops are struggling amid a lack of soil moisture
The attached 10-day precip forecast is from the EU model. A Ridge of high pressure will build across the Western US which will shove the jet stream northward. This will produce a downstream Trough across the Plains that allows storm systems to produce rain every few days.
10-day rainfall totals are estimated in a range of 1-3.00" across Nebraska/Kansas and N Texas. The best Plains rain chances are on the weekend. Central US high temps range from the 70's to mid 80's.
The GFS forecast offers a Ridge for the Central US in the 11-15 day period, but it is less amplified than yesterday.
Below Normal Rainfall from Northern US Plains Trough the Upper Midwest; Concerning!
Ridge West with a NW Flow Trough the Upper Midwest Produces below Normal Temperatures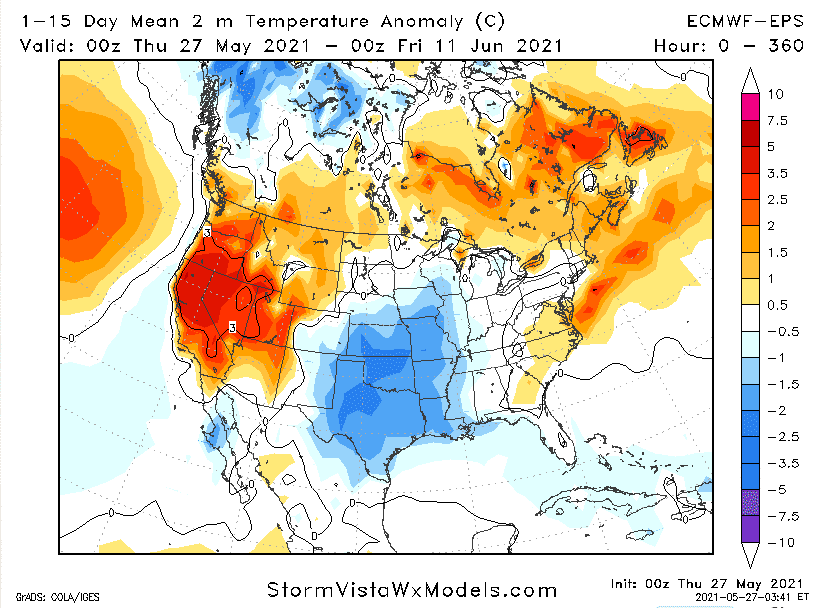 Dry Season Underway Across Brazilian Winter Corn Areas: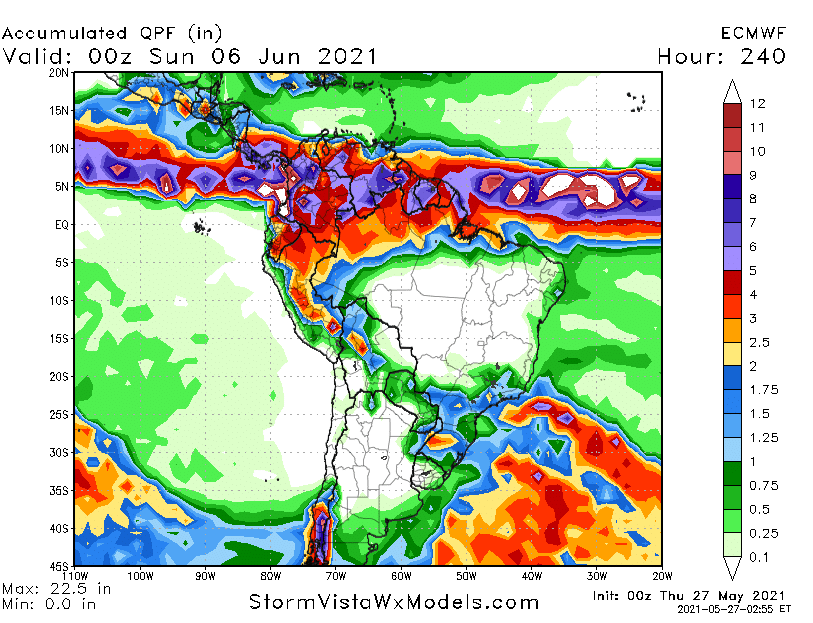 80's to Mid 90's further Stress Winter Brazilian Corn: