Morning Commentary 5/25/21
CBT Mixed in Low Volume Overnight Trade;Waiting for Direction from Mother Nature on Summer Weather; China to Build State Grain Reserves?
6:30 AM CT CBT Prices: July soybeans are up 8.25 cents at $15.31, July corn is down 3.50 cents at $6.5375 and July Chi wheat is unchanged at $6.6225.
AgResource Morning Grain/Soy Comment & Analysis: Good Morning! CBT futures are mixed with soyoil rising on a sharp recovery in palmoil futures, while corn is weaker on non-threatening Central Plains and Midwest weather. The volume of overnight trade was below normal amid the coming US long holiday weekend.
However, the N Plains and the Canadian Prairies have returned to an arid weather forecast for the next 2 weeks which is expected to underpin US wheat futures. ARC Research doubts that July corn can fall too far below $6.50 amid the concerning N Plains weather forecast with Central Illinois bidding 45-60 cents over for June/July corn. And US wheat futures should also be nearing early seasonal lows based on the demand pull of wheat as a feed ingredient. This is no place to be making new sales.
The US dollar continued its fall and is testing key technical support at $89.20 vs index futures – the lowest level since January. Chinese stocks rallied 2.4% their best daily gains in weeks on Beijing's attempt to talk down raw material costs and stamp out excessive speculation. The Euro 600 index is on track for a record high as the US Central Bank commented that it expected supply push inflation to be transitory amid a dovish stance on interest rates.
NASS indicated that 90% of the US corn crop is planted and 64% emerged with 75% of the US soybean crop planted and 41% emerged. US spring wheat conditions were a low 45% GD/EX and 14% P/VP in one of the lowest ratings looking back to the 2012 drought. And 39% of US pasture conditions was P/VP suggesting a forage shortage with US hay acres at their lowest level since 1908. NASS will release its initial US corn crop ratings on June 1st – next week Tuesday.
In international ag markets, July Malaysian palm oil futures rallied 140 ringgits to close at 4,175 RM/MT. Paris September milling wheat is up €1.00/MT at €209.25/MT. China's Dalian July corn settled fell 3.5 cents to $10.915/Bu while July soymeal rallied $5.00/MT to $535.60/MT.
Weekly Malaysian Palmoil Futures Chart- Held Key Trendline Support:
Without specifics, China's state planner indicated that it would strengthen price controls on key commodities in its next 5-year plan (2021-2026). One means of battling wild price fluctuations would be maintaining large Gov't controlled reserve store of key goods such as corn, wheat, and rice. Rumors have last week's buying of US/Ukraine corn by China as for their reserve. ARC estimates that China has secured 15 MMTs of US/Ukraine corn already and will release 7.2 MMTs of TRQ's for private corn imports by late summer. Both will raise China's new crop corn purchases to 23-24 MMTs. ARC Research expects that China will import 30-35 MMTs of corn in 2021/22, which will make Brazil's 2nd corn crop shortfall highly important to coming world feed pricing.
Parana's Deral will announce their corn crop condition ratings later this AM.
The downside in December corn, November soybeans and July Chi wheat is becoming limited. However, the upside may also be capped without a more threatening Central US weather forecast. Be prepared to trade a broad range for a few more weeks. December corn has solid support below $5.30, November soybeans below $13.50 and July Chi wheat below $6.60.
North American Weather Pattern Discussion: The EU and GFS models agree and our confidence in the 10-day forecast is high. The Midwest forecast is non-threatening, but arid weather conditions will hold across the N Plains and the Canadian Prairies into June 8th. The drought here will deepen with the recent rains only providing temporary relief.
And the Western US drought will become more severe with heat building as 90's become more widespread. The Western US is quickly pushing to its worst water shortage in decades. Whether the dry soils of the Western US can promote a high-pressure Ridge that progresses east with time should be closely monitored.
The attached 10-day precip forecast is from the EU model. A Ridge of high pressure will build across the Western US which will shove the jet stream northward. This will produce a downstream Trough across the Plains that allows storm systems to produce heavy rains. Notice that 10-day rainfall totals are estimated in a range of 2-6.00" across Nebraska and Kansas. The best chance of rain is Wednesday/Thursday. Midwest temperatures will be variable without any extreme heat. Highs will range from the 70's to mid 80's. Any heat will be centered on California with many days in the 90's.
Heavy Rains Focus on Central Plains, Leaving the Dakotas and Canadian Prairies Dry: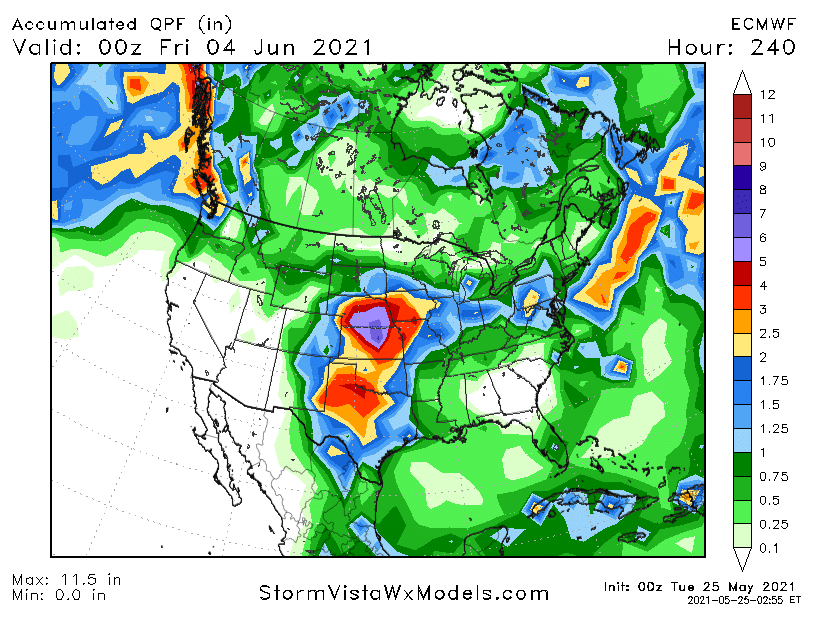 Where Soils are Dry - Above Normal Temperatures Next 2 weeks: A trend for the future?
South American Winter Weather Pattern Has Arrived; Limited Rain for Brazilian 2nd Corn Crop: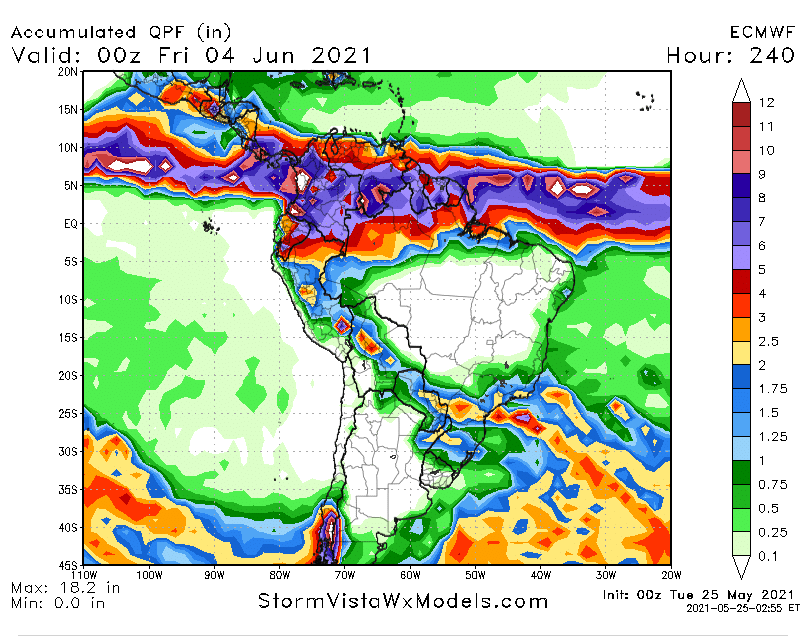 High Temps in 80's to mid 90's Adds Stress to Filling Corn: