Morning Commentary 5/20/21
Midwest Cash Corn Markets Strong on Hunt for Supply for China Shipments/Ethanol Grind; Kansas Wheat Tour Results Late Today; US Weather OK for Now
AgResource Farm Marketing Advice for Thursday: 1/ No new advice.
6:30 AM CT CBT Prices: July soybeans are up 2.50 cents at $15.4075, July corn is up 2.75 cents at $6.61 and July Chi wheat is unchanged at $6.7975.
AgResource Morning Grain/Soy Comment & Analysis: Good Morning! CBT futures were able to continue Wednesday's late session recovery with firming values overnight. Corn paced the recover on heady cash market bids while soy futures tried to follow. The complex needs to clean up speculative length while cash basis bids are in retreat as crushers either slow run rates or have pulled in enough local supply to cover their daily run into July. And wheat is benefiting from additional Plain's moisture and the potential for a monster crop estimate from the Wheat Quality Crop Tour trekking across Kansas.
There are 11 days remaining in May with the index fund roll to occur in early June. But its all about the Central US, Chinese and Black Sea weather forecasts in early June. These forecasts will determine CBT price direction. Central US weather plays an oversized CBT role in the next few weeks.
AgResource's bet is that the CBT will see extreme price chop into June 1st traders acutely follow Northern Hemisphere weather and its impact on yield. The Central US weather forecast is favorable for another 10 days with needed drying across the Eastern US and additional rain for the Plains and the Western Midwest. Daily high temperatures will be summerlike in the 70s/80s.
NOAA will be out with their US summer weather forecast this morning which will help in the setting of trader rainfall expectations for June and July.
The Kansas Wheat Quality Tour forecast a SW Kansas wheat yield of 56.7 BPA, up from 47.6 BPA in 2019. The Tour's yield last year was 42.7 BPA in a reduced survey due to Covid-19. The Wheat Quality Tour will be releasing a Kansas wheat crop estimate later today. Based on the yield results to date, traders are braced for a monster Kansas wheat crop estimate.
The US 10th Circuit Court of Appeals handed down a victory for the US Ethanol industry as it struck down 3 small refinery exemptions offered by the Trump Administration as it left office earlier this year. It was a legal vote of confidence in the US ethanol industry and the 2007 US Energy Bill on biofuels. US ethanol producers are back to making windfall profits well into early 2022.
Moreover, the EPA is expected to keep biofuel mandates the same as 2020 for 2021 and 2022 which would argue for 15 Bil gallons of conventional fuels like ethanol and just over 5 Bil gallons for biodiesel. The 20.09 Bil gallons of combined green fuels would offer certainty and a boost for the US biofuel industry. ARC estimates that the US 2021/22 corn grind will expand to 5,300-5,400 Mil Bu.
In international markets, July Malaysian palm oil futures fell 213 ringgits to close at 4,281 RM/MT. Paris September milling wheat is up €.50/MT at €212/MT while China's Dalian July corn settled down 4.5 cents at $10.895/Bu while July soymeal fell $8.00/MT to $534.50/MT.
Firming cash bids and China's recent purchase of nearly 10 MMTs of US new crop corn has pushed corn back into the bull leadership role. Wheat and soy will struggle on rallies awaiting the June Central US weather developments.
North American Weather Pattern Discussion: The EU and GFS models are in good agreement and our confidence in the 10-day forecast is high.
A US Trough/Ridge pattern has formed across with the mean Trough position over the NW US. A Ridge holds over the SE US which acts to push Gulf upper air moisture into fronts which pass over the eastern edge of the Trough across the Plains. The mean position of the Ridge retrogrades west with the entire pattern to de-amplifying beyond May 24th. This produces a zonal pattern with near to above normal temps and near normal rainfall in the 10-15 day period.
The attached 10-day precip forecast is from the EU model. The SE and SW US holds onto an arid weather pattern. This is an active weather pattern for the Plains and the W Midwest. There is a daily rain chance for the Plains and W Midwest for the next week. Needed rain is falling across N Dakota, Minnesota and Iowa this morning with rains of .25-1.00"
Temperatures warm to the mid 70's to the mid 80's. The warmth and rain favor crop development in areas where it is not too wet. There continues to be challenges in finishing spring seeding in Illinois, Arkansas, Indiana, and Louisiana. Farmers here need 4-5 days of dry/warm weather.
70's and 80's Dominate Central US weather into June- Warmth Boost Crop Growth Rate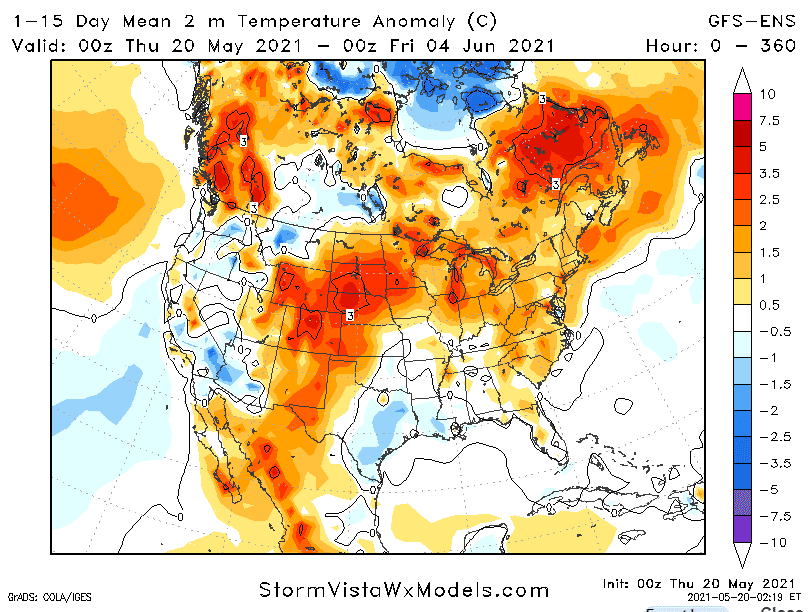 More Rain for the Plains and the W Midwest into May 24th - Then Zonal Flow across US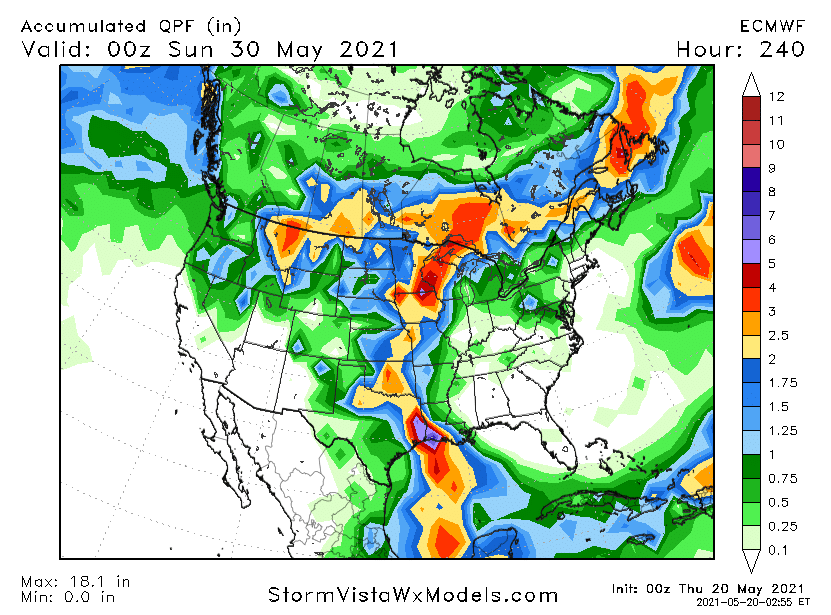 Winter Weather Pattern Ahead for Brazil with Rains for SE Brazil - Helping Parana