Morning Commentary 5/19/21
CBT Refocuses on Supply and Retreats; N. Kansas Wheat Yield Estimate Best Since Records Started in 2000; Will China Book Additional US 21/22 Corn?
6:30 AM CT CBT Prices: July soybeans are down 18.25 cents at $15.56, July corn is down 6.50 cents at $6.5175 and July Chi wheat is down 14.00 cents at $6.84.
AgResource Morning Grain/Soy Comment & Analysis: Good Morning! CBT futures were lower overnight as the battle between strong cash markets and improving Central US weather persists. CBT futures fell overnight as the focus of traders shifted back to improving Central US weather amid the Kansas Crop Quality Tour releasing strong HRW wheat yield results across Northern Kansas.
Key today will be whether China steps forward with another US corn purchase? China has booked nearly 7 MMTs of US new crop corn with large weekly sales to be announced on Thursday. China has also booked 1-1.5 MMTs of new crop Ukraine corn with a total known purchase amount at 8-8.5 MMTs. World exporters tell ARC that China continues to ask for US new crop corn offers amid its steep discount to old crop cash values. China is booking US corn for export from September through February from the Gulf and PNW.
China is stepping up its large weekly corn loading based on vessel counts. ARC Research looks for China to ship out most of their purchases which places a considerable demand pull on the Central US cash corn market. July corn will be underpinned by rising Chinese loading and improving ethanol grind rates. Cash corn basis pushes are commonplace which will continue into June and July.
World equity prices are lower on inflationary concern which is rattling investors. The US dollar is holding just above its January low, while US interest rates nudge upwards on growing supply inflation worry. The US GDP rate is forecast to gain 6.5% in the last half of 2021 with the demand pull helping to accelerate raw material pushes.
In international markets, July Malaysian palm oil futures fell 164 ringgits to close at 4,496 RM/MT. Paris September milling wheat is down €2.50/MT at €212.50/MT while China's Dalian July corn settled unchanged at $10.94/Bu while July soymeal fell $7.25/MT to $542.45/MT.
The northern leg of the 2021 Kansas Crop Quality Tour reported an average wheat yield of 59.2 BPA compared to last year's 46.9 BPA. This yield would be the best for Northern Kansas dating back to 2000. 171 fields were scouted with participants calling this week's rain as timely. Normally, the Kansas Wheat Crop Quality Tour occurs before the May NASS crop report which aids the industry making a crop assessment for the report. How the later timing of the Tour will help in assessing the June data has yet to be seen/proven.
China's live hog futures fell nearly 5% overnight – to the lowest level since the January launch of the contract on improving pork production. The falls in cash pork prices helps confirm that China's hog herd is expanding. The trade can debate the size of the expansion, but the falling pork price structure argues that China's hog herd and demand for feed will expand well into 2022.
Today's CBT price focus is on US wheat supplies and improved Central US weather. Cash market pushes for June/July Midwest corn remain, but with the July delivery period 6 weeks off, its all about improving US supply potential.
North American Weather Pattern Discussion: The EU and GFS models are in good agreement and our confidence in the 10-day forecast stays high.
A strong Trough/Ridge pattern has formed across the US with the mean Trough position over the NW US. A Ridge holds over the SE US which acts to push Gulf upper air moisture into several fronts which will pass over the eastern edge of the Trough. The mean position of the Ridge retrogrades west with the entire pattern to de-amplifying beyond May 24th. This produces a zonal pattern with near to above normal temps and near normal rainfall in the 10-15 day period.
The attached 10-day precip forecast is from the EU model. The SE and SW US holds onto an arid weather pattern while the jet stream seasonally migrates north. This is an active weather pattern for the Plains and the Western Midwest. There is a rain chance almost anywhere in the Central US for the next week. Lite showers are dotting Illinois, Nebraska, & Oklahoma this morning.
Temperatures warm to the mid 70's to the mid 80's starting tomorrow which will hike crop growth rates. The warmth and rain favor crop development in areas where it is not too wet. There continues to be challenges in finishing spring seeding in Illinois, Arkansas, Indiana, and Louisiana.
Stream of Heavy Rainfall Persists Across the Eastern Plains: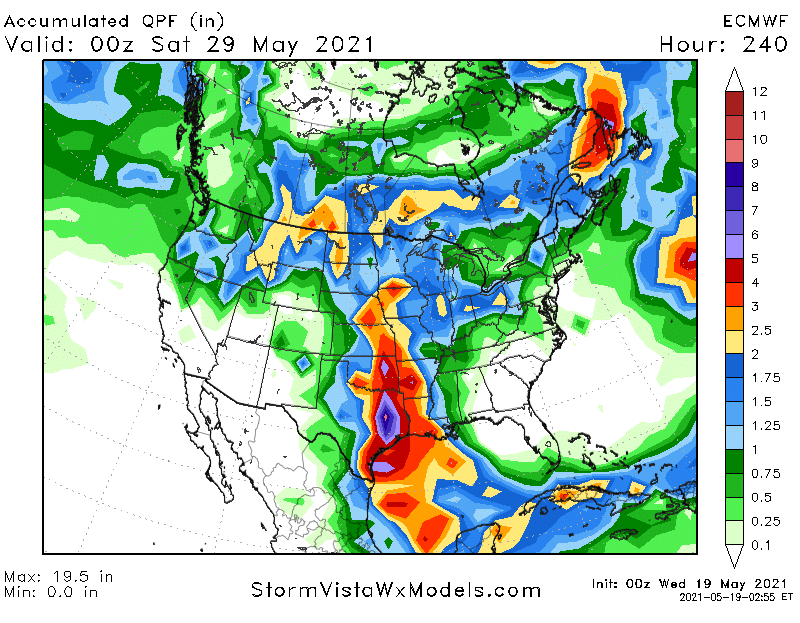 Above Normal Temps Forecast for the East Central US into June 3rd: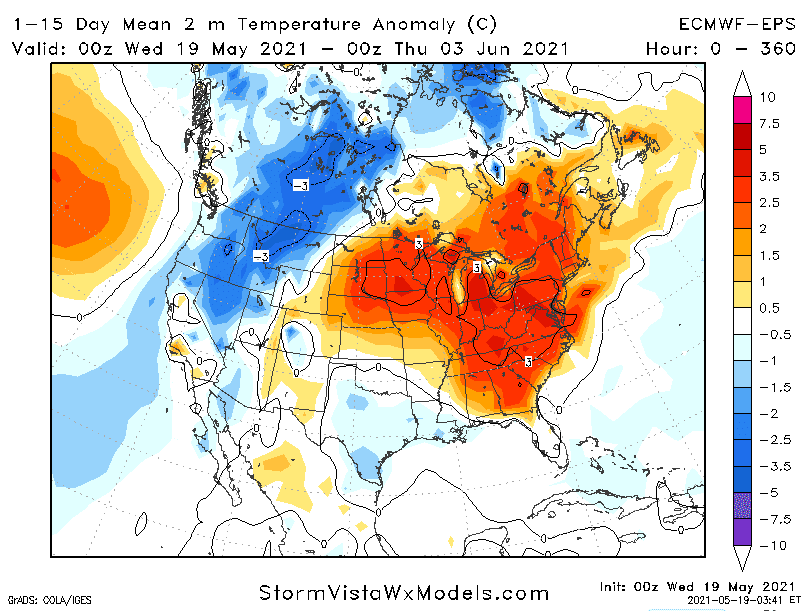 Rainfall Totals for Brazilian Corn Will be Well Below Crop Needs: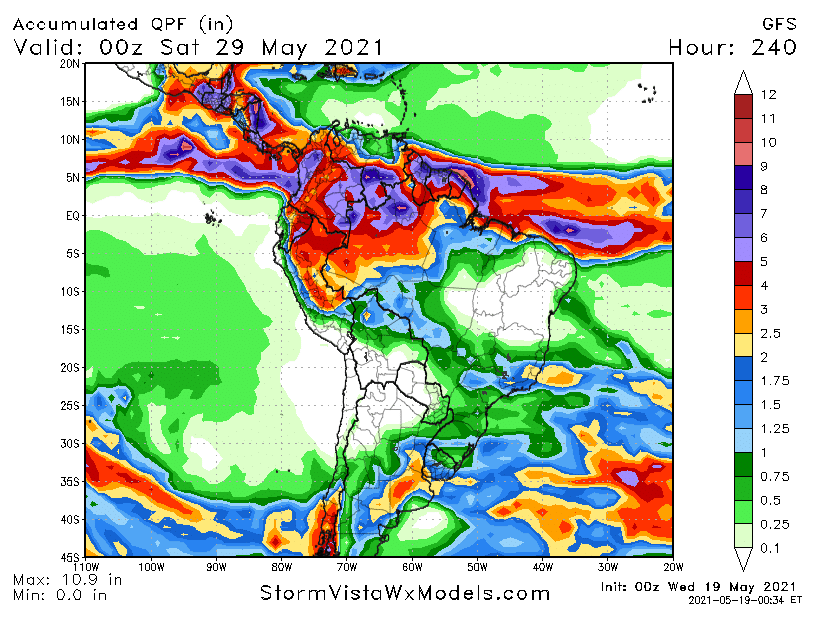 Above Normal Temperatures Persist with highs in the 80's to the lower 90's: