Morning Commentary 5/18/21
Strong US June/July Cash Market Supports CBT Recovery; US Dollar at a 4 Month Low-Will Support at $89.20 Hold on the Index?; Crop Seeding Disappoints
6:30 AM CT CBT Prices: July soybeans are up 10.50 cents at $15.98, July corn is up 11.00 cents at $6.6375 while July Chi wheat is up 5.25 cents at $7.05.
AgResource Morning Grain/Soy Comment & Analysis: Good Morning! CBT grain values are higher on Tuesday in a turnaround of the post USDA May report slide. The volume of overnight trade stays strong with more than 26,000 contracts of July corn and 14,000 July soybeans changing hands.
The US dollar is testing a 4-month low and threatening to breach key support at 89.20 set back at the opening of 2021. The weak greenback is providing a bullish tailwind for commodities with Brent crude oil rising above $70/barrel and a host of other raw material markets posting solid gains.
US Dollar Weekly Chart: Test of Key Resistance is ahead at $89.20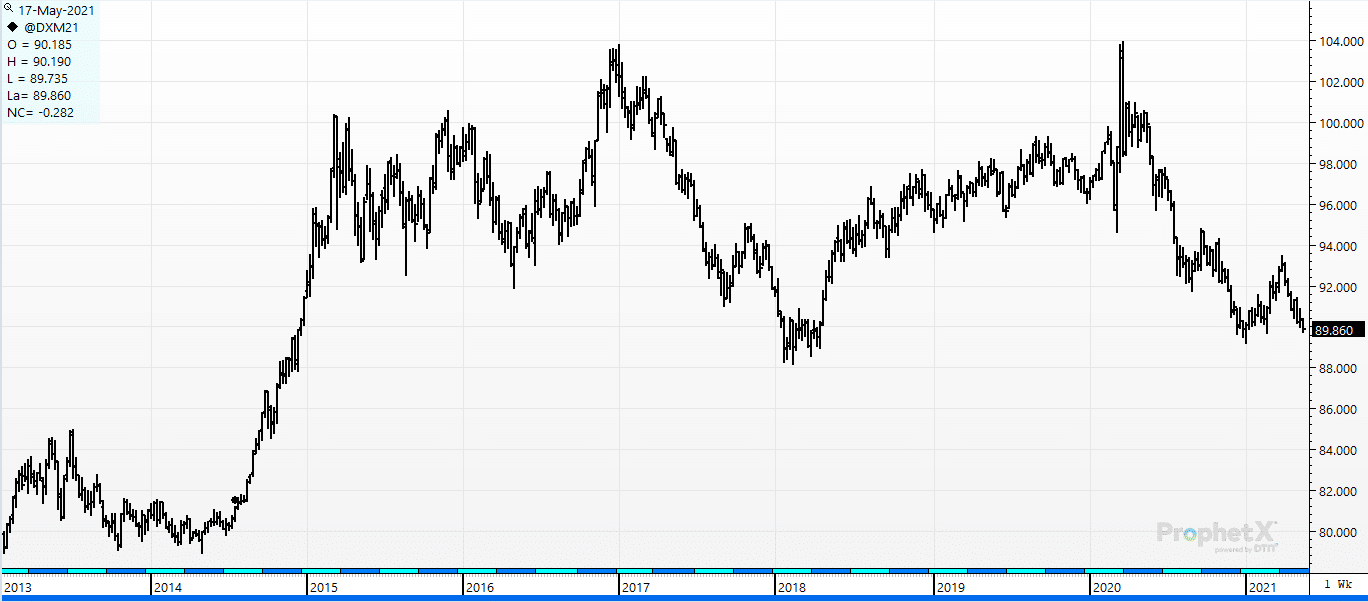 CBT open interest fell 11,562 contracts in corn and 315 contracts in soybeans, while gaining 1,766 contracts in wheat. Sellers remember the squeeze on May futures are moving their short positions forward to new crop. Central US cash corn and soybean bids June/July remain historically strong with merchandizer pushes unable to spark fresh cash movement. N Plains and Midwest producers are concerned about the coming growing season amid the worsening soil moisture profile of the Western US.
NASS reported that 80% of the US corn, 85% of the spring wheat, and 61% of the US soybean crop is planted thru Sunday - ahead of the 5 year average The US oat/winter wheat crops were rated just 49% GD/EX. In terms of oats, it was one of the lowest rated early crops since 2000. 43% of US pastures are rated poor or very poor, a testament to the low soil moisture that has prevailed across the N Plains for months. The 80% US corn seeding pace argues that farmers may not be seeding all the acres that several private firms forecast. A corn yield drag occurs for seeding after May 15th.
NASS will release its 1st condition rating of the US corn crop on Tuesday June 1st. This rating will be important and likely near the 5-year average.
In international markets, July Malaysian palm oil futures soared 205 ringgits to close at 4,658 RM/MT. Paris September milling wheats is up €2.75/MT at €217.25/MT while China's Dalian July corn rose 1 cent to $10.94/Bu and July soymeal rose $4.30/MT to $549.70/MT. China's crush margins are returning into the green on rising meal pries and near record high soyoil values.
Traders will be watching to see if China secures additional US new crop corn following days of sales announcements. Exporters tell ARC that China continues to ask for US corn offers and have booked 7-9 MMTs in total from September into February. The Chinese corn purchase pace is record large showing a real need for expanded feed supplies. China is likely concerned by the Brazilian corn crop shortfall and its own soaring cash market. ARC research maintains that the WASDE 2021 Brazilian corn crop estimate is at least 10 MMTs too high and US 2021/22 US corn exports are 250-350 Mil Bu too low.
CBOT values are rebounding on strong old crop cash markets with an entire growing season ahead for Northern Hemisphere crops. End users have taken extended forward coverage with seasonal lows to be forged as US seeding ends.
North American Weather Pattern Discussion: The EU and GFS models are in good agreement and our confidence in the 10-day forecast stays high.
A strong Trough/Ridge pattern is forming across the US with the mean Trough position over the NW US. A strong seasonal Ridge will build across the SE US and retrograde west before de-amplifying in the on Monday 25th. This lessoning of the Ridge pressure allows for more of a zonal flow in the 9-14 day period.
The pattern will produce above normal temps and showers/storms through the Plains and portions of the Western Midwest. Heavy rainfall looks to drop across E Texas/SE Oklahoma with other most other totals ranging from .25-1.25". Such rain will not end the drought concern for the N Plains, Canadian Prairies, or the Northern Midwest. However, all rain is welcome after weeks of below normal amounts.
The attached 10-day precip forecast is from the EU model. The SE holds in an arid weather pattern while the jet stream seasonally migrates northward. This is an active weather pattern for the Plains and the Western Midwest.
Temperatures warm to the mid 70's to the mid 80's starting on Thursday which looks to boost crop growth rates.
US GFS 10 Day Rainfall Forecast for North America into May 28th:
Above Normal Temperatures Prevail Across Eastern and North Central US:
Rainfall Prospects for Brazilian corn diminished Overnight:
Brazilian High Temps to Hold in the 80's/lower 90's: Much Above Normal