Morning Commentary 4/9/21
WASDE April Crop Report Due Out at 11 AM CT; Brazilian Winter Corn Area Stays Arid Next 10 Days; China Rumors for US HRW Wheat Persist
6:30 AM CT CBT Prices: May soybeans are unchanged at $14.1525, May corn is up 2.00 cents at $5.8175 while May Chi wheat is up 4.00 cents at $6.3275.
AgResource Morning Grain/Soy Comment & Analysis: Good Morning and Welcome to the April USDA Crop Report Day! CBOT prices are mostly higher this morning with the grains maintaining their upside leadership roles. Soybean traders are worried that WASDE will utilize a sizeable negative residual use estimate which could allow for the increase in export and crude demand without changing end stocks. This would point at reduced need for soybean demand rationing.
The average guess for US April WASDE end stock estimates is 1,396 Mil Bu of corn, 119 Mil Bu of soybeans, and 847 Mil Bu of wheat. The wheat stocks would be slightly higher while corn is slightly lower and soybeans steady.
AgResource notes that Thursday's wheat rally lifted the "feed competition worry cap" on corn. KC spot wheat futures had traded even with spot CBOT corn back on Tuesday, and if wheat prices are now rising on concerning N Plains and Canadian Prairie dryness and rumored Chinese demand, corn can be a leader on the upside. December corn futures are threatening $5.00/Bu.
US/world equity prices are flat this morning with the US dollar slightly higher while crude oil futures are unchanged. US Producer Prices will be out this morning and helping in the determination of inflationary pressures.
The "vix" – the measure of equity market angst - is at its lowest levels in months as the US economy recovers and the vaccination rollout is steady. The downside price risks in the equity market have been diminished by vaccinated American's returning to a more normal lifestyle.
Malaysian palmoil futures posted modest gains in a diminished volume session. May Malaysian palmoil futures gained 11 ringgits to settle at 4,058 RM/MT.
May Paris wheat is trading up €.50 at €212.25/MT while September Paris wheat is up €1.00 at €199.00. Ukraine dryness is garnering fresh trade attention.
China reported that its January-March CPI was flat with last year while food prices fell marginally at a rate of -.7%. The Chinese CPI data cautioned world traders about expecting too much inflation in the near term.
The winter corn areas of Brazil hold in a warm/dry weather pattern for another 10 days. The need for regular rainfall is dramatically rising and a deep cut in winter corn yields is feared. The dry season starts in May. CONAB and WASDE may choose to leave winter corn production estimates unchanged but Brazil's domestic corn market is worried with prices are record highs at $7.20/Bu on Thursday. Brazil corn shortage is growing, and the country should be importing large tonnages of Argentine corn production.
A few lite showers are forecast for Eastern North Dakota and the E Canadian Prairies, but rainfall totals will be less than .40" and the coverage of rain will be below 50%. The concern for N Dakota and Canadian crop seeding is high.
Good Luck with the USDA Report. ARC sees the April WASDE as being positive corn and neutral for soy/wheat. It is all about tightening US cash markets and weather going forward with traders eyeing Brazil, the N Plains and Ukraine.
South American Weather Pattern Discussion: The primary weather models maintain a dry forecast for the Brazilian winter corn areas into April 20th. The time for the return of regular rainfall is becoming limited producing a growth threat for Brazilian winter corn yields/production. The best chance of rain is with a weak frontal pass across Mato Grosso from today thru Sunday. Thereafter, the better preforming EU/Canadian models offer a new 5-7 day stretch of dryness.
The attached 10-day rainfall forecast is from the EU model. Mato Grosso rain chances will occur from today thru Sunday with totals of .25-1.25". Totals over 1.00" will be centered over the far Western Mato Grosso Crop area. The southern and eastern crop areas of Mato Grosso (where most of the winter corn is planted) hold in a dramatically dry trend.
ARC's concern is a developing/deepening flash drought across Parana, Mato Grosso Du Sol, and the Southern Mato Grosso. High temps will hold in the 80's/90's – accelerating the draw down in soil moisture. Corn crop stress is increasing daily for corn.
The Argentine forecast offers shower chances into Sunday with rainfall totals of .5-1.50". Some heavy rain fell overnight across Buenos Aires and Santa Fe.
Dry Trend For Brazilian Winter Corn Shows No Sign of Ending: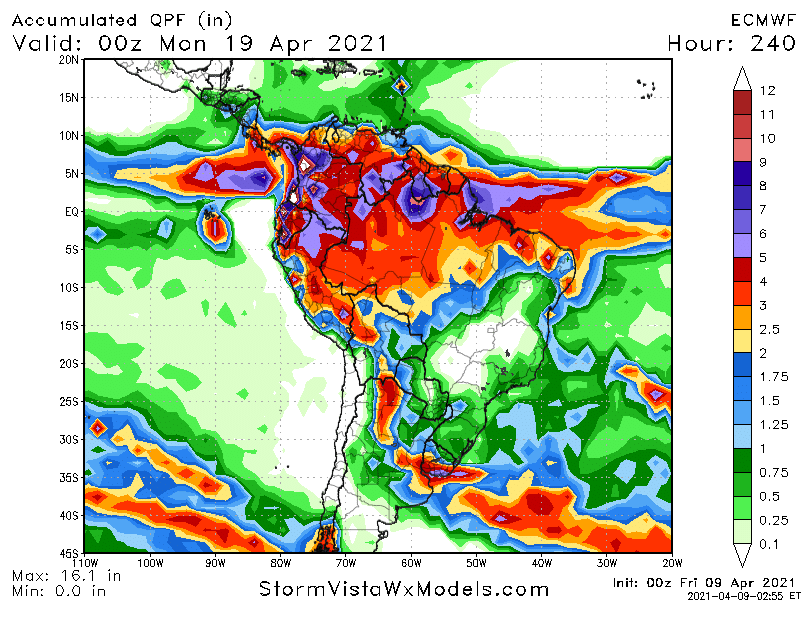 Soil Moisture Declines Deepen Across Central and Eastern Brazil: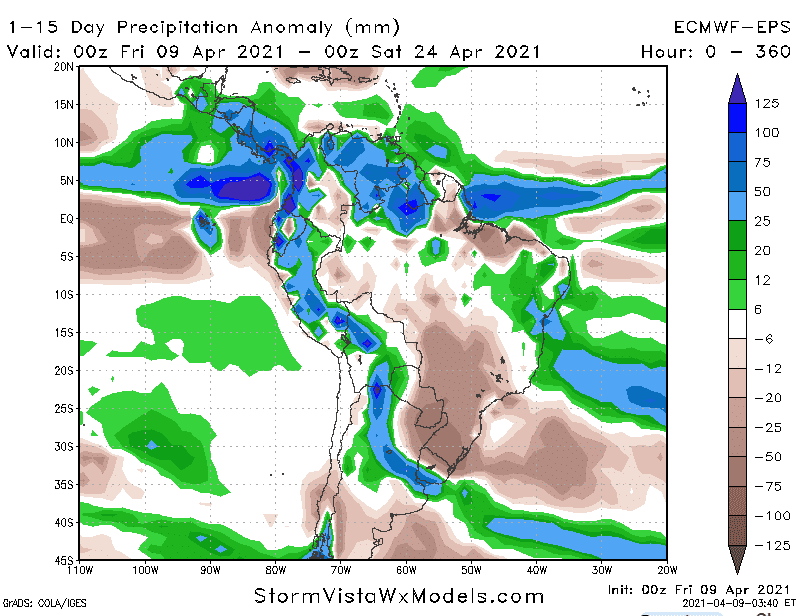 Brazil and Argentina Hold in an Above Normal Temperature Pattern:
Some Rain for E Canadian Prairies with Heavy Totals for Gulf States: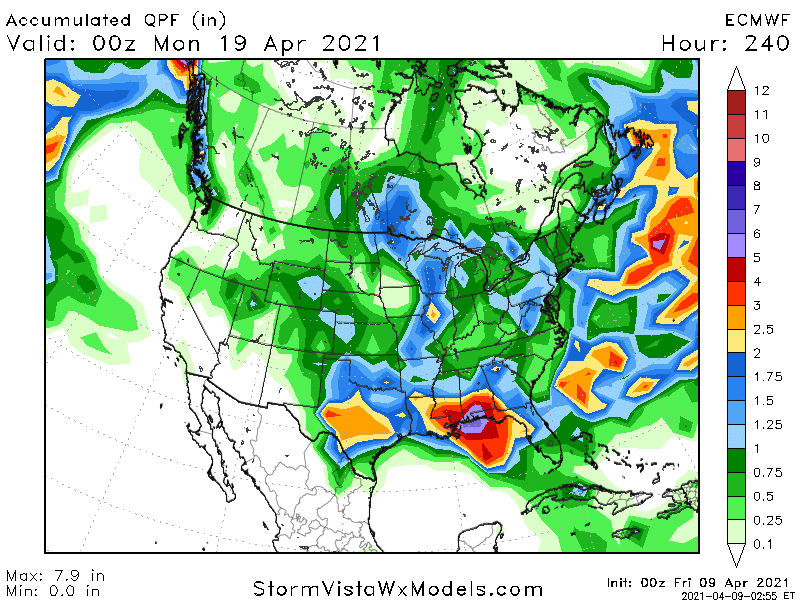 Cold Temps for Central US Beyond the Weekend to Slow Germination/Seeding Pace: