Morning Commentary 4/7/21
Corn Paces CBT Gain on Growing Concern for Brazilian Winter Corn Yield/Production; Russia Places Export Taxes on Oilseed Crops; Economic Boon Ahead
6:30 AM CT CBT Prices: May soybeans are up 5.00 cents $14.2375, May corn is up 3.50 cents at $5.58 while May Chi wheat is up 1.50 cents at $6.17.
AgResource Morning Grain/Soy Comment & Analysis: Good Morning! Higher is the CBOT mantra with old crop corn futures the upside leader on rising cash basis bids. Soybeans have followed with spreaders unwinding long Chicago/Short KC wheat spreads. The ongoing acute dryness across N Dakota and the Canadian Prairies is garnering trade attention with the 10-14 day forecast offering just a few spits of rain.
ARC expects higher CBOT trade today as fund managers add to their net long position ahead of the start of the May index fund roll at the close. Fund managers desire to be longer of corn prior to the April WASDE report due Friday. The report will likely raise 20/21 US corn exports and feed/residual use. Limited change will likely be noted in soybean/wheat futures.
The US financial markets are settling into a holding pattern on Wednesday with global stock markets hovering at record highs while US Treasury yields are steady. Optimism about the economic pandemic recovery will underpin the raw material markets. The world economic recovery should be the strongest in 4 decades and continue well into 2023 according to JPMorgan Chase CEO Jamie Dimon. The unprecedented stimulus and pent-up savings are economic boons.
The Russian Gov't has approved a formula-based export tax system for sunflower oil and a higher tax for sunflower seeds in a drive to control domestic inflation heading into key September Duma elections. The sunflower oil tax will be 70% on the difference above $1,000/MT starting on September 1, 2021. The export tax on sunflower seeds will BE 50% on price levels above $320/MT for the period of July 1 to August 31,2022. And for the same period, rapeseed exports will be taxed outright at 30%. The new duties will further restrict Russian oilseed and vegoil exports to the world into mid 2022.
Malaysian palmoil futures closed at a 2-week high on strong export demand. May Malaysian palmoil futures gained 42 ringgits to settle at 4,080 RM/MT.
May Paris wheat is trading off €.75 at €205.00/MT while September Paris wheat is up €.50 at €195.00. Speculators are securing new crop Paris wheat futures amid an ongoing dry weather trend for Northern and Eastern Europe. The drying trend across Ukraine is starting to really worry producers.
The 2nd Brazilian corn crop is coming under increasing weather stress with limited rain forecast over the next 10-14 days. With the start of the dry season looming in early May, the time for soaking needed rain for their corn crop is quickly fading. The drier weather forecast for Brazilian corn is worrisome with their domestic market at a record high at over $7.00/Bu. Brazil is the world's 2nd largest exporter of corn of over 1.3 Bil bushels annually.
It is only April 7th, but traders are discussing the ongoing dry weather trends across the Dakotas/Canadian Prairies, Ukraine, & Brazilian winter corn areas. The world has no old crop supply cushion and no tolerance for any new crop yield losses. Building weather premium into price is the new CBOT theme.
South American Weather Pattern Discussion: The forecast is drier for Brazilian winter corn areas and our concern is increasing for this crop. A below normal rainfall pattern will persist across Brazilian winter corn areas for the next 2 weeks. The best chance of rain for N and C Brazil is in the coming days, but totals have been diminished from prior forecasts. And the 8-14 day period is arid with less than .50" of rain for Parana, Mato Grosso Du Sol, and S Mato Grosso and Goias. .25-1.00" will fall across the Mato Grosso.
The attached 10-day rainfall forecast is from the EU model. Rain chances will occur from Thursday into the Sunday with totals of .25-1.25" for Mato Grosso. There are clear indications that tropical upper air moisture will be in retreat beyond mid-April. ARC's primary concern is a developing/deepening flash drought across Parana, Mato Grosso Du Sol and the Southern Mato Grosso. High temps will hold in the 80's/90's – which will act to draw down soil moisture.
The Argentine weather forecast offers a new chance of rain in the last half of this week with totals of .5-2.00". The rain will slow the summer row crop harvest but boost soil moisture for winter wheat seeding. High temps hold in the 70's and the 80's.
Soil Moisture Draws are Large Enough to Short Corn of Moisture and Cause Leaf Rolling:
Much Below Normal Rainfall Deepening Brazilian Flash Drought:
10 Day Rainfall Anomaly; Best Rains in Line from LA North to MN: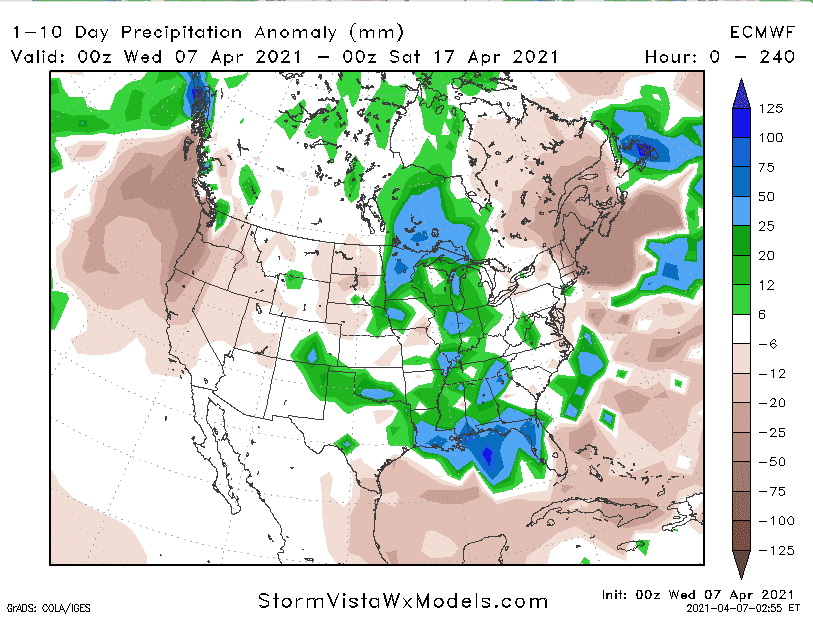 Best Rain Next 10 Days is Gulf States and Delta; Rain Stops Short of N Dakota Border: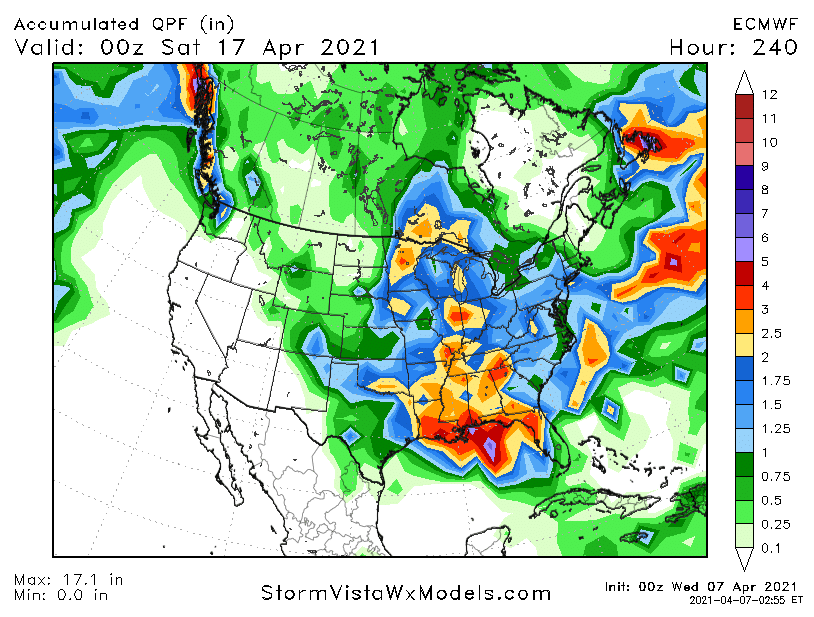 Near to Below Normal Temperature Averages for the Central US into April 22nd:
Cold Week 2 Forecast for Most of the Central US: