Morning Commentary 4/6/21
April US Wheat Ratings Well Under 2020 with Shortfall in the Plains; Malaysian Palmoil Rallies to 1 Week High; Positioning for Friday's WASDE Report
6:30 AM CT CBT Prices: May soybeans are up 6.00 cents $14.1875, May corn is up 2.50 cents at $5.56 while May Chi wheat is down 1.50 cents at $6.1625.
AgResource Morning Grain/Soy Comment & Analysis: Good Morning! Mixed to mostly higher are CBOT futures this morning with European traders returning from the long Easter Weekend while Chinese traders return later this week. Expanding volume and risk taking is expected at the CBOT heading into the weekend.
The index fund roll will start Thursday and continuing for the next 5 trading days as May positions are rolled forward to July futures. This will also be a boost for CBOT volume as long only managers expand their risk appetite.
US equity futures settled at a record high on Monday and EU futures are following suit in setting their own records in "catch-up" trade. However, US stock markets are slightly weaker on news that China's Central Bank is curtailing new loan growth. Yet, the ongoing fast vaccination pace of America along with pent up demand is fueling economic optimism that should last well into late 2021. The US dollar is slightly higher with May crude oil futures testing $60.00 resistance following Monday's sharp fall. So far, it is a risk on morning with energy, gold and industrial metal values rising.
NASS reported late Monday that 53% of the US winter wheat crop was rated good to excellent (GD/EX) with just 2% of the '21 US corn crop planted (mostly TX). The surprise was not that 53% of the US winter wheat crop was rated GD/EX (62% GD/EX last year), but that 16% of the crop was rated poor/very poor with nearly the entirety of that wheat being HRW located in the Plains. The US SRW and SWW wheat crops were rated close historical averages, it was the TX/CO/SD and NE wheat crops that were poorly rated and struggling.
The results of the unusual GASC tender will be available today with Egypt looking to secure August wheat in a tender submission that lasted 5 days. Traders will be closely following Russian wheat offers considering the new floating 70% export tax rate above $200/MT that will be installed on June 2. Key will be the number of Russian offers and their calculations for tax risk.
Malaysian May palmoil futures closed at a 1 week high on lower-than-expected production and ongoing strong export demand. The Southern Peninsula Palmoil Millers Association forecast April 1-5 production to fell 6% from March. May Malaysian palmoil futures gained 71 ringgits to settle at 4,038 RM/MT.
May Paris wheat is trading off €.75 at €208.50/MT while September Paris wheat is up €.25 at €196.75. Speculators are securing new crop Paris wheat futures amid an ongoing dry weather trend for Northern and Eastern Europe.
The Central US weather forecast offers warm temperatures and limited rains for the next 24-36 hours before a cold front produces showers across the NW Midwest which spreads east and south into the weekend. The temperature forecast turned cold overnight for week 2 – which will slow spring seeding.
Friday's April WASDE report should be supportive to old crop corn on rising exports/feed use demand. Midwest corn/soybean basis bids continue to rise on tightening supplies. New crop futures need to secure additional 2021 acres with higher prices. Like the harvest, new crop US corn and soybean futures could unusually rise through the spring planting season.
South American Weather Pattern Discussion: A below normal rainfall pattern will persist across Brazilian winter corn areas for another 2 weeks. The best chance of rain for N and C Brazil is in the coming days, but totals have been diminished from the forecasts of late last week. The 8-14 day period returns a drier flow with limited rain for Parana, Mato Grosso Du Sol, and S Mato Grosso and Goias. Near normal rain will drop across the northern half of Mato Grosso.
The attached 10-day rainfall forecast is from the EU model. Rain chances will occur for the next 3-4 days with totals of .25-1.25". There are clear indications that upper air tropical moisture will be in retreat beyond mid-April. Our primary concern is a developing flash drought across Parana, Mato Grosso Du Sol and the Southern Mato Grosso. High temps will hold in the 80's/ 90's.
The Argentine weather forecast offers a new chance of rain in the last half of this week with totals of .5-2.00". The rain will slow the summer row crop harvest but boost soil moisture for winter wheat seeding. High temps hold in the 70's and the 80's.
ARC Research will shift its weather focus to N America next week as spring seeding gathers steam. The week 2 forecast went much cooler into April 21st.
Not Enough Rain for Winter Corn Areas of Brazil into April 16th: Flash Drought Deepening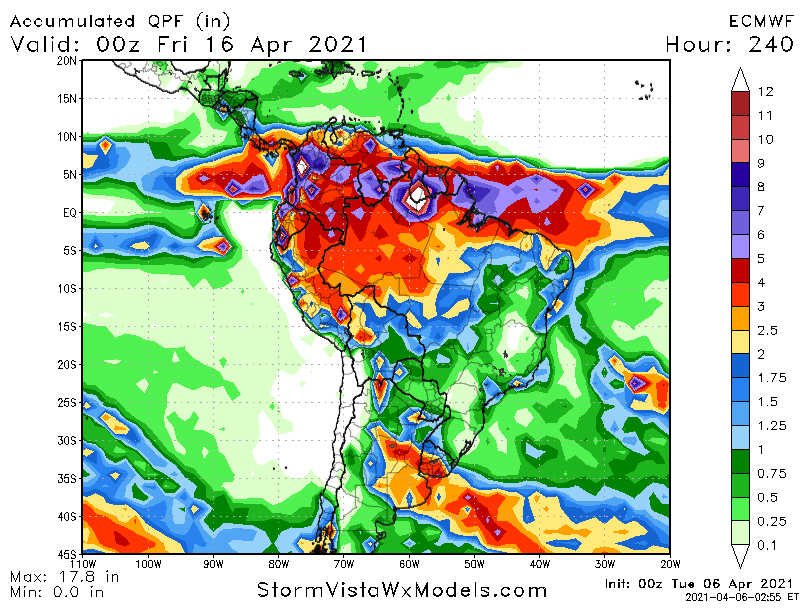 High Temperatures in the 80's to lower 90's across Most of Brazil: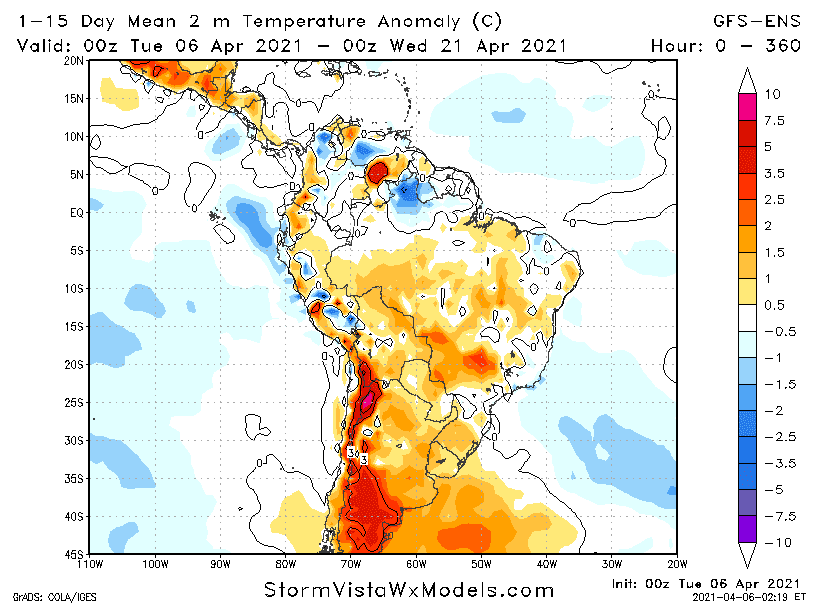 Soil Moisture Falls Worsen with a Flash Drought in the Making: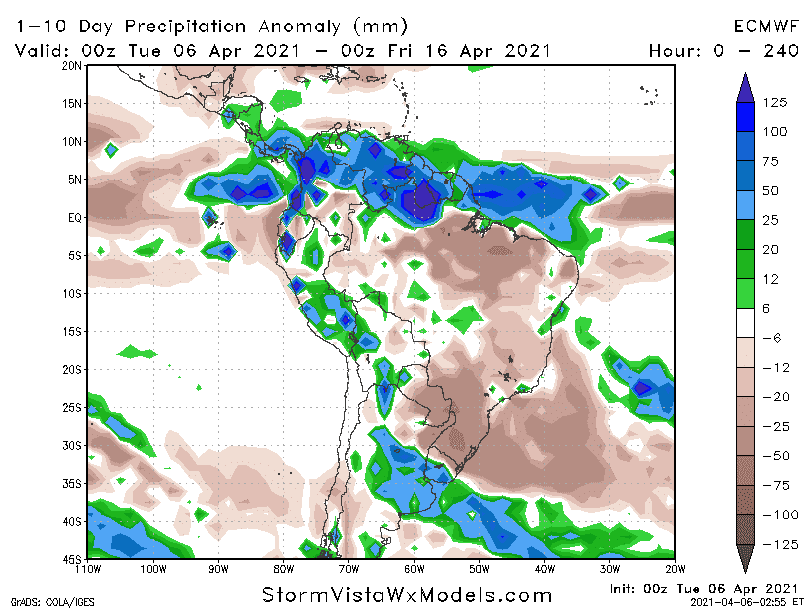 Heavy Rains for NW Midwest and Gulf States Next 10 Days: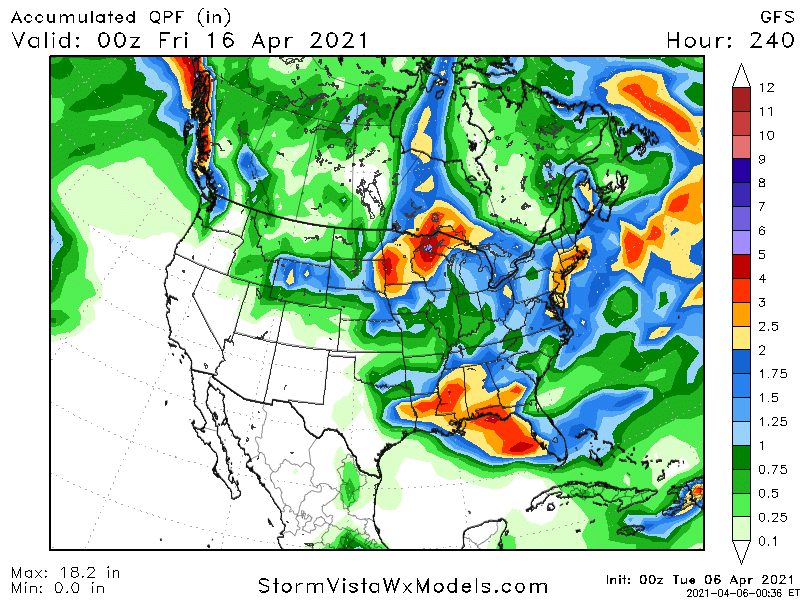 15 Day Temps Turn more Average on Cold Week 2 Temperature Forecast: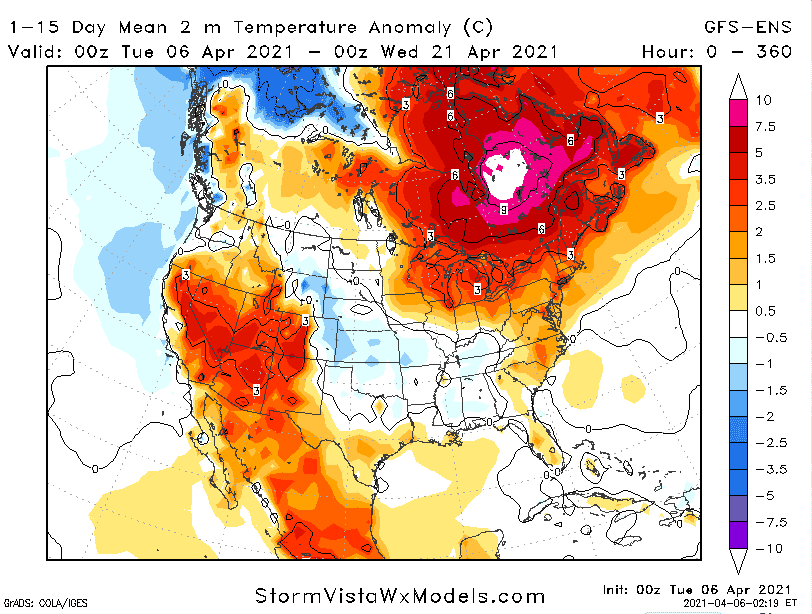 Below to Much Below Normal Temps for April 13-20th for Central US: