Morning Commentary 4/30/21
CBT Falls Overnight on End of Month Selling, Deliveries against May Soybeans/Soyoil/Soymeal; US Planting Progress Swift; French Wheat Ratings Decline
6:30 AM CT CBT Prices: July soybeans are down 8.75 cents at $14.935, July corn is down 1.00 cent at $6.4725 while July Chi wheat is down 6.00 cents at $7.23.
AgResource Morning Grain/Soy Comment & Analysis: Good Morning it is the last Day of April! And with Europe, Russia and Asia planning weekend May Day Celebrations, CBT overnight trade volume was diminished. CBT grains tried to initially rally but failed on rumors of China canceling several cargoes of Brazilian soybeans and that Brazilian soybeans are being worked into the US East Coast with tonnages of 110-165,000 MTs.
May soybeans have endured the most overnight selling pressure while November sags to $13.00 support. Month end profit taking looks to prevail today with NASS expected to announce that US farmers placed a considerable amount of seed into the ground this week. ARC estimates that 45-48% of the US corn and that nearly 33% of the US soybean crop will have been planted thru Sunday. This fast pace could weigh on CBT futures early next week.
CBOT preliminary open interest for Thursday showed a decline of 3,842 contracts of corn, 8,690 contracts in soybeans, and 4,425 contracts in wheat. May futures have largely liquidated with the contract only to be traded by commercials relative to their cash position. However, cash basis levels are strongly bid, and end users are still seeking old crop corn/soy supply.
May deliveries were larger than expected. There were 629 contracts of soyoil, 9 contracts of soymeal, and 66 contracts of soybeans tendered against May futures. There were also 590 contracts of May KC wheat put out. No corn or oats were tendered for delivery. Cargill was the fingered party that put out the soybeans and the soyoil.
French crop ratings fell following the bitter cold of earlier this month. The French wheat crop was rated 81% GD/EX, down 4% from last week. 74% of the French corn crop has been seeded, which is average for the date. A year ago, the French winter wheat crop was rated 57% GD/EX following unusually heavy rainfall that flooded portions of the crop.
The US ag attache in China estimated that China's hog herd rebuild would be slowed by African Swine Fever (ASF) as outbreaks are being reported in multiple locations. Swine numbers are not expected to rebound until late 2021.
In world ag futures trade, June Malaysian palmoil futures fell 42 ringgits to settle at 4,119 RM/MT. India's expanding Covid infection rate is negatively impacting demand. September Paris wheat futures are unchanged at €218.75/MT on improved rainfall for the EU. China's July Dalian corn fell 10.0 cents/Bu to $10.83 while Dalian July meal fell $6.50/MT to $534.65/MT.
Weather concern is growing amid the deepening dryness across the Dakotas and the NW Midwest. Planting in the dust is progressing rapidly, but rain is some abundance is required with immediacy. The dryness extends northward into Canada where drought grips most of the Prairies.
It is the end of April ahead of a long May Day weekend. Risk off is the theme of the day as CBT May futures have liquidated -- and funds are record long in corn. A several week corrective price pattern is forecast with one eye on the developing dryness across the N Plains and Canadian Prairies.
North American Weather Pattern Discussion: A progressive weather pattern is offered for the US over the next 10 days. The forecast is like prior runs with enough rain to fall to spark seed germination – outside of the Dakotas/Minnesota and Iowa. This area is enduring a quick fall in soil moisture that must be closely followed into the end of May. The jet stream is forecast to migrate northward, but it has yet to occur.
Two spring storm systems will transverse the Central US over the next 10 days to produce near to above normal rain. 10-day totals here will be in a range of .5-2.00". There are signs of the jet stream shifting northward so there will be rain chances for the Dakotas during the 11-15 day period, but so far that forecast shift has not verified. Our fear is that the models are incorrect in the shift until a Ridge forms over the Western US.
The attached 10-day rainfall forecast is from the EU model. Midwest rains increase late Sunday and into Tuesday with a 2nd chance of rain late next week. None of the rain looks exceptionally heavy and seeding progress will continue around the showers. Central US high temps range from the 50's to the lower 80's – but below to much below temps linger in the 6-10 day period.
Limited Rains for N Plains, Canadian Prairies and the NW Midwest into May 10th: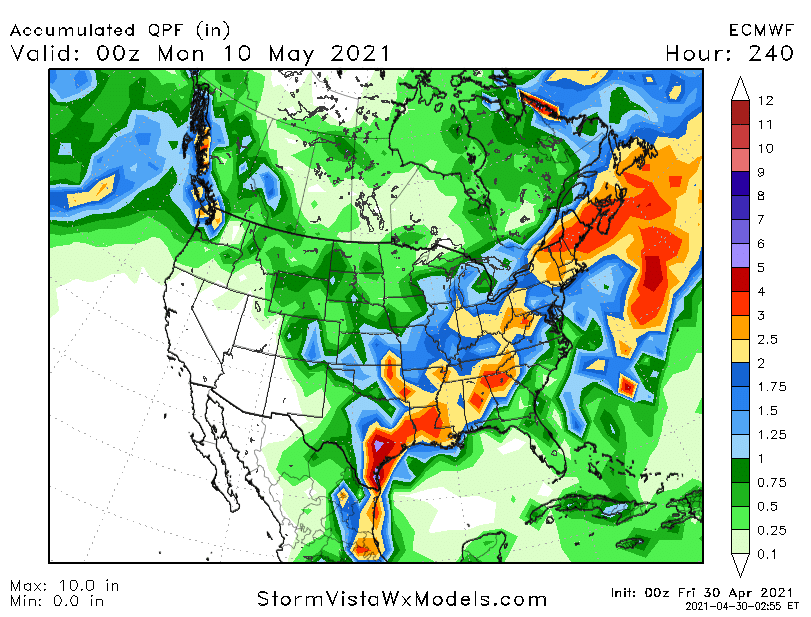 Cool to Cold Temps Return for the Central US in the Week 2 Forecast: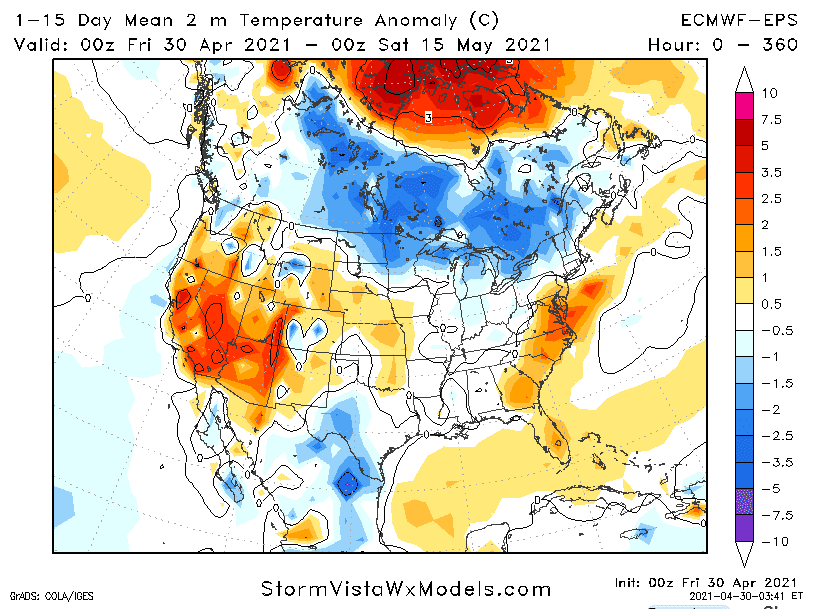 No Sign of Rain for Brazilian Winter Corn into May 15th; Crop Losses Grow.