Morning Commentary 4/21/21
Cash Strength Spurs Another Round of Contract Highs in Corn, Soybeans and Soyoil; China Issues New Feed Guidelines; Brazilian Corn Weather Stays Dry
6:30 AM CT CBT Prices: May soybeans are up 3.00 cents at $14.75, May corn is up 4.50 cents at $6.11 while May Chi wheat is up 6.75 cents at $6.665.
AgResource Morning Grain/Soy Comment & Analysis: Good Morning! CBT values are higher as the bull market maintains its upward velocity. Another round of new contract highs were scored in May corn, May soybeans and May soybean oil overnight. Impressively, the volume of trade expanded on the rally.
The premium of spot Midwest cash corn, soybean and soyoil markets is spurring short covering in May futures heading into 1st notice day on April 30th. Processors would be better off standing for delivery (against May futures) instead of paying historic cash basis pushes. The premium basis has the shorts on the run and is causing CBT bull spreads and flat prices to rise. The cash basis strength and inability of commercial grain merchandizers to secure much cash inventory has ARC doubting that any CBT correction will be sustained.
Tuesday's CBT preliminary open interest totals reflect a decline of 8,090 contracts in soybeans, but gains of 3,361 contracts in corn and 3,831 contracts in wheat. Tuesday's soybean rally appears to be largely due to short covering. There are 269,000 contracts of May corn & 161,700 contracts of May soybeans open as of Tuesday's close which argues for additional covering.
The US new crop soybean/corn ratio sits at 2.46:1 which is average for May. The economic enticement of soybeans to steal US corn seeding intentions is lacking. And amid the high price and lack of availability of nitrogen and some herbicides, its unlikely there will be a sizeable gain in 2021 US corn seeding (from intentions). Increasingly, the NASS March Seeding Intentions appear realistic, and it's statistically difficult to argue against the March report.
China's Ag Ministry issued guidelines that ease the amount of corn/soymeal fed to hogs/poultry and switch over to cheaper alternatives such as wheat, rice bran, DDGs, and cassava. The feeding of wheat has already been pushed by 25 MMTs of weekly reserve auction sales, which has caused a correction in domestic corn valuations. China's Ag Ministry would only be making the feed guideline changes for a lack of domestic corn/soybean supply. China's Dalian corn and soymeal futures markets rallied on the feed guideline announcement.
In world ag futures trade, May Malaysian palmoil futures rallied sharply to settle 110 ringgits higher at 4,341 RM/MT. September Paris wheat is up €1.50 at €211.50/MT, while China's July Dalian corn rose 8 cents/Bu to $10.84/Bu. Dalian July soymeal rose $3.25/MT to $528.75/MT in improving volume.
Like a broken record, the Brazilian weather forecast is dry for winter corn for another 10-14 days. The monsoonal flow of tropical moisture will be ending in early May leaving Brazilian corn to draw from limited subsoil moisture reserves. AgResource's concern for the 2021 Brazilian corn crop is high and the loss of 10-15 MMTs of production has significant implications.
There can always be a modest CBT correction, but any sustained decline is unlikely on tightening old crop cash markets and the prospect of equally tight new crop US/world balance sheets. ARC's view is to buy modest corrections. Any weather problem for a Northern Hemisphere grain exporter would extend the bull market. It seems difficult to say, but at current prices the downside is limited until big 2021 world crop harvests are confirmed.
South American Weather Pattern Discussion: Dry weather is forecast for the winter corn areas of Brazil for the next 10-14 days. There are clear signs that the monsoonal flow is ending across N Brazil in early May which means that much of the Brazilian winter corn crop will have to rely on subsoil moisture for their reproduction and fill development phases. Unfortunately, soil moisture has been depleted by 6 weeks of below normal rainfall. ARC's concern for 2021 Brazilian corn production is rapidly increasing.
The attached 10-day rainfall forecast is from the EU model. There will be a few showers across the northern half of Mato Grosso, but rains for Parana, Mato Grosso Do Sul and Goias will be limited into May. The forecast models agree in a below to much below normal rainfall trend into May 6th. High temps range from the 80's to the lower 90's. ARC's Brazilian corn crop worry is becoming dire.
Rain to be too Limited to Aid Brazilian Corn into May 6th: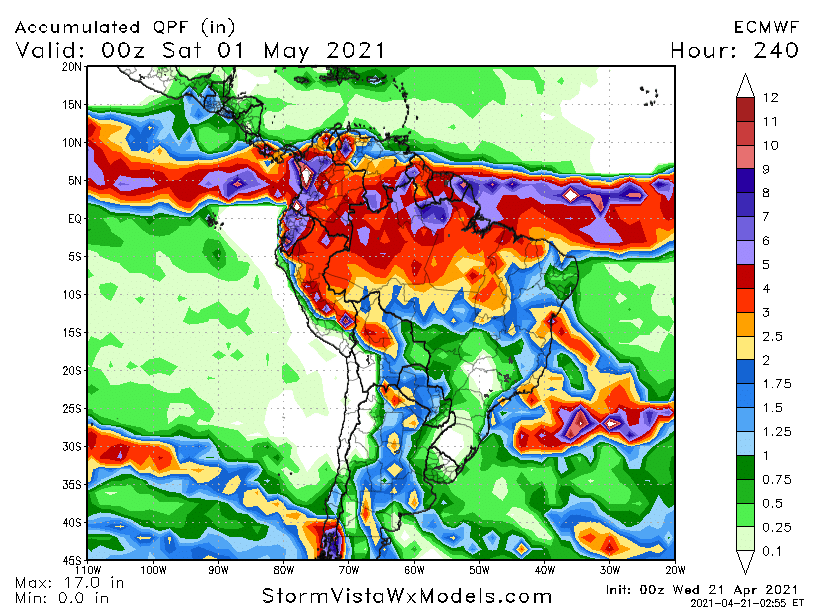 Limited Rainfall for Brazil's Winter Corn Area Next 14 Days: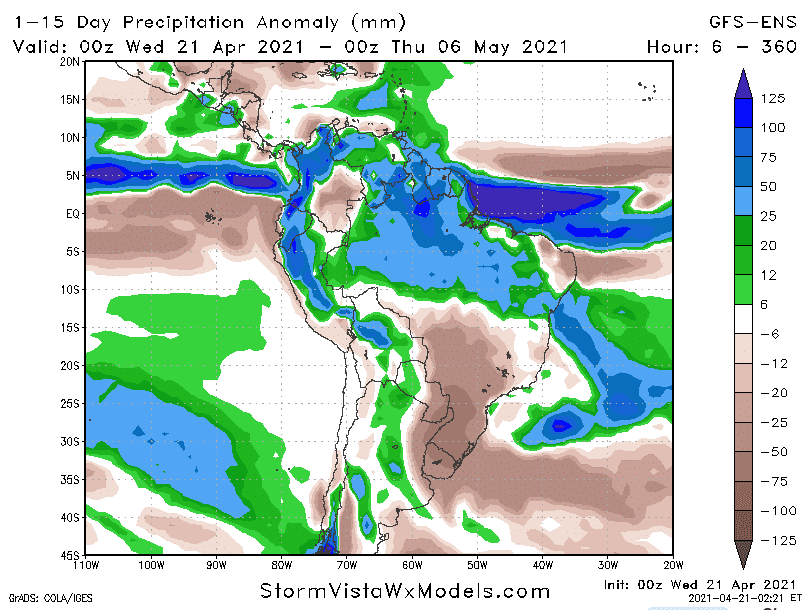 Central US Weather Discussion: The 6-10 day period has warmed in the overnight forecast with just another 4-6 days of below normal temps indicated. Rainfall for the next week will be centered across the Gulf States with a system due for the NW Midwest and the E Northern Plains next week Wednesday. The forecast maintains a drier trend for the N Plains and NW Midwest into May 6th. Dryness will continue to plague the S Canadian Prairies.
Excessive Rainfall Potential through Delta and Gulf States:
Warming Temps Next Week Accelerate Spring Seeding Effort: