Morning Commentary 4/20/21
Tightening US Cash Soybean/Corn Market Produces Fresh Contract High; Brazil to Allow Tax Free Corn/Soy Imports into Yearend; Cold for US HRW Wheat
6:30 AM CT CBT Prices: May soybeans are up 22.50 cents at $14.7225, May corn is up 7.00 cents at $5.99 while May Chi wheat is up 5.75 cents at $6.58.
AgResource Morning Grain/Soy Comment & Analysis: Good Morning! May soybeans and December corn futures pushed to new contract highs overnight. May soybeans reached a new 8.5 year high at $14.7375 while December corn's high was $5.2575. Old crop May corn is back testing last week's high above $6.00. And the wheat market has followed corn with winterlike temps noted across the Plains this morning. Lows in the mid 20's has likely caused crop damage as far south as N Texas where wheat is in the boot/heading stage of development.
CBT preliminary volume totals reflect a decline in corn & wheat of 9,591 and 6,283 contracts, respectfully. Soybean open interest gained 8,664 contracts which argues for new managed money buying.
In world macro financial markets, US equity futures declined with the DOW off about 125 points as investors weighed corporate earnings against recent spikes in world virus cases - and travel abroad. WTI crude oil futures rallied while US bond yields were steady. The US dollar was steady to slightly lower with rallies capped by rapidly growing US Gov't debt pile.
NASS reported that US corn seeding was 8% and soybeans 3% completed in the week ending April 18th. US spring wheat seeding advanced to 19%. 53% of the US winter wheat crop was rated GD/EX, steady with last week, but down from last year's 57%. It is the Plains HRW wheat crop where ratings are well down from a year ago with the Texas, Kansas, and Nebraska ratings well below their 5-year averages. Crop condition falls are expected next week and the recent arctic cold.
Bitter cold damaged jointing wheat in W Kansas and jointing/booting wheat in W Texas and W Oklahoma overnight. Lows reached the lower 20's in NW Kansas, the mid 20's in the remainder of W Kansas, W Oklahoma, and NW Texas. University studies show that jointing wheat can sustain severe damage when temps reach 24 degrees for more than 3 hours. The weekly NASS report showed that 17% of the NW Kansas, 40% of WC Kansas, and 71% of SW Kansas wheat was jointing. And 41% of the Texas wheat crop was heading & extremely vulnerable. It is impossible to accurately measure bushel losses until HRW wheat flowers.
Winterlike Temps Damage US HRW wheat in W Kansas, Oklahoma and NW Texas: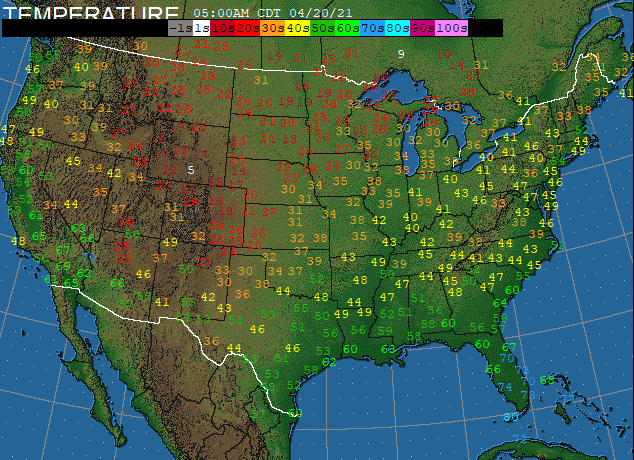 In world ag futures trade, May Malaysian palmoil futures rallied to close 51 ringgits higher at 4,231 RM/MT. September Paris wheat is up €1.50 €208.50/MT, while China's July Dalian corn rose 1 cent/Bu to $10.76/Bu. Dalian July soymeal rose $6.50/MT to $525.50/MT.
The overnight Brazilian weather forecast offers dry weather for winter corn for another 2 weeks. There are clear signs that the dry season will start across Mato Grosso and Goais in early May. Acute crop stress is being reported and yield losses could be substantial if the dry trend persists throughout May.
Brazil will allow duty free imports of corn, soyoil and soymeal without tax in a highly unusual effort to cool domestic prices following their record large soybean harvest. The 0% tax from non Mercosur countries will last into the end of the year - December 31st 2021. Brazilian domestic corn values reached record highs late Monday at $7.35/Bu as the winter corn crop withers under a dire drought. Inflationary feed price pressures are a threat to Brazil's livestock industry, while soyoil imports are needed for biodiesel.
Limited rainfall will be offered for the Canadian Prairies and Northern US Plains for the next 10 days. Central US cold temperature moderation occurs next week. However, no truly warm temps are offered into early May.
Big basis pushes have not secured cash soybeans/corn which makes the shorts nervous ahead of 1st notice day. There were reports that some Midwest processors were bidding 90 cents over July soybeans for June and could not replace that day's crush. That type of cash bidding with limited farm sales response has the shorts in May soybeans worried that end users may stand up for CBT deliverable supplies. The big cash premiums being paid in soybeans, soyoil, and corn will keep the shorts nervous and covering into Friday April 30th - 1st notice day.
And US and world weather forecasts are concerning with dry Brazilian winter corn weather for another 10-14 days adding to crop stress, while dryness across N Europe and the US Northern Plains and Canadian Prairies threatens to knife US wheat and summer row crop production. A cut of 10-15 MMTS of Brazilian corn production is a big deal in a world that is already short feedgrain supplies. The loss of Brazilian corn will likely prod China to go ahead with its big US corn export program this summer. Arid Brazilian weather adds to the upside risk. Its impossible to gauge how high CBT prices might rise if adverse weather strikes the US corn/soybean crop this summer, but its much higher than where the market sits today. The market risks favor the bulls until large Northern Hemisphere crops can be confirmed in July or August.
South American Weather Pattern Discussion: A below to much below normal rainfall trend is forecast for the winter corn areas of Brazil for the next 10-14 days. The 6-week lack of rain is causing corn to roll in the afternoon heating with stress rising with each dry day. The forecast of limited rain in the last 10 days of April and the opening 5 days of May offers deepening concern for yield. And there are clear indications that the dry season will start in May which would further stress '21 Brazilian winter corn.
The attached 10-day rainfall forecast is from the EU model. There will be a few showers across the northern half of Mato Grosso, but rains for Parana, Mato Grosso Do Sul and Goias is extremely limited into May. Soil moisture falls will be significant with the corn crop in the southern half of Mato Grosso also coming under flash drought stress. High temps range from the 80's to the lower 90's. ARC's Brazilian corn crop worry is acute.
Little or No Meaningful Rain for Brazilian corn outside of Central Mato Grosso: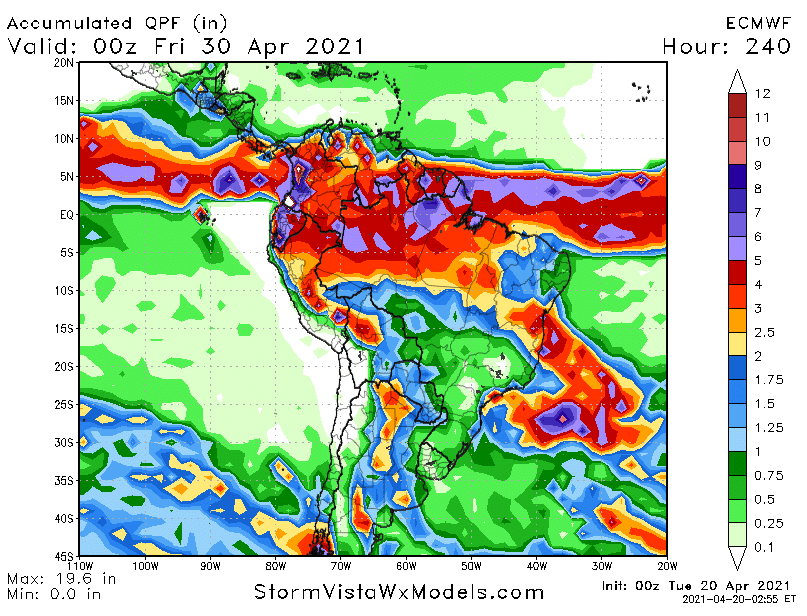 Below Normal Rainfall Trend Continues for Brazilian Winter Corn: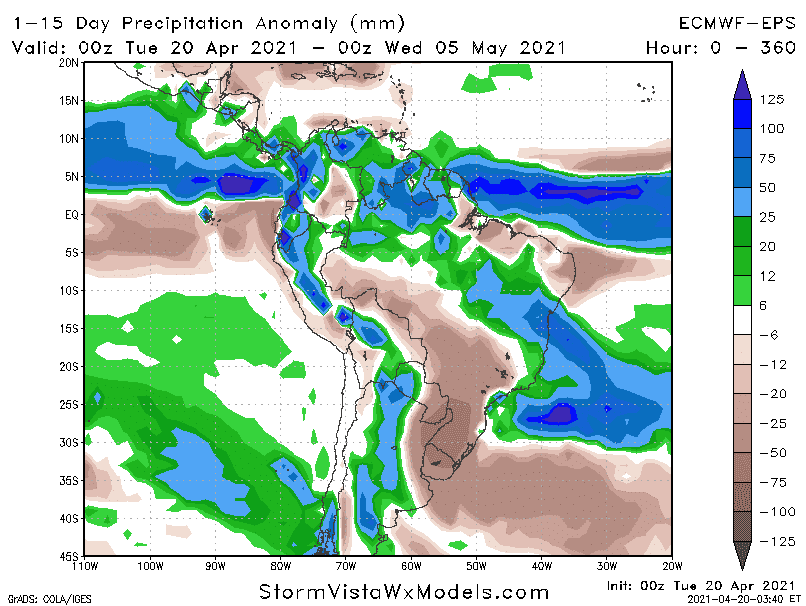 High temps in the 80's to the lower 90's into early May: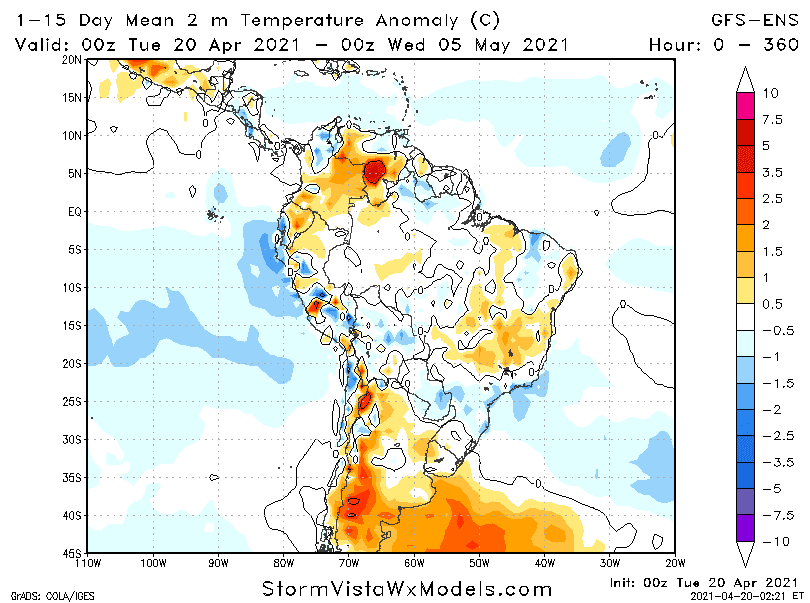 Central US Weather Discussion: A cold/dry weather pattern holds across the N Plains and the Midwest for another 5-6 days before moderation early next week. Overnight low temps will fall to the 30's/40's. N Plains & W Midwest rainfall limited into the final days of April when a few lite showers fall.
Rains for Minnesota/Iowa Fall on April 30th - low confidence: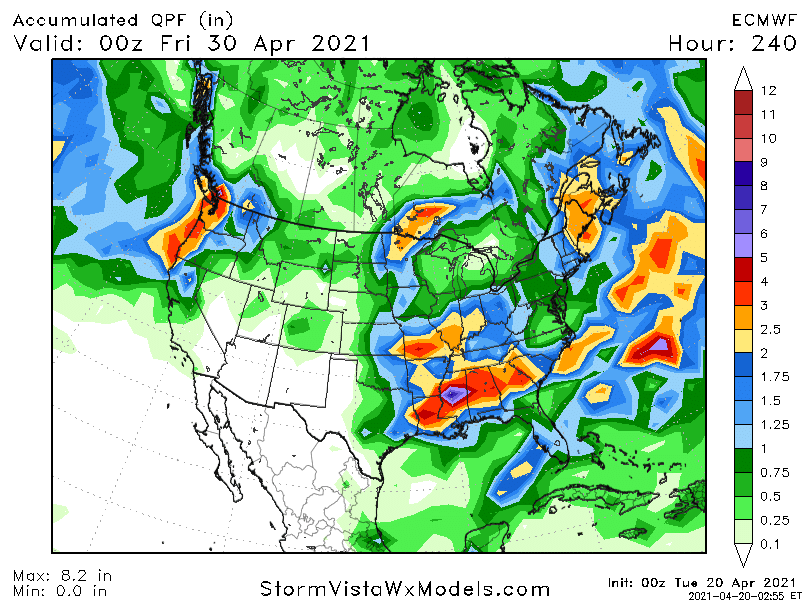 Well Below Normal Rainfall for the Plains and Western US into May 1st
Cold for another 5-7 Days with Moderation Thereafter; Never Very Warm into May 5th: