Morning Commentary 4/19/21
CBT Higher on Crop Threatening Weather for Brazilian Winter Corn; Northern Plains & Northern European Weather being Watched; US Cash Markets Firm
6:30 AM CT CBT Prices: May soybeans are up 9.50 cents at $14.425, May corn is up 8.00 cents at $5.935 while May Chi wheat is up 3.75 cents at $6.5625.
AgResource Morning Grain/Soy Comment & Analysis: Good Morning! CBT futures start the new week out higher on concerning US and world weather. The volume of trade expanded as fund managers look to hike their CBOT exposure. The Northern US/Plains, the Brazilian winter corn area and Northern Europe are all enduring some measure of drought. This has the CBOT adding weather premium to price ahead with domestic US cash markets rising on a pure lack of supply.
Today's biggest weather concern is the 2021 Brazilian corn crop! The forecasts offer limited rain for the next 2 weeks amid near to above normal temperatures with highs holding in the 80's to lower 90's. The dry season looks to start on a timely basis in early May leaving the 2021 Brazilian corn crop with limited soil moisture ahead of the crop's reproductive period that runs from late April into early June. Yield losses could be substantial while Brazilian cash corn prices have pushed to new highs above $7.35/Bu this AM.
Any loss of the 2021 Brazilian corn crop will be directed right to the US with nearly a 1:1 relationship in terms of what Brazil does not export from August into January – the US will. The biggest statistical impact will be on 2021/22 US corn exports and CBOT new crop corn futures. This is a big deal!
The 2nd area of importance is the Northern US Plains and Southern Canadian Prairies were a 7-month drought has dropped soil moisture levels to record low levels. And compounding the shortage of soil moisture is cold temps and lite snows. Spring wheat/grain seeding becomes more critical if seed is not in moist ground by May 15th. The drought watch is on across the N Plain/Prairies.
Finally, Northern Europe has been struggling with drought since September, and the 2-week forecast is arid for their winter grains. With Russian wheat export taxes in place, the world is counting on a big jump in EU production.
This is a big week for US ag policy regarding climate. In connection with a global summit that President Biden will be holding online late this week, the US will release a new pledge to reduce its greenhouse gas emissions.
On Friday, the White House nominated Robert Bonnie as Under Secretary of Farm Production and Conversation programs. Mr Bonnie has been Biden's climate czar and the USDA position will offer him broad authority and funding to shape USDA's Climate Policy. Biofuels look to be prominently featured in the early years with Gov't carbon markets to follow. Additional acres into the CRP and rising biofuel demand will tighten future US corn/soyoil stocks.
In world ag futures trade, Malaysian palmoil futures retreated with modest losses of 11 ringgits with May futures closing at 4,180 RM/MT. September Paris wheat are unchanged at €206.75/MT, while China's July Dalian corn rose 5.50 cents/Bu to $10.755/Bu while July soymeal rose $6.00/MT to $519.00/MT.
Its all about weather with rain for the Brazilian 2021 corn crop being critical ahead of pollination. The world can ill afford the loss of any Brazilian corn production with US new crop corn stocks historically tight. And the world cannot afford the loss of any wheat with the Northern US Plains and Canadian Prairies in a dire drought. US farmers may rush seed into the ground, but its the need for rain that continue to upward push on CBOT value with old crop cash basis levels rising.
South American Weather Pattern Discussion: A well below normal rainfall trend will hold across Central Brazilian winter corn areas for the next 2 weeks. There are clear indications that the tropical rains are seasonally retreating north which will usher in the dry season come early May. The lack of rain in the last 11 days of April and the opening days of May offer a negative outlook for the 2021 Brazilian winter corn crop. Some rain fell on the weekend, but the prospect for additional moisture is limited into late April.
The attached 10-day rainfall forecast is from the EU model. There will be a few showers across the northern half of Mato Grosso, but rains for Parana, Mato Grosso Do Sul and Goias are virtually non-existent into May. And the extended 10-15 day period is arid with clear indications that the monsoonal flow of tropical moisture will cease. High temps range from the 80's to the lower 90's. ARC's Brazilian corn crop worry is becoming acute.
Limited Rainfall for Brazilian Winter Corn Areas Next 10-14 Days: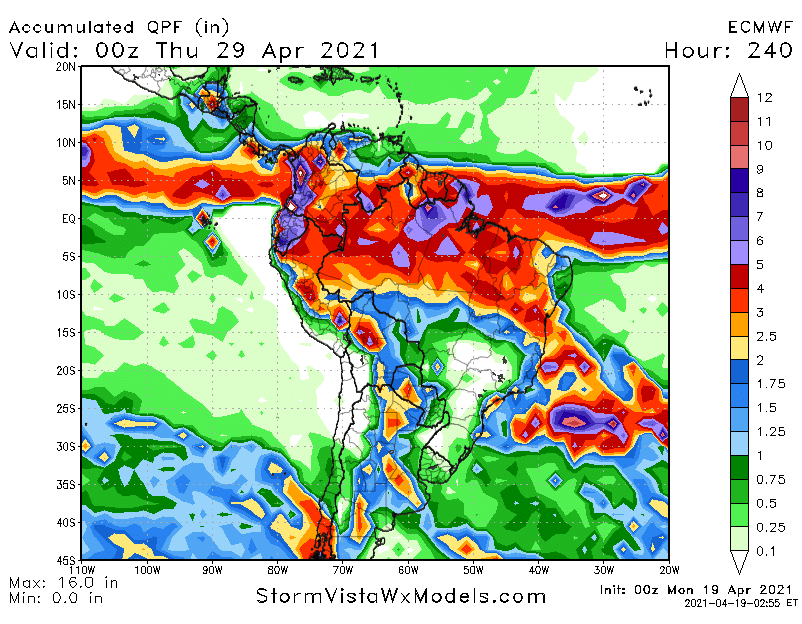 Soil Moisture Falls Deepen Already Exceptional Drought in Central Brazil:
High Temperatures Hold in the 80's to the lower 90's into May:
Central US Weather Discussion: A cold/dry weather pattern holds across the N Plains and the Midwest for another 6-8 days before moderation occurs next week. Overnight low temps will fall to the 30's/40's with some snows in over the next 48 hours. A warming by overall dry trend returns mid next week. The N Plains drought deepens into May.
Northern Plains and Canadian Prairies See Limited Rainfall into May 1st: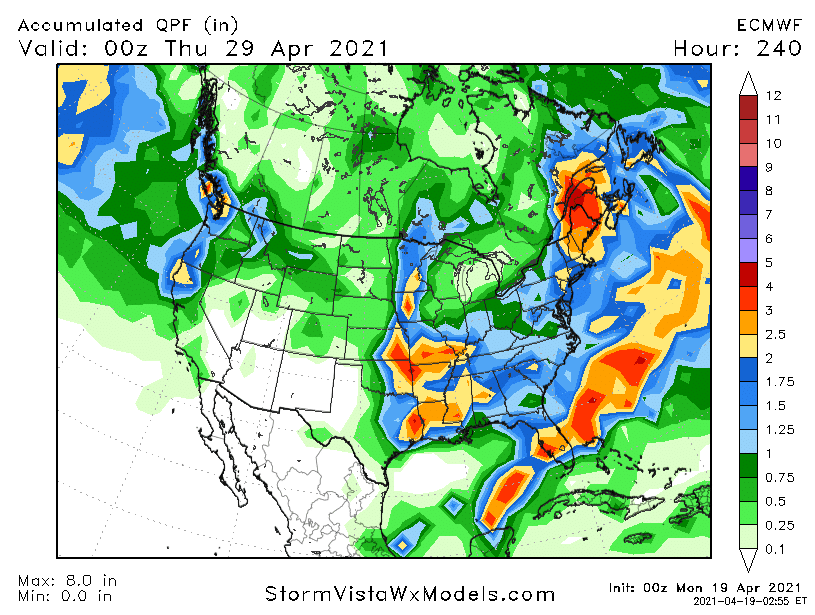 Coldest Temps this week with moderation next week; 11-15 day period less certain with model differences
Soil Moisture loss Deepens North Dakota Drought into May: