Morning Commentary 4/16/21
CBT Rallies on Worrisome Weather Forecasts - Too Dry for Brazilian Corn & Too Cold/Dry for N Plains and Upper Midwest; March China Hog Herd up 29%
6:30 AM CT CBT Prices: May soybeans are up 9.75 cents at $14.28, May corn is up 4.00 cents at $5.9425 while May Chi wheat is up 3.50 cents at $6.5725.
AgResource Morning Grain/Soy Comment & Analysis: Good Morning! CBT futures are higher in morning trade in lackluster volume. Firming US cash corn/soybean basis along with cold/dry N Plains and Midwest weather have pushed prices higher overnight. The extended range GFS/European weather models continued the cool to cold temperature trends for the Central US into early May.
Late season snows are flying across the W Plains with a few reports of sleet. Low temps in the mid to low 30's is widespread across the Central US and the trend of overnight lows in the 30's is forecast to continue into late April. The outright chill will retard seed germination and emergence.
Most N Midwest and N Plains farmers are waiting to seed crops when the weather forecast warms to more seasonal levels. The market fear is that seeding is being pushed back into the closing days of April and May.
And the Northern Plains drought will be nudging south and east amid the lack of 2-week precipitation. Dry soils will accelerate seeding when it warms up, but the lack of soil moisture is concerning for traders with the North Dakota drought already scoring records for duration/depth in mid-April.
The upshot is that market weather risk premium will be quickly built in 2021. US old crop supplies are tight and offer no supply cushion while adverse weather diminishes the odds of seeding expansion in the fringe Central US crop areas. With 2021/22 US corn/soybean stock/use ratios forecast at a near record low, there is no room for anything by normal or highly favorable weather. The US farmer needs to produce big harvests in 2021 - anything less just will not do without an acute demand rationing rally of the CBOT.
Moreover, fund managers are aware of the US new crop stock tightness with trendline yields and near normal weather. They just do not want to miss a dynamic bull market should Mother Nature be anything less than "favorable".
China reported a massive 32% gain in Q1 2021 pork production to 13.69 MMTs – the best in 2 years. China's hog herd increased to 416 Mil head at the end of March, a 29.5% on the year as China pours massive investment into its pork industry amid its battle with African Swine Fever (ASF). China's pork prices are falling under the weight of the production with values down 40% this year. The extra hogs need extra corn/meal amid last year's ban of food waste feeding
Malaysian palmoil futures rallied with gains of 88 ringgits in May futures to 4,191 RM/MT on tightening stocks due to strong export demand. Eastern European sunoil prices are rising sharply amid Ukraine's threat to place export curbs.
September Paris wheat is up €3/MT at €209.50/MT on drier than desired weather for Northern and Western Europe with well below normal temperatures.
China's July Dalian corn rose 7 cents/Bu to $10.70/Bu while July soymeal rose $9.40/MT to $513.00/MT. China's expanded hog herd will boost demand into July.
The best CBT weekly gains in 6 weeks is in play in corn/soy futures. The trend is your friend when weather threatens Northern US and Brazilian crops, the weather concerns will only be amplified in the coming weeks - unless the forecasts change. Stay tuned for rising market volatility.
South American Weather Pattern Discussion: A below normal rainfall trend will hold across Central Brazilian winter corn areas for the next 2 weeks. There are clear indications that the tropical rains are seasonally retreating north which will usher in the dry season in early May. Any rain that falls in the next 2-3 weeks will be extremely important to sustaining winter corn into the reproductive period that runs from late April into June.
The attached 10-day rainfall forecast is from the EU model. There will be a few showers on Sunday/Monday across Mato Grosso, but any widespread activity holds off until next weekend. Each run keeps pushing back the prospect of rain, which is a building concern. Next week's late week system looks to produce .25-1.00" of rain. The problem is that until then, the prospect of rain is limited to .1-.7" on coverage of no better than 50% of the crop area that won't produce much benefit. High temps hold in the 80's/90's – accelerating the draw down in soil moisture. The time for rain is immediate with corn under acute stress.
Brazilian Increase in Rain Chances Next Weekend; Confidence in the Rain in Declines as it pushed out in Time
Brazilian Corn High Temps Range from the 80's to the Lower 90's: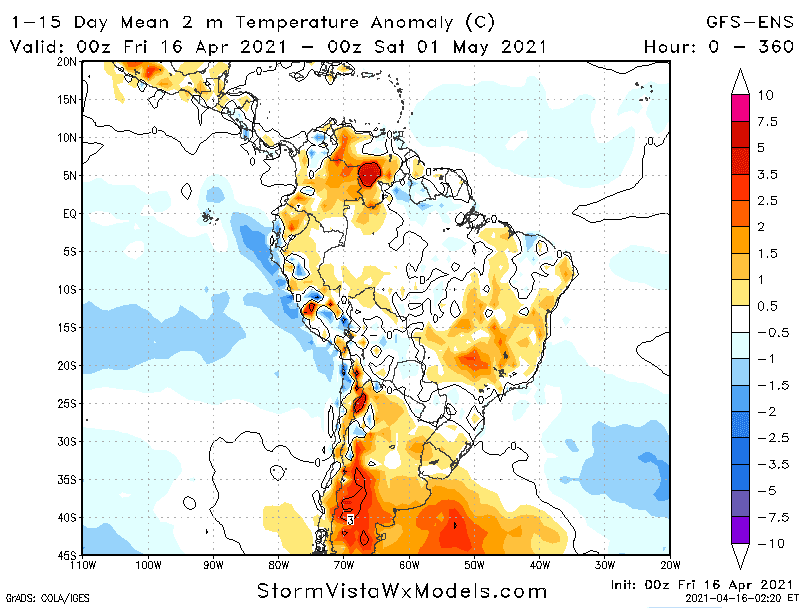 Soil Moisture Declines Further in the next 10 Days; Dry Season Starts in Early May
Central US Weather Discussion: A cold/dry weather pattern holds across the N Plains and the Midwest for another 10-12 days. Overnight low temps will fall into the 30's repeatedly into April 25th. The models extend a below normal temperature pattern into early May.
Limited Moisture for the Canadian Prairies and Northern US Plains: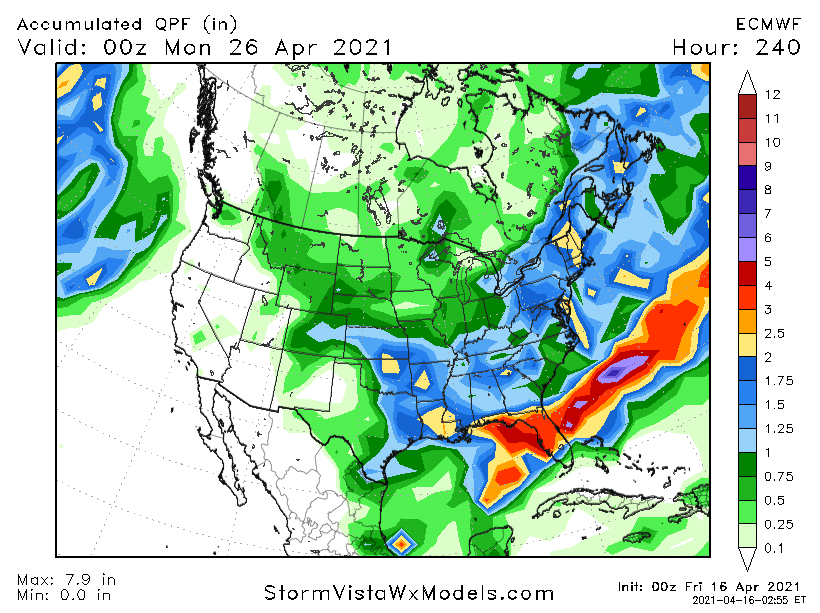 Central US Temperatures More Like Late March than Late April: Many Nights with Lows in the 30's