Morning Commentary 4/12/21
Palmoil Futures Fall Sharply Which Tugs Soyoil/Soybeans Lower; Too Dry for Brazil's 2nd Corn Crop While its Too Cold for Central US Seed Germination
6:30 AM CT CBT Prices: May soybeans are down 8.00 cents at $13.945, May corn is up 2.00 cents at $5.7925 while May Chi wheat is down 6.00 cents at $6.3275.
AgResource Morning Grain/Soy Comment & Analysis: Good Morning! The week has started out mixed with corn futures higher on the arid Brazilian weather forecast while soybeans/wheat sag following last Friday's USDA April Crop Report. The volume of CBT trade has increased from last week with more than 21,000 May corn futures, more than 17,000 May soybean futures and more than 7,000 May Chi wheat futures changing hands.
Friday's CBT open interest total rose 10,556 contracts in corn, 2,094 contracts in soybeans, while falling 1,571 contracts in wheat. Fund managers are willing to raise their long corn bets as dry weather threatens Brazil's corn crop and cold temperatures retard or delay US corn germination rates.
US/world equity prices slipped as traders await the slew of earnings reports that are offered this week amid the potential for an uneven economic recovery. South America is struggling with rising Covid infections while the US recovery is accelerating as the US vaccination rate climbs. The US WTI oil prices are rising with May futures back challenging $60.00 while Bitcoin nears a fresh record high over $60,000. The US dollar is weaker as US President Biden looks to sell his $2.7 Trillion infrastructure proposal to Congress.
Malaysian palmoil futures posted sharp losses with the May futures contract down 93 ringgits at 3,962 RM/MT. Tight stocks will underpin the Malaysian palmoil market, but a seasonal increase in production lies ahead in May/June.
May Paris wheat is trading down €1.75 at €211.00/MT in a correction from last week's rally. Dryness across Northern Europe is becoming worrisome as the crop is in the vegetative growth stage.
China's July Dalian corn fell 9 cents/Bu to $10.42/Bu while July soymeal fell $9.60/MT to $522.90/MT. China remains aggressive in importing feedstuffs and selling domestic rice/wheat reserves to pressure their local feed markets.
The winter corn areas of Brazil hold in a warm/dry weather pattern for another 7 days. There could be a few lite showers in the 6-10 day period with totals of .2-.8" according the EU/Canadian forecast models. The US GFS operational model is too wet - and has been too wet for weeks. An estimated 30% of the Mato Grosso Du Sol corn crop has seen less than .50" rain since it was planted back in late February and early March. The concern for Brazil's winter corn crop is rapidly rising with Brazilian cash corn prices at a record high above $7.25/Bu. Brazil will need to import corn before its new crop harvest starts in late July to avoid dire shortfalls.
Snow fell across Northern North Dakota on Sunday with accumulations of 1-6.00". The forecast offers limited moisture and ongoing cold temperatures for the next 10-14 days. The snows are a help but far too limited to end a deepening and dire drought. Central US weather looks cold/dry into May 1st.
A post report correction ensued overnight, but ARC sees any break as limited with Nov soybeans near key support at $12.50. Corn stays the upside leader. NOPA is expected to release another record crush rate for March and its tightening cash basis and rising bids that will firm May soybeans/soyoil into 1st notice day. A CBOT trading bottom should be scored early this week with a rally into Friday.
South American Weather Pattern Discussion: The EU/Canadian and GFS Ensemble weather models maintain a dry forecast for the Brazilian winter corn areas into April 22nd. The forecast offers very limited rain chances for the next 7-8 days with lite and widely scattered showers to return early next week with rainfall totals of .2-.8" with the coverage no better than 45% of the crop area. Our confidence with lite showers some 8-10 days out is low. The EU and Canadian models are maintaining the dry/warm trend.
The US GFS operational model is a wetter outlier, but has been shown in recent weeks, the model has been too wet and often incorrect.
The attached 10-day rainfall forecast is from the EU model. The weekend was bone dry across Brazil including Mato Grosso – where tropical showers are seasonally more normal. Weekend high temps ranged from the mid 80's to the mid 90's which added crop stress. ARC's worry is a developing/ deepening flash drought into late April.
High temps hold in the 80's/90's – accelerating the draw down in soil moisture. Corn crop stress is increasing daily and the dry season normally starts in the first 2 weeks of May. The calendar is working against Brazil's 2nd corn crop.
An Estimated .2-.8"of rain for Brazil's Winter Corn Between April 20-22nd;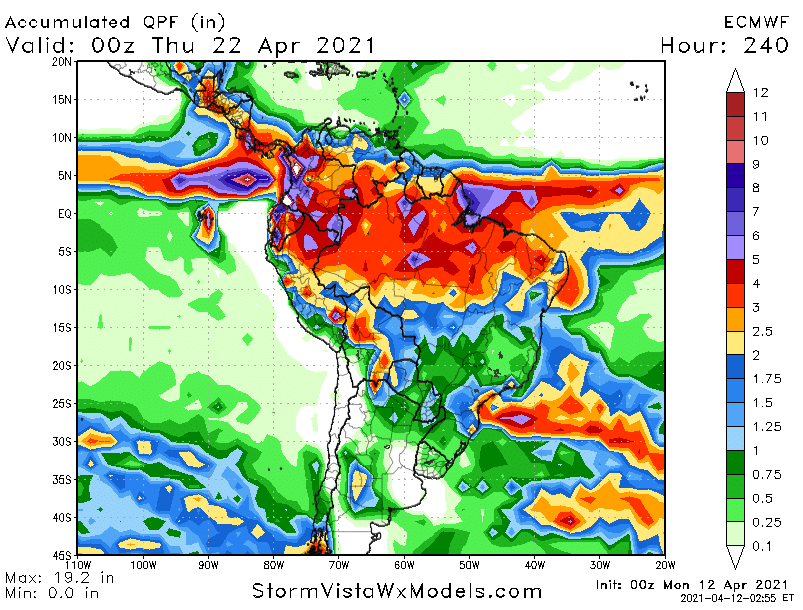 Sol Moisture Losses Deepen Across Brazil Next 7-8 Days: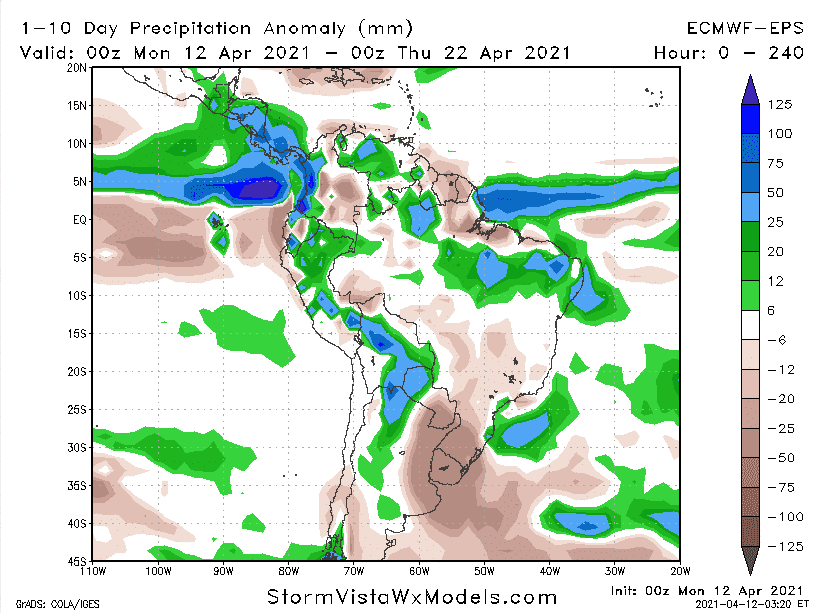 High Temps Range from the 80's to mid 90's this Week; Cooler Next Week: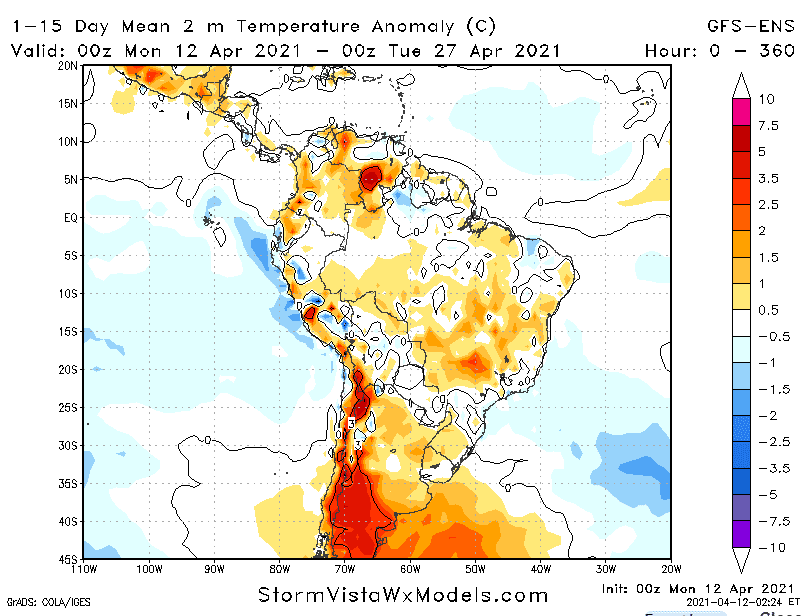 Soil Moisture Losses to Quicken Across Central US with Below Normal Precipitation: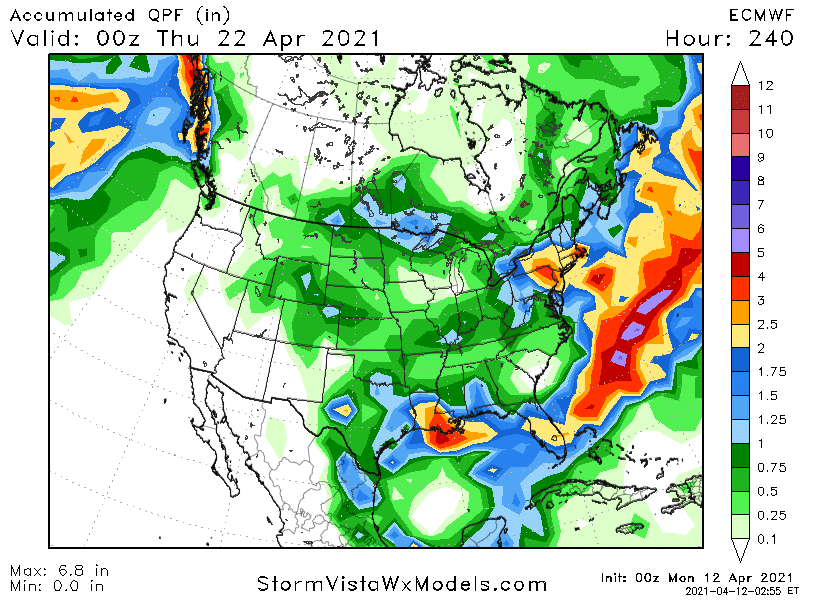 Bold Cold For Central US into late April- Will Warmth Return in May?