Morning Commentary 3/9/21
USDA Report Day - March WASDE Out at 11 AM CT; Malaysian Palmoil Futures at 10 Year High; Brazilian Real Nears Record Low 6:1 vs. USD on Lula Return
6:30 AM CBOT Prices: May soybeans are up 3.75 cents at $14.38, May corn is down 2.25 cents at $5.4475 while May Chi wheat is up 6.50 cents at $6.53.
AgResource AM CBOT Comment & Analysis: Good Morning! CBOT futures are mixed ahead of USDA's March WASDE report. Corn futures have sagged while soy/wheat futures are higher. Soyoil scored another contract high as palmoil futures set a decade high and SE Asian vegoil futures rallied. The rise in vegoils pulled soybeans upwards while US wheat futures cast aside rising US crop ratings.
Traders are selling corn expecting that USDA will hold US 2020/21 end stocks steady at 1,502 Mil Bu with February. ARC Research sees a 50/50 chance that WASDE will raise its US corn export estimate by 50 Mil Bu to 2,700 Mil Bu to account for record large world corn imports by China.
Key in today's USDA March report will be South American crop sizes and whether WASDE leaves Brazil at 133 MMTs and Argentina at 48 MMTs. Weather during February and early March has been detrimental to yield, but traders are betting that WASDE will wait for real harvest data before adjusting in April.
Importers and domestic end users hope for a bearish WASDE report to produce CBOT break ahead of the increase in CBOT position limits that starts Monday. Fund managers are anxious to expand their risk ahead of Northern Hemisphere spring seeding season and will see a post report break as an opportunity.
CBOT open interest rose 5,949 contracts in soybeans and 196 contracts in Chi wheat, while declining 3,824 contracts in corn.
May Paris wheat futures is up €.25/MT at €230.50 while April Malaysian palmoil futures rose 16 ringgits to 4,028 RM/MT. Dalian May corn fell $.125/Bu to $10.92 while May soymeal eased $4.40/MT to $524.80/MT. Dalian soyoil closed at a new contract high at $.66/pound which was up 1.0 cents.
The Brazilian real fell sharply vs the USD late Monday as Brazil's Supreme Court affirmed that prior President Lula's carwash scandal was abated opening the way for his return to politics and run for President next year. The real fell to near 6:1 vs the greenback and pushed Brazilian soybean prices in their local currency to historical highs. The weakening real pressured November soybeans on the prospect of a sizeable gain in 21/22 Brazilian seeded acres.
The Argentine weather forecast is warm/arid for the next 6-7 days with a chance of rain in the March 17-20th timeframe. Rainfall totals are estimated in a range of .1-.9" with coverage of the crop area no better than 50%. Mostly dry and seasonal weather returns in the 11-15 day forecast period.
Northern Brazil holds in a near to above normal rainfall pattern for the next 10 days with heavy rains offered in the 10-15 day period. Harvest operations will be labored while the new winter corn crop needs sunshine. High temps hold in the 80's to the lower 90's. Any winter that is seeded after today is likely to endure a yield drag as the dry season starts during the first half of May.
Good luck with the USDA March Crop Report. ARC's bet is a benign report with CBT futures initially selling off, then rising on the prospect of new money being pushed into the CBOT next week with S American crops in decline. Look to secure a break in CBOT corn, soymeal and wheat on a post report decline.
South American Weather Pattern Discussion: The primary forecast models maintain a near to above normal rainfall for N Brazil while RGDS/Argentina holds in an arid trend. The models agree on the pattern and outlay of South American rainfall for the next 10 days, which elevates our forecast confidence.
The overnight Argentine forecast is warmer. The recent Argy heat will be slow to end with the models pushing back the arrival of seasonal temps until the weekend. The additional heat will stress crops for another 5-7 days along with just a few spits of rain. Lite rains are indicated in the March 17-20th period.
The rain is focused on SW Argentina with crop area totals ranging from .1-.9".
The attached 10-day rain forecast from the GFS model. The forecast offers 10-day Argentine rain totals of .25-1.50" with coverage no better than 45%. The next 7 days are dry with the next chance of rain being early next week. The 11-15 day period offers a below normal rainfall trend with seasonal temperatures.
Near to above normal rain will persist across N Brazil which will slow the soy harvest and seeding of the winter corn crop. High temps will be in the 80's/90's. The trend is wetter in the 10-15 day period with 2-6.00" of rainfall.
Moderate Rain Chance for Argentina Between March 17-20th: S Brazil Dry/Northern Brazil Wet:
Soil Moisture Decline Continues into March 20th Unabated: Flash Drought Worsens
Overnight Forecast Slow to Cool Down Argentina This Week:
Major Spring Storm for the Great Plains, Delta and S Midwest late Week: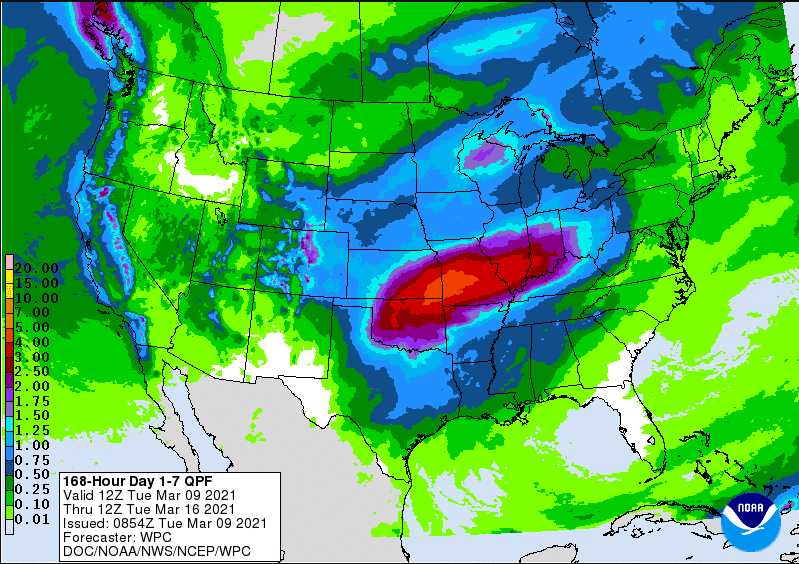 No indication of a return of Winter Temps into March 24th for Plains/Midwest: