Morning Commentary 3/8/21
Adverse South American Weather Hurting Crop Sizes; China Dalian Soyoil into Fresh Historic High; New Contract highs for CBT Soybeans/Soyoil Futures
6:30 AM CBOT Prices: May soybeans are up 12.50 cents at $14.425, May corn is up 3.00 cents at $5.485 while May Chi wheat is up 3.50 cents at $6.565.
AgResource AM CBOT Comment & Analysis: Good Morning! CBOT futures started the week sharply higher with a push to new contract highs in soybeans/soyoil. May soybeans rallied to $14.60 while May soyoil reached $53.23. The volume of trade expanded on the rally with South American weather being the bullish catalyst. US equity prices declined as traders used the Biden Ad Hoc $1.9 Tril Covid Aid package to bank profits amid continued selling in tech stocks.
Friday's open interest rose 2,937 contracts in corn and 4,600 contracts in soybeans, while falling 1,021 contracts in wheat. March futures are well liquidated with the exception being in corn where 5,794 contracts are open.
There were 19 contracts of KC March wheat and 2 oats tendered for delivery. No corn, soybeans, soyoil, or Chicago wheat have been delivered upon.
WASDE and The US Energy Information Administration will start offering statistical reporting on renewable biodiesel to help the industry better understand future growth under the Biden Administration green proposals. Renewable biodiesel is B100 that uses animal fats, recycled cooking oils or other vegoils -including soyoil. The sector has witnessed growth as industries like airlines want to boast of their sustainability and being carbon neutral.
Currently, its estimated that 250-450 Mil pounds of US soyoil is consumed for US renewable biodiesel – a modest amount. But it is a growth category that must be closely followed in the future. WASDE could incorporate a soyoil line item on renewable biodiesel as early as the March or April WASDE reports.
China's exports surged 60% in the past 2 months from last year's Covid-19 induced lull as the world economy shifts into a higher gear of growth. In February alone shipments surged a whopping 155% while China's imports grew 22%. China's February net trade surplus was $38 Billion with the January- February trade surplus being $103.2 Bil dollars. The export boom places China's economy on track to grow at least 8% in the first half of 2021.
South American crop sizes are in retreat with the industry discussing a Brazilian soybean crop of 128-131 MMTs with an Argentine corn/soy crops of 42-44 MMTs. Too much rain has damaged N Brazilian soybeans while dryness is cutting yield potential across RGDS. And dry weather has been a lingering feature for Argentina since late January. The CBOT is adjusting to the growing potential for diminished harvests and export demand shift back to the US.
In non-US future's grain trade, May Paris wheat futures is up €2.75/MT at €231.00 while April Malaysian palmoil futures rose 123 ringgits to 4,012 RM/MT. Dalian May corn rose $.095/Bu to $11.045 while May soymeal rose $7.70/MT to $529.20/MT. Dalian soyoil closed at a new contract high at $.65/pound which was up 2.2 cents/pound.
Monthly Chart for Malaysian Palmoil Futures since 2006:
South American crop supplies are in decline which has spurred sharp rallies in Chinese cash soyoil/soybean trade. The 2nd Brazilian corn crop will be the big loser on seeding dates/weather. Corn offers the best risk vs reward here with the winter crop in Brazil now substantially delayed with a yield drag. Our stance stays bullish on diminished South American supplies and need for record large US corn/soybean acres.
South American Weather Pattern Discussion: The primary forecast models maintain near to above normal rainfall for N Brazil while RGDS/Argentina holds in an arid trend. The forecast models agree on the overall pattern and outlay of South American rainfall for the next 10 days. This elevates our confidence.
Extreme heat will end across Argentina in the next 36 hours with seasonal 80s to lower 90's to follow. No additional heat is forecast for Argentina for the next 2 weeks as a high-pressure Ridge that has held over SC Argentina progresses east. This allows for an easterly upper air flow across Argentina and a few frontal passes that could produce lite rain. Such a front worked northward across Buenos Aires and sparked a few lite showers of traces to .35" overnight.
The attached 10-day rain forecast from the GFS model. The forecast offers 10-day Argentine rain totals of .25-1.00" with coverage no better than 35%. The next 7 days are bone dry with the next chance of rain being early next week. The 11-15 day period offers a below normal rainfall trend with high temps in the 80's to lower 90's.
Near to above normal rains will persist across N Brazil which will slow the soy harvest and seeding of the winter corn crop. High temps will be in the 80's/90's.
Too Wet for Northern Brazil/Too Dry for Argentina/S Brazil Next 2 weeks: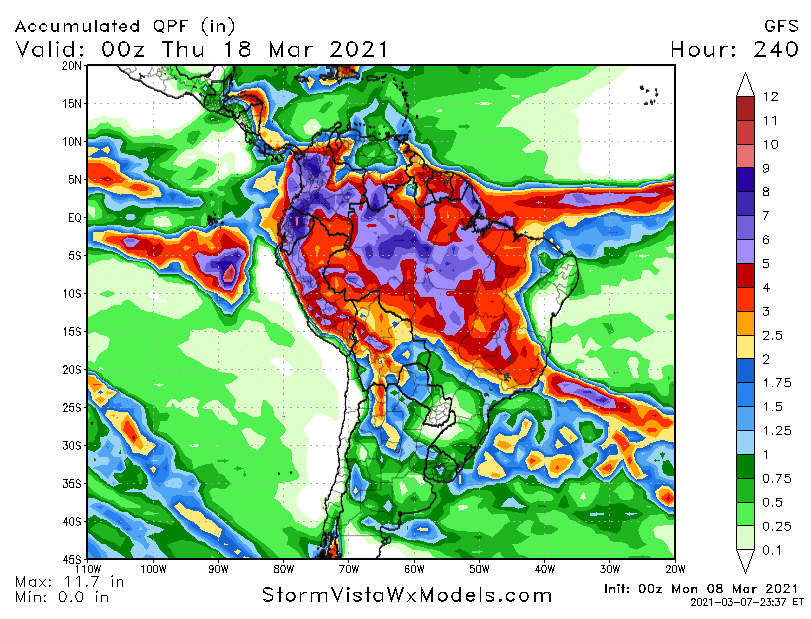 Flash Drought to Worsen Across Argentina and S Brazil: Flooding Northern Brazil:
Hot Temps Peak in Next 36 Hours; Seasonal 80's to low 90's Follow:
Corn Seeding Delays Set to Impact Delta and the S Midwest; QPF 7 Day Rainfall Forecast:
Above Normal Temps This week; Seasonal Reading Next Week: