Morning Commentary 3/5/21
Argentine Flash Drought to Worsen into Late March; EU Monthly Forecast Calls for Continuance during April; US Jobs Report Awaited by Financial Markets
6:30 AM CBOT Prices: May soybeans are up 2.00 cents at $14.1225, May corn is up 6.00 cents at $5.3825 while May Chi wheat is down .50 of a cent at $6.555.
AgResource AM CBOT Comment & Analysis: Good Morning! CBOT futures are mixed with corn, soybeans, and wheat trading either side of unchanged. Corn and soy futures have uncovered bullish heart as the primary weather models maintain arid weather across Argentina or Southern Brazil for at least another 10 days. Argentine crop conditions fell sharply on Thursday with another decline feared for the coming week (if the forecasts are correct). ARC expects that the CBOT will add premium to price for arid Argentine weather, Tuesday's USDA March crop report, and the March 15th CBOT expansion of position limits. US wheat futures are sagging on the showers that are occurring across the Plains, but the forecast is generally dry for the next 10 days. Wheat values are getting very close to support and an intermediate bottom.
Thursday's CBOT open interest fell 2,884 contracts in corn and 636 contracts in Chicago wheat, but rose 8,263 contracts in soybeans.
There were 100 contracts of KC wheat tendered. No delivery notices were posted in corn, soybeans, soyoil, soymeal, oats, or Chi wheat.
US Financial markets are awaiting the March US Jobs Report this morning with post pandemic growth fears spawning market volatility late Thursday. US equity futures have uncovered support while crude oil futures push to new rally highs above $65.00. Crude oil prices are now at their best levels since early January 2020 – before the Covid-19 pandemic was uncovered in China. US Treasury yields are marching higher as the US 3Q GDP rate could surpass 10% based on normalization of US lifestyles amid widespread vaccinations.
Argentine rainfall will be limited which will add stress reproducing corn/soy crops. Extreme Argentine heat will be felt this weekend with highs in the mid 90's to the lower 100's. Soil moisture deficits are deepening, and corn/soy crop yield and production will continue to decline. AgResource's concern for Argentine corn/soybean yields is rising following 5 weeks of limited rainfall.
In non-US future's grain trade, May Paris wheat futures is down €1.25/MT at €226.75 while April Malaysian palmoil futures rose 5 ringgits to 3,889 RM/MT. Dalian May corn rose $.12/Bu to $10.96 while May soymeal fell $2.60/MT to $521.50/MT. Dalian soyoil closed at a new contract high.
In world trade, South Korea booked 130,000 Mts of feed wheat while Pakistan passed on a tender to secure 300,000 MTs of milling wheat.
AgResource Research has advised clients that its supply that drives CBOT price direction. The acute Argentine dryness of the past 5 weeks along with an arid forecast for the next 10-14 days is tugging Argentine/S Brazilian crops lower. Moreover, excessive rain for N Brazil is causing significant quality issues for Mato Grosso soybeans and delaying winter corn seeding. Falling South American supplies will rally CBOT corn/soybeans today with Sunday's opening to be sharply higher or lower depending on the Argentine forecast. The world cannot afford the loss of any South American corn/soybean production.
South American Weather Pattern Discussion: The forecast models maintain near to above normal rain for N Brazil while RGDS/Argentina stays arid. There are hints of a drier flow for N Brazilian crop areas late next week, but our biggest South American weather worry is extreme weekend heat and another 10-14 days of dry Argentine/S Brazilian weather. The 2nd week of the Argentine weather forecast is cooler with seasonal 80's to low 90's. It is the weekend when the big heat develops with a further decline in crop condition ratings feared next week.
The attached 10-day rain forecast from the GFS model. The forecast offers 10-day Argentine rainfall totals of less than .75". A T storm developed .2-1.00" of rain over E Santa Fe and Entre Rios, overnight, otherwise Argentina/S Brazil were dry. The next chance of Argentine showers is not until late next week - and then it would just be a few lite showers of .1-.6". The 11-15 day period offers a below normal rainfall trend with seasonal temperatures in the 80's to lower 90's.
Near to above normal rains will persist across N Brazil which will slow the soy harvest and seeding of the winter corn crop. High temps will be in the 80's/90's. RGDS in S Brazil holds in an arid pattern with mid 90's heat forecast this weekend.
EU April Model Forecast Released this Morning; Arid for Brazilian Corn and Argentine Crops: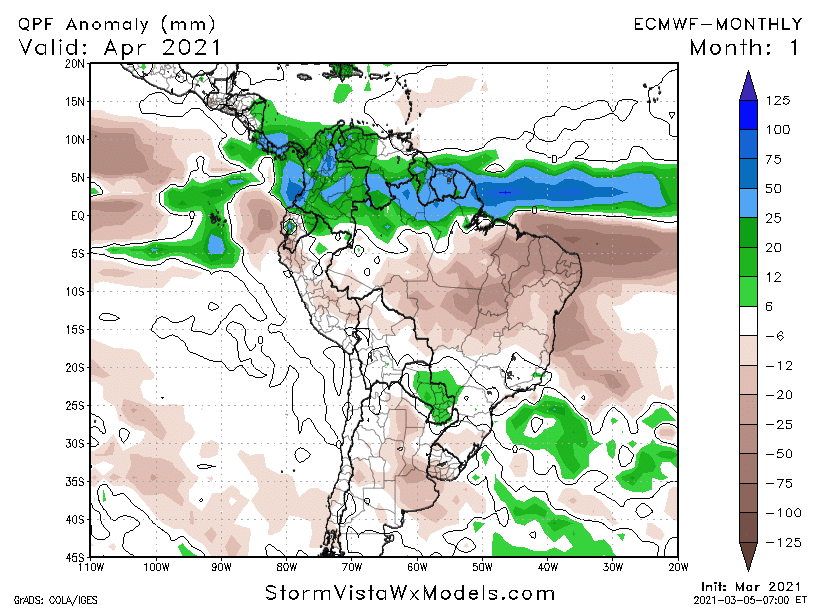 Another 10 days of Dry Argentine and S Brazilian Weather:
The Rapid Soil Moisture Draw is Producing an Argentine Flash Drought:
Hottest Argentine Temperatures will be This Weekend; Seasonal Temps Week 2:
Limited Moisture for the Plains into late March: