Morning Commentary 3/4/21
Traders Await Weekly FAS Export Sales Report; Hot/Dry Argentine Weather Stressing Reproducing Crops; USDA March Crop Report Due Tuesday
6:30 AM CBOT Prices: May soybeans are up 4.50 cents at $14.125, May corn is unchanged at $5.3525 while May Chi wheat is down .50 of a cent at $6.555.
AgResource AM CBOT Comment & Analysis: Good Morning! Mixed and dull is the overnight trade as an early bounce failed to garner any volume. Traders are fearful that the FAS's Weekly Export Sales Report will reflect seasonally soft US corn, soybean and wheat sales with South American fob offers below the US Gulf. The worry of a tepid weekly US export sales pace capped Tuesday's rally.
Yet, the US has already sold 98% of the WADSE annual soybean export forecast with corn sales at a record 88% with half of the crop year remaining. The US sales pace must substantially slow or the US will simply run out! ARC Research looks for a CBOT recovery as traders turn their attention back to threatening South American weather forecasts thru mid March.
Wednesday's CBOT interest fell 4,726 contracts in corn and 1,119 contracts in wheat while rising 2,511 contracts in soybeans.
There were 289 contracts of KC wheat delivered with commission houses the stoppers. No corn, soybeans, soyoil, soymeal, oats or Chi wheat were tendered.
The US Senate will be working into the weekend to pass Biden's $1.9 Tril Covid-19 Aid Package. The aid might have a harsh impact on US Farm Programs as PAYGO cuts funding. PAYGO is a budget rule requiring spending to be offset. The Senate could vote to waive PAGO, but that would require 60 votes thereby requiring 10 Republicans to cross the party line – which is unlikely.
OPEC is currently meeting on its future output while the US will release its monthly Jobs Report tomorrow. The US dollar is slightly higher with US equity values lower on renewed inflationary concern.
Limited Argentine rainfall is forecast to fall which will stress reproducing corn/soy crops. Extreme heat will be felt across Argentina this weekend with highs in the mid 90's to the lower 100's. Soil moisture deficits are deepening, and corn/soy crop condition estimates are expected to decline.
If the Argentine forecast calls for hot/dry weather for another 10-14 days on Monday, a push to new rally highs in soy futures is possible. The world cannot afford to lose any supply amid historically tight US soy end stocks.
CBOT May Soybeans Preparing for a breakout of Wedge Pattern: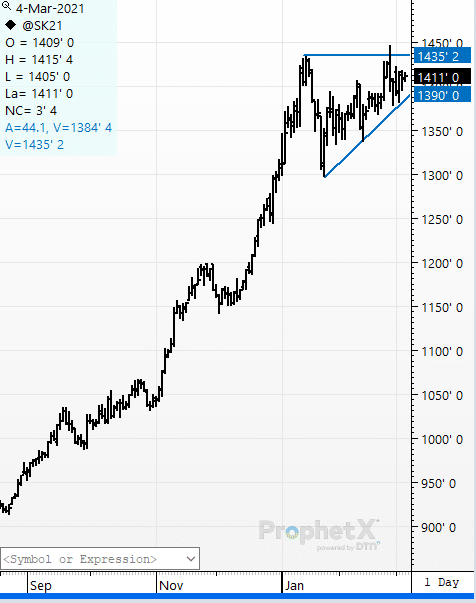 In non-US future's grain trade, May Paris wheat futures is down €.25/MT at €229.50 while April Malaysian palmoil futures rose 43 ringgits to 3,884 RM/MT. Dalian May corn fell $.07/Bu to $10.84 while May soymeal eased $4.00/MT to $524.10/MT. Dalian soyoil futures closed sharply higher which keeps China's soy crush margin positive well into midsummer.
USDA/WASDE crop reports are out on Tuesday and few balance sheet changes are expected. WASDE could raise US corn exports 25-50 Mil Bu, but most expect that they will until April. And US soybean stocks are already at a pipeline 120 Mil Bu. WASDE may trim its Argy corn/soy estimates, but leave Brazil alone, which leaves weather and the Mar 15th CBOT increase in speculative limits to rule price discovery. Funds are anxious to increase their exposure heading in a new growing season. ARC would see early CBOT weakness as a new buying opportunity.
South American Weather Pattern Discussion: The forecast models maintain a near to above normal rain for N Brazil while RGDS/Argentina holds in a hot/dry flow. There are hints of a drier flow for N Brazilian crop areas late next week, but our biggest South American weather worry is extreme weekend heat and another 10-14 days of dry Argentine/S Brazilian weather. Argentine daily high temps will regularly be in the 90's to lower 100's which will stress to reproducing corn and soybean crops. Friday and the weekend will feature highs in the low 100's.
The attached 10-day rainfall forecast from the GFS model. The forecast offers 10-day Argentine rainfall totals of less than .75". A few showers are possible over far NE Argentina and S Brazil in the next 24 hours before a lengthy stretch of dry weather prevails. The next chance of Argentine showers is not until late next week- and then it would just be a few lite showers of .1-.6". The 11-15 day period offers a below normal rainfall trend. Thru March 17th there just is not a meaningful chance of Argentine rain.
Near to above normal rainfall will persist across N Brazil which will slow soy harvest and seeding of the winter corn crop. High temps will be in the 80's/90's. RGDS in S Brazil holds in an arid pattern.
Limited Rainfall for Argentina and S Brazil for another 12 Days: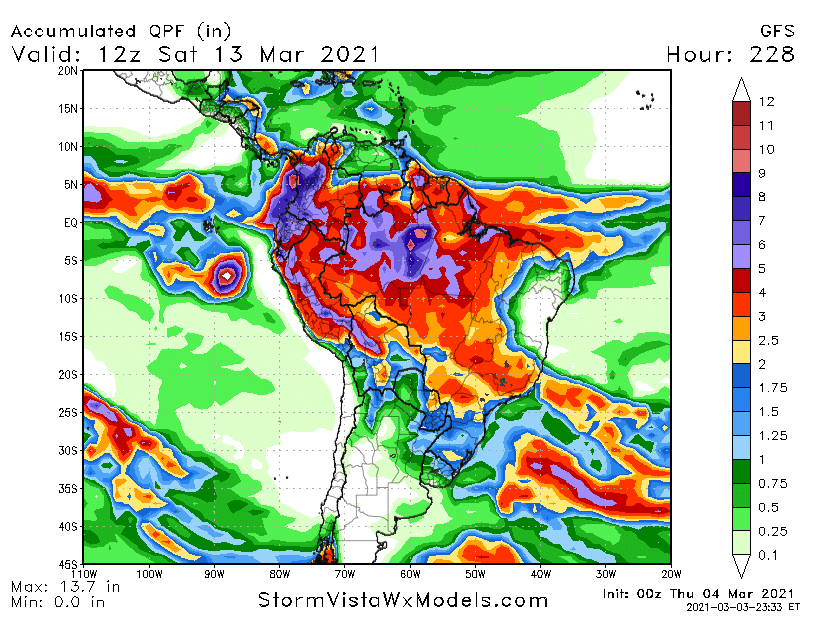 Flash Drought Underway with Soil Moisture Losses Deepening:
90's and 100's Daily Across Argentine with Extreme Heat this Weekend: