Morning Commentary 3/3/21
Lack of Fresh News Limits Overnight Volume; Argentine/S Brazilian Dry Weather Underpins Values; China Soybeans Score Another Record High
6:30 AM CBOT Prices: May soybeans are down 3.50 cents at $14.09, May corn is down 5.50 cents at $5.395 while May Chi wheat is down 7.00 cents at $6.5925.
AgResource AM CBOT Comment & Analysis: Good Morning! CBOT futures are lower as the market struggles to find a sustained trend. Values have been back-and-forth in recent weeks with a lack of resting orders creating "air pockets" for price. ARC looks for a mixed close with traders wary to be long ahead of FAS's Thursday Weekly Export Sales Report. Slowing trade of US corn/soybeans and wheat will produce another disappointing sales total with South America offering soybeans and corn well below the US Gulf. The US sales total will not be as low as last week, but it will not be inspiring the bull either.
Tuesday's CBOT interest fell 13,743 contracts in corn and 3,803 contracts in soybeans, while rising 3,092 contracts in wheat. Tuesday's summer row crop rally appears to be largely short covering, rather than new buying.
There were 1 contract of March soymeal and 3 contracts of oats that were tendered for delivery. No soyoil, soybeans, corn or March Chi wheat were put out. The March/May corn spread at a 16.5 cent premium to May is not enticing any deliveries. US corn stocks will be even more limited in May than today.
The South American weather forecast is arid for Argentina and excessively wet for Northern Brazil into March 15th. Limited rainfall Argentina and far S Brazil (RGDS) with extreme heat will be stressing reproducing corn/soybean crops. Argentine high temps will reach into the 90's to lower 100's daily. And with soil moisture largely depleted, a flash drought is in the making. ARC Research fears a sharp fall in weekly crop condition ratings and yield potential amid the deepening Argentine drought.
The N Brazilian weather forecast calls for ongoing near to above normal rainfall with 10-day totals of 3.50-8.50". With soils saturated, such rain will slow the soybean harvest and seeding of winter corn. Any winter corn seeded after March 10th will likely endure a yield drag due to the pollination during Brazil's dry season. The crop yield risks are high across N Brazil.
In non-US grain future's trade, May Paris wheat futures is down €.25/MT at €231.75 while April Malaysian palmoil futures rose 25 ringgits to 3,841 RM/MT. Dalian May corn was steady at $10.91/Bu while May soymeal eased $.30/MT to $525.10/MT. May Dalian soybeans rose to a record high of $26.20/Bu! The upside price push in domestic China soybean values is based on tightening supplies of vegoils which has pushed its price to the best levels since 2012.
The US 2Q GDP rate could exceed a 10% growth rate which has the US Dow expected to open 200 points higher this morning. The reflation trade is alive and well as the US vaccination rate quickens. Pent up pandemic spending could be released this spring with the US Foodservice industry in a massive restock. The US economic outlook is bright for a host of raw material markets.
The US Census Bureau will be releasing its January Trade Report on Friday which should reflect another record month of US soy trade. Hot/dry Argentine weather forecasts underpins soy/corn futures on falling crop estimates. A closing week rally is expected following Thursday's FAS weekly US export sales report.
South American Weather Pattern Discussion: The primary weather models maintain a wet weather pattern for N Brazil while RGDS/Argentina hold in a dry and increasingly warm temperature pattern. Argentine high temps will regularly be in the 90's to lower 100's which will stress to reproducing corn and soybean crops. AgResource's concern for South America corn/soy crops is rising.
The forecast pattern is consistent in keeping 2 high pressure Ridge Centers – one across NE Brazil and another over SE Argentina. The Ridges keep a wet profile over N Brazil while producing an arid and increasingly warm temperature pattern for Argentina. This is the 5th straight week of below normal rainfall.
The attached 10-day rainfall forecast from the GFS model. The forecast offers 10-day rain totals less than .75". The 11-15-day offers some rain with high temps in the 90's to lower 100's. The 11-15 day period has been shifting back and forth on a rain of .4-1.25" and our confidence on this moisture is low.
A near to above normal rainfall will persist across N Brazil which will slow the harvest/seeding of the winter corn crop. High temps will be in the 80's/90's. The soybean harvest is already the slowest in a decade due to excessive rainfall.
Same South American Weather Pattern Since Early February; Dry Argentina and Too Wet N Brazil: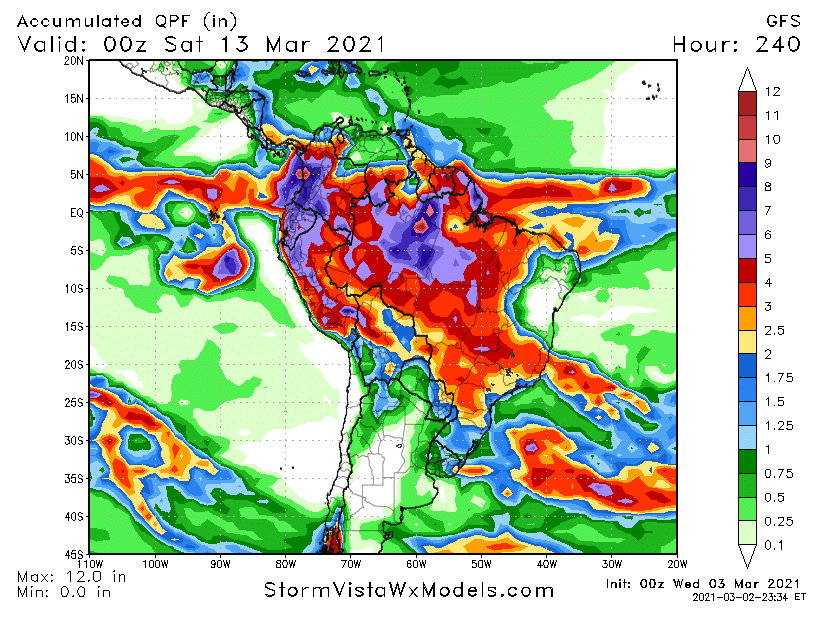 Soil Moisture Draws Reach 2-3.00" Next 10 Days; Flash Drought in the Making:
Most Days Feature High temps in the 90's with a few lower 100's Across Argentina: