Morning Commentary 3/30/21
La Nina Declared Dead by Australian Met Bureau; March Soybean and Corn Stocks Debate Via "In Transit" Grain; Paris Wheat Nearing Early Seasonal Low?
6:30 AM CT CBT Prices: May soybeans are down 4.00 cents $13.89, May corn down .5 of a cent at $5.4625 while May Chi wheat is down 3.75 cents at $6.13.
AgResource Morning Grain/Soy Comment & Analysis: Good Morning! Low volume and slightly lower CBOT prices are noted this morning with traders paring risk heading into the March Stocks/Seeding Report and the end of the month/quarter on Wednesday. The March NASS Stocks/Seeding Report is always difficult to predict, and this year's high price levels will only add to market volatility.
The Australian Bureau of Meteorology has called La Nina dead in the Equatorial Pacific with a neutral ENSO outlook now offered into mid-2021. The warming of the Pacific in the mid latitudes ended the La Nina phenomena.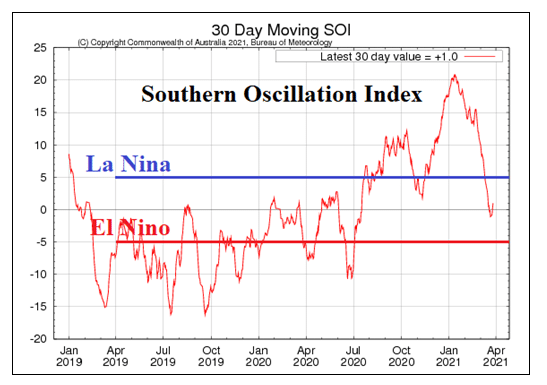 The long-range ENSO forecast models call for a mild La Nina to return later this year while other solutions are neutral. None call for the development of El Nino. It is the warming of the Pacific along with an already exceptionally warm Atlantic that will direct Northern Hemisphere weather patterns this summer. ARC's sister company, Climate Impact sees a risk of dryness in Europe, southern portions of Russia and the Central US from May into late summer.
US President Biden will be announcing his US 10-year infrastructure plan today and how it will be paid for with increase tax dollar revenue. The Biden infrastructure plan is expected to include funding for climate initiatives as well as broadband, and transportation infrastructure. The proposal will likely face opposition from Republicans amid tax increases that will make a bill difficult to pass in the remainder of 2021.
March 1st US soybean stocks are feared to be larger than expected as the record shipment pace of December boosted the number of soybeans in transit and reduced US soybean stocks as of December 1st. Soybeans in transit are difficult to count and the industry expects that 45-50 Mil Bu of those beans that were lost in transit, will be found back in Wednesday's March report.
However, that same thinking of "grain in transit is hard to count" could boost US 2nd quarter corn use with a record large corn export program underway. Another quarter of record feed/residual use would demand WASDE to raise its annual estimate by 50-150 Mil Bu. The amount of corn in transit is noteworthy.
In non-US ag markets, Paris May wheat futures is up €.50/MT at €211.25 while Malaysian April palmoil futures fell a sharp 104 ringgits to close at 4,019 RM/MT. China's Dalian corn and soymeal futures settled lower. May Dalian corn lost 10 cents/Bu to $10.39/Bu while May DCE soymeal fell $3.25/MT to $508.80.
September Paris Wheat Futures Undervalued below 193 euros/MT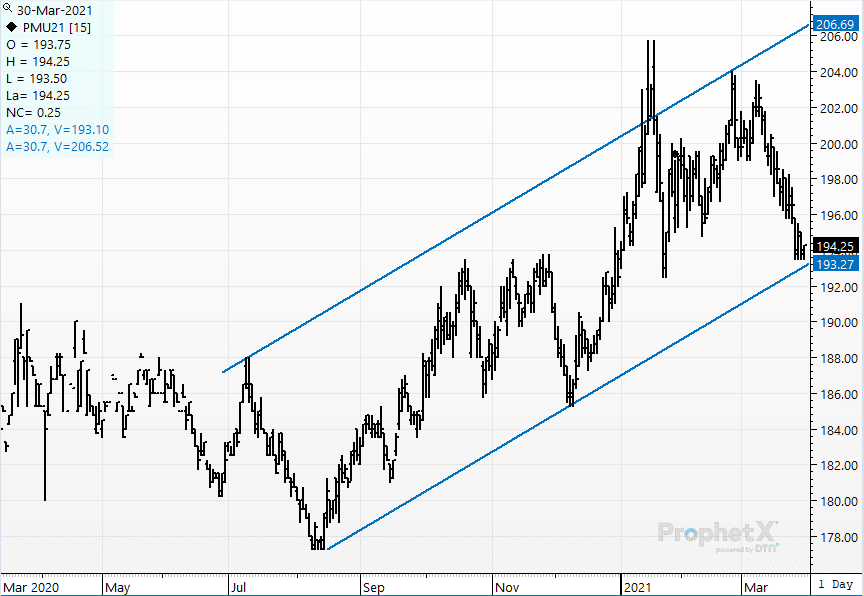 Dry weather will grip on Brazilian winter corn areas and much of Argentina over the next 10 days. The arid weather trend is raising winter corn concern.
Place your bets on the March 31st NASS Report! Its data will produce acute market volatility and start a deepening focus on 2021 Northern Hemisphere crop production. WASDE will be out on Apr 9th with updated US/world balance sheets with any extra stocks (supply) absorbed by enlarged export demand. ARC doubts that Wednesday's NASS data will produce a sustained bearish CBOT price trend.
South American Weather Pattern Discussion: The US and the EU weather models are in better agreement with the GFS model backing down on rain totals for Central Brazil in the April 8-10th timeframe. This is closer to the EU model's solution and consistent with the current arid weather pattern. The EU/Canadian models have remained ardently dry in recent days for Central Brazil and appear to be correct. A flash drought is developing across the winter corn areas of Brazil that must be closely monitored in the weeks just ahead. Sometime in the first 10 days of May, the dry season normally starts across Brazil, and this year's dry season will likely be ushered in by the ending of La Nina. The need for rain in the last 20 days of April is increasing.
And the Argentine forecast is dry also with limited rain over the next 10 days. Near to below normal temps are forecast. The dry weather will speed the onset of harvest.
The attached 10-day rainfall forecast is from the European model. The dry trend is an increasing threat to the winter corn areas of Brazil. High temps range from the 80's to the mid 90's, 5-8 degrees warmer than normal. The limited Argentine rain will be favorable with harvest advancing more quickly during April. Heavy tropical moisture has retreated to NE S America.
Limited Rainfall Next 10 Days for Winter Brazilian Corn Areas/Dry Argentina:
Above Normal Temps for W C Brazil Quickens Soil Moisture Decline:
Any Rainfall Confined to Delta and Eastern US into April 9th:
Near to Above Normal Temperature Profile for much of the US: