Morning Commentary 3/29/21
Mixed CBOT Weekly Start as Traders Trim Risk Ahead of NASS Report; Palmoil Futures Rally Strongly on Tight Supplies; Vilsack Looks to Expand CRP Acres
6:30 AM CT CBT Prices: May soybeans are up 1.25 cents $14.0175, May corn is down 3.25 cents at $5.4925 while May Chi wheat is up 2.25 cents at $6.155.
AgResource Morning Grain/Soy Comment & Analysis: Good Morning! Low volume and mixed are CBOT prices as position squaring continues to be the featured ahead of Wednesday's NASS Stocks/Seeding report. The NASS report looms large for the marketplace in a 4-day trading week with a massive 350 Mil Bu range existing in private March 1st US soybean stocks (low to high) estimates.
The CBOT will be closed on Friday for the Good Friday Holiday. Spring price direction will depend on the results of the USDA report and weather forecasts for the coming seeding of the new corn/spring wheat and soybean crops. Market volatility is expected to be ramping up with a new growing season at hand.
The huge cargo ship – Ever Given – has been refloated in the Suez Canal! And with the high tide due later today its hoped that the vessel will be able to move safely through the canal. The news was cheered by the world ocean freight industry that was becoming deeply concerned about a lengthy grounding. It's estimated that it will take weeks to move 400 stacked up ships thru the Suez and that normality will be returned to world shipping in by mid-April. This should allow for a weakening trend of world freight rates in coming weeks.
Russia has announced that it is preparing a yearly formula-based export tax on sunflower oil that will start September 1st that is set at 70% above the price of $1,000/MT. A similar tax will be set on sunseeds at 50% of the price above $320/MT. The sunflower seed tax is set to start on July 1st and run thru September 1st, 2022. The Russian Gov't has been battling food inflation since 2020 with various taxes placed on grain and oilseeds to slow their advance.
USDA Sec Vilsack indicated that he is seeking ways to expand the number of acres that are enrolled in the CRP program in an interview with the National Press Club. The acres could be enticed by larger payments in a joint effort with states. There are just over 20.7 Mil acres enrolled in the CRP this year, which is below the 25 Mil acre limit set by Congress. 3 Mil CRP acres are set to expire this fall with another 4 Mil acres in 2022. Larger CRP participation would be helpful for lifting US farm income and battling climate change.
In non-US ag markets, Paris May wheat futures is down €.50 at €214.25/MT while Malaysian April palmoil futures rallied 90 ringgits to close at 4,115 RM/MT. The strong rally in April palmoil futures reflects the shortness of supply that should allow for a quick rebound in CBOT soyoil. China's Dalian corn and soymeal futures settled lower. May Dalian corn lost 16 cents/Bu to $10.42/Bu while May DCE soymeal fell $1.20/MT to $611.70.
April Palmoil Futures Reverse Early Overnight Losses:
Dry weather will grip on Brazilian winter corn areas and much of Argentina over the next 10 days. The arid weather trend is raising winter corn yield concern areas outside of Parana. The Mato Grosso dryness is seasonally unusual.
Risk reduction and position squaring will drive CBOT valuations into Wednesday's NASS report. Thereafter, its all about Northern Hemisphere weather.
South American Weather Pattern Discussion: The US and the EU weather models agree that a dry weather pattern will hold across Argentina and the winter corn areas of Brazil into April 8th. The US/GFS model does introduce a few showers (.25=1.25") across Central Brazil on April 7th – but the EU and Canadian models do not see the frontal pass and remain arid. Confidence in the GFS's April 7-8 rainfall is low with adjustments forthcoming. ARC notes that the GFS in the 11–15-day period has been suggesting the return of showers since mid-last week. The EU/Canadian models have held onto a drier upper air flow pattern. Our lean is to a few lite showers, but no change in the overall arid upper air flow pattern. A flash drought looks to be developing across the primary winter corn areas of Brazil.
The Argentine forecast is drier than prior runs limited rain over the next 10 days. Near to below normal temps are forecast. The dry weather will speed the onset of harvest.
The attached 10-day rainfall forecast is from the European model. The dry trend is an increasing threat to the winter corn areas of Brazil into mid-April. High temps will be above normal with highs in the 80's to the mid 90's, about 5-8 degrees warmer than normal. Seasonally, the dry season for C Brazil starts in the first half of May.
Dry Weather Pattern is Maintained for Brazilian Corn Areas into April 8th: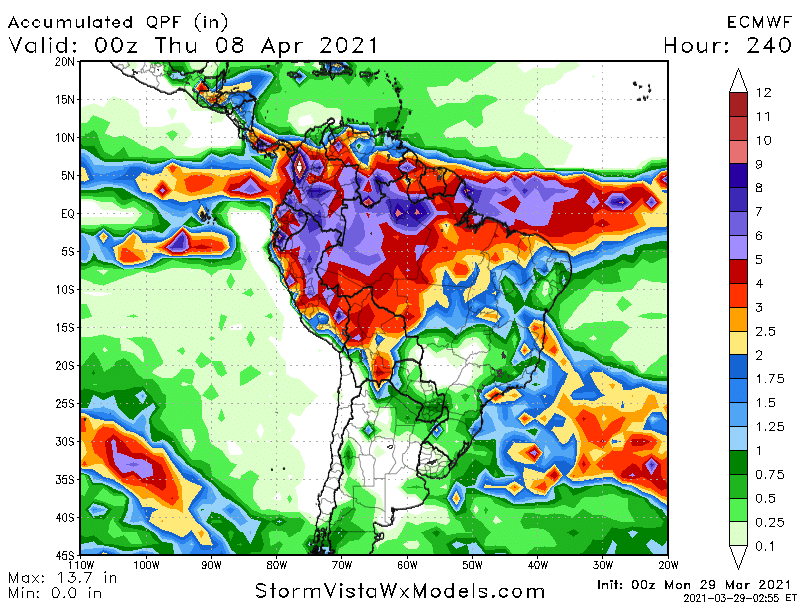 Soil Moisture Levels Continue to Fall Sharply to Seasonally Low Levels:
Temps Average Near to Above Normal for Brazilian Winter Corn - Cool Argentina;
Broad Warmth for Western and Northern US into April 13th:
Dakota Drought to Deepen; Limited Rains for Plains Over Next 2 Weeks: