Morning Commentary 3/25/21
CBOT Lower on Diminished Volume Overnight Trade; US Corn Sales To be 2nd Largest on Record Above 150 Mil Bu; Vilsack Says China ASF Under Control
6:30 AM CT CBT Prices: May soybeans are down 6.75 cents $14.26, May corn is down 3.75 cents at $5.495 while May Chi wheat is down 7.00 cents at $6.1725.
AgResource Morning Grain/Soy Comment & Analysis: Good Morning! CBT futures are lower ahead of the FAS weekly export sales report in low volume trade. Just over 11,000 contracts of May corn, just over 8,000 contracts of May soybeans, and just over 13,000 contracts of May Chi wheat have changed hands. Its rare that more May Chi wheat has traded vs either May corn or May soybeans. The slowing volume is a result of the back-and-forth nature of CBT prices in recent weeks and the coming unpredictable March Stocks/Seeding Report.
CBOT open interest declined 2,814 contracts in corn but rose 380 contracts in soybeans and 3,941 contracts in wheat. Some of the faster reacting fund managers are likely entering into new net short wheat positions.
US and European equity markets are slightly higher as the US dollar continues its recovery, while crude oil futures are down $.90/barrel as a container ship that went sideways in a dust storm blocks to the Suez Canal. The US pandemic recovery is on solid footing while Europe's economic outlook sputters on regional lock downs and sporadic vaccinations. The reflation trade is ongoing but it has taken a back seat via the rise of the US dollar.
In world ag markets, Paris May wheat futures is down €2.25 at €216.75/MT while Malaysian April palmoil futures lost 43 ringgits to close at 3,531 RM/MT on profit taking. China's Dalian corn and soymeal futures settled mixed to higher. May Dalian corn lost 1 cent/Bu to $10.59/Bu while May DCE soymeal rose $5.90/MT to $611.00. Improved demand is noted from China's pork producers.
USDA Ag Sec Vilsack offered that China's ASF troubles remain but are under control in speaking to members of the US National Farm Broadcasters. Sec Vilsack and his Chinese counterpart held a conference call Wednesday morning China time in a meet-and-greet that offered information in both directions.
Sec Vilsack stated that China is still having local outbreaks of ASF, but that the situation is not nearly as bad as 6-9 months ago. The news helps confirm why China's pork prices are sliding on larger herd numbers and the improved grain and soy import demand that will follow.
The Russian ag minister indicated that Russia will soon place export taxes on sunflower seeds/sunoil to halt the ongoing rise in domestic price. The tax will be based on a formula like the one that will be launched on wheat in June
A high-pressure Ridge will continue to block rain from the winter corn areas of Brazil for the next 10 days. Soil moisture is in sharp decline and warm temps will speed the arrival of crop stress on seedlings. Clients are strongly advised to pay close attention to coming 10-day daily C Brazilian forecasts.
The CBOT is adrift awaiting the March 31st NASS Stocks/Seeding Report and a new Northern Hemisphere growing season. US weekly corn sales of 150 Mil Bu plus are expected to be announced this morning. Cash corn/soy markets are stout on declining supplies. It is the same drill – don't chase a CBT break.
South American Weather Pattern Discussion: A high pressure Ridge that has held across NE Brazil for the past 2 weeks shows clear signs of retrograding slightly westward to a position over Central Brazil by the opening days of April. The Ridge in this position will block moisture from the southern half of Mato Grosso and most of Parana. The lack of rain and coming heat will accelerate a decline of Brazilian winter corn soil moisture while quickening soybean harvest pace.
Near to above normal rainfall will stabilize Argentine crop yield potential, but April marks the start of a more aggressive phase of their harvest. Drier weather would help speed harvest activities. Near normal rain falls into Apr 5.
The attached 10-day rainfall forecast is from the European model. The Central Brazilian high-pressure ridge is forcing upper air humidity southward into Argentina and RGDS in Southern Brazil. The best rain chances are on the weekend as a strong cold front pulls northward. Temps will be seasonal with highs in the 70's/80's.
Dry weather is forecast for N and C Brazil with the 11–15-day GFS forecast offering a few showers. Our confidence in this rain is low with the extended European and Canadian models dry. Regular rainfall is acutely needed in the last half of April.
High Pressure Ridge Pushes Slightly South and West Next 10 Days: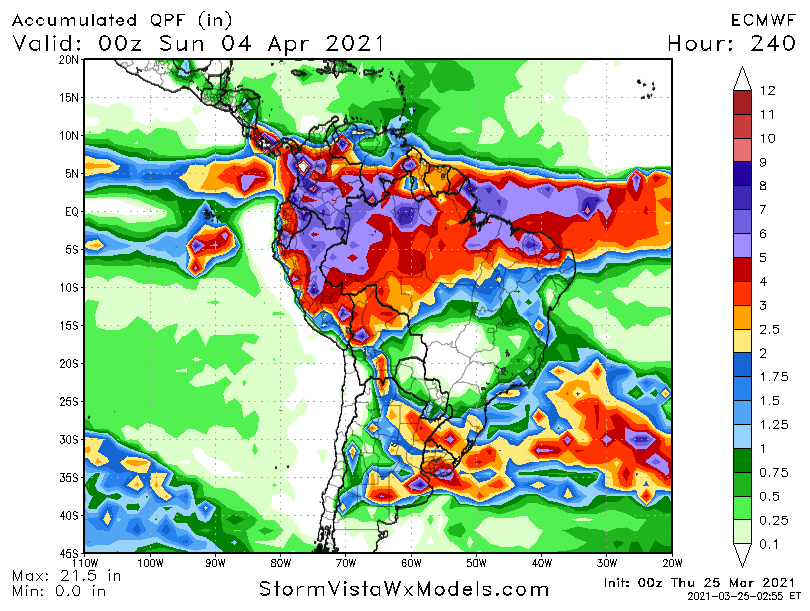 Soil Moisture Losses Deepen on Above Normal Temperatures: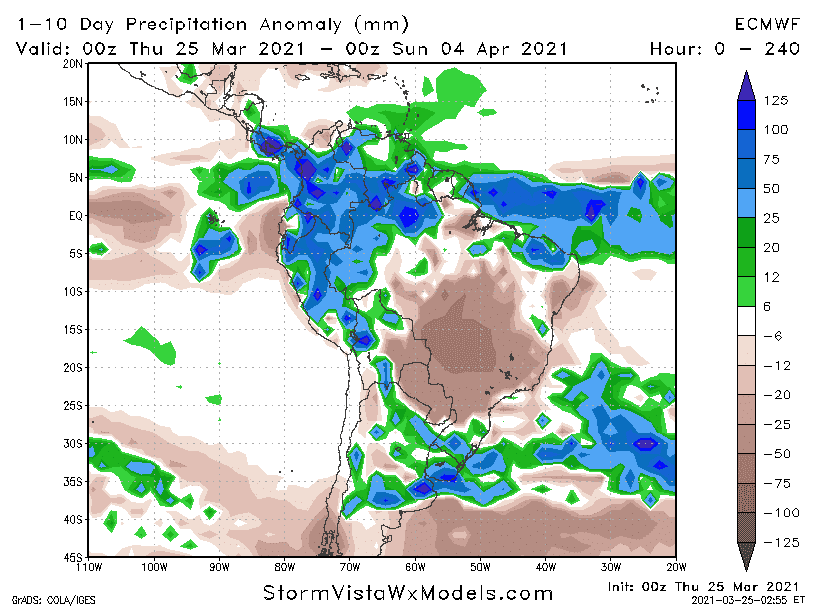 Above Normal Temperatures for Brazil for Next2 Weeks:
Broad Warming for Most of the US into April 10th:
Limited Rains Cause Worsening Drought for N Plains/Canadian Prairies: