Morning Commentary 3/24/21
Low Volume/Mixed CBT Trade Awaiting Thursday's FSA Weekly Export Sales Report?; Central Brazilian Dryness to Deepen in April; EPA Extends Deadline
AgResource Farm Marketing Advice for Wednesday: 1/ No new advice.
6:30 AM CT CBT Prices: May soybeans are 5 cents higher at $14.2825, May corn is unchanged at $5.5125 while May Chi wheat is down 2.00 cents at $6.3275.
AgResource Morning Grain/Soy Comment & Analysis: Good Morning! Low volume and mixed has been the overnight CBOT trade with corn, soybean, and wheat futures trading either side of unchanged. Current CBT values have soybean/meal futures higher with the grains slightly weaker. Just 11,000 contracts of May corn and just over 14,500 contracts of May soybeans have changed hands – poor for a bull market by any historical measure.
Today's CBT trade will be tied to US cash market strength and Thursday's USDA export sales report which will likely reflect US corn sales of 160-175 Mil Bu – the 2nd largest weekly total on record. As of March 11th, the US had already sold a record 2,382 Mil Bu of US corn, so this week's total will rise above 2,550 Mil Bu or 99% of the USDA annual export forecast with more than 5 months left in the crop year. US corn is still competitive in world trade amid near record high freight rates and top off costings for Argentina.
World macro financial markets offer a bullish tailwind to CBOT grains with equity markets firmer as US Treasury yield rates decline and WTI crude oil futures recapture some of yesterday's losses. The US dollar is mixed.
In world ag markets, Paris May wheat futures is up €1.00 at €221.75/MT, Malaysian April palmoil futures lost 13 ringgits at 4,220 RM/MT on modest profit taking but held remarkably well near contract highs. China's Dalian corn and soymeal futures settled steady to higher. May Dalian corn was steady at $10.60/Bu while May DCE soymeal rose $5.70/MT to $605.10.
The EPA announced that it would extend the deadline for refiners/blenders to report their compliance with the US's biofuel laws for 2019 and 2020. Small refiners/blenders have until November 2021 to submit their documentation for 2019 while documentation for 2020 is due on January 31st, 2022. President Biden's green fuel push has rallied RIN values to multi year highs.
A seasonal rise in palmoil production starts in April which is expected to pressure valuations by 300-700 ringgits/MT into August/September according to 3 prominent analysts in a webinar hosted by the Malaysian palmoil industry. The increase in tropical oil production will lean negative on world vegoil prices, but CBT/US soyoil will be underpinned on strong biodiesel demand.
China reported a regional outbreak of ASF in Xinjiang. China continues to battle ASF, but pork prices are in retreat on enlarged production as producers replenish their herds in response to highly profitable margins.
Fresh news is lacking, and CBT futures are adrift with strengthening cash markets offering support while the NASS Stocks/Seeding report looms in a week. Pre-report positioning will dominate CBOT values in the trading days leading into the NASS report. Amid highly profitable US crush margins, there is no evidence of demand rationing with US soybean/corn export sales commitments at 99% of the annual WASDE forecast. ARC Research holds a bullish bias on breaks.
South American Weather Pattern Discussion: A high pressure Ridge holds across NE Brazilian which raises our confidence in a dry 10-day forecast for most of E and N Brazil. This will speed the soybean harvest but raises long term soil moisture risks for winter corn. Near to above normal rainfall will stabilize Argentine crop yield potential, but April marks the start of a more aggressive phase of their harvest. Drier weather would help speed harvest activities.
The attached 10-day rainfall forecast is from the European model. The NE Brazilian high-pressure ridge is forcing upper air humidity southward into Argentina and RGDS in Southern Brazil where 3 storm systems will produce regular rains. The best rain chances will be across RGDS in far Southern Brazil and the Northern half of Argentina. Showers will push into S Argentina early next week.
Dry weather is forecast for N and C Brazil with the 11–15-day GFS forecast offering a few showers. Our confidence in this rain is low with the extended European and Canadian models dry. As such, a below normal rain trend is offered for winter Brazilian corn into April 5thth. High temps will range from the 80's to the mid 90's, some 5-9 degrees warmer than normal adding to the evaporative decline in soil moisture.
Arid Weather To Be Maintained Across Central and Eastern Brazil into April 5th:
Sharp Soil Moisture Fall Across Brazil's Winter Corn Areas: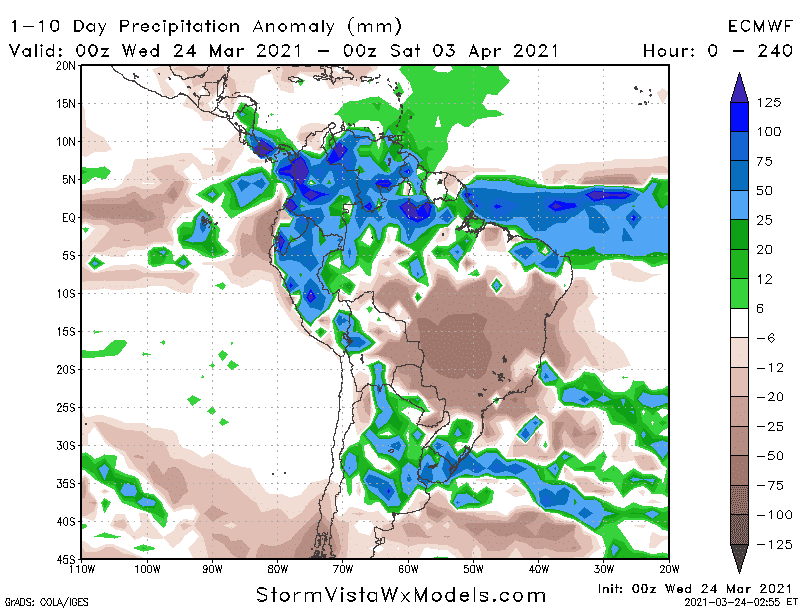 NE Brazilian High Pressure Ridge Produces Above Normal Temperatures into April 8th: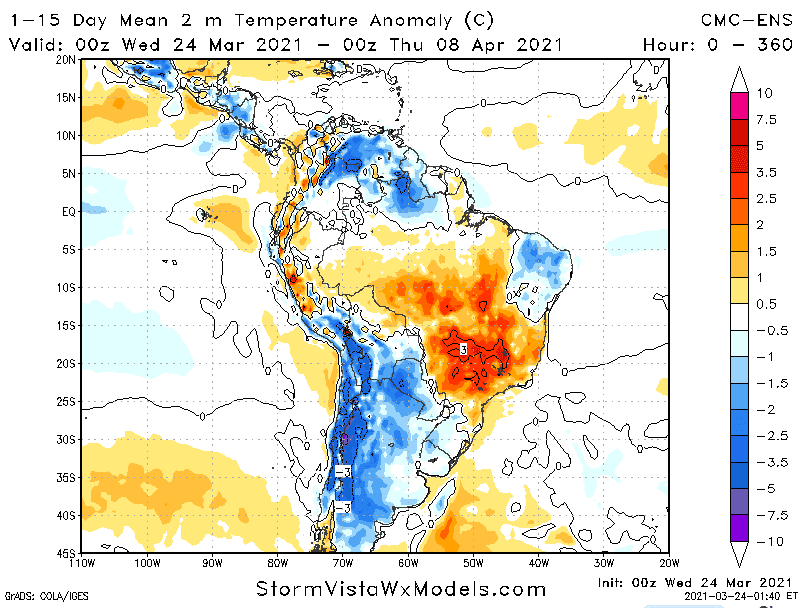 Most of the US Holds in an Above Normal Temperature Pattern:
No Moisture for Deepening Drought across the N Plains and Canadian Prairies: