Morning Commentary 3/23/21
CBT Soyoil Soars to Fresh 9 Year Price High on Surging Cash Market; Wheat Slides on Rising Kansas Crop Ratings: Brazilian Winter Corn Weather Arid
6:30 AM CT CBT Prices: May soybeans are 6 cents higher at $14.235, May corn is up 1.00 cents at $5.50 while May Chi wheat is down 3.00 cents at $6.2425.
AgResource Morning Grain/Soy Comment & Analysis: Good Morning! The CBOT overnight trade has been mixed with Chi wheat futures falling to test Monday's low while soybean futures trade higher on the fresh contract highs on the surge in soyoil futures. May soyoil pushed to a new contract high of $58.25 following yesterday's rare limit up close. Midwest cash soyoil basis rose to a new rally high on strong demand from food and ethanol sectors. Cash led bull markets often spike higher on pent up end user pricing.
Central IL Soyoil Basis Soars on new End User Demand:
AgResource notes that Central IL corn basis closed at 21-22 cents over May corn futures on Monday, which like soyoil, is trading at a historically strong basis due to the demand pull from China. FAS/USDA will be releasing large weekly US corn export sales totals on Thursday which should push US corn sales commitments over 2,550 Mil Bu – or 99% of the USDA annual export forecast.
US wheat futures are lower on the rise in Plain's states condition ratings along with overnight rainfall. The ratings are expected to rise again next week with NASS to provide new US winter wheat ratings on Monday April 5th.
In world ag markets, Paris May wheat futures are down €.25 at €218.50/MT, Malaysian April palmoil futures rose 95 ringgits at 4,233 RM/MT to test its recent contract high. The close in the lower end of the daily trading range leaves a slightly negative bias for Wednesday's trade.
April Malaysian Palmoil Tests Contract High; Wednesday Price Action Key!
China's Dalian corn and soymeal futures settled lower following Chicago. May Dalian corn fell 15 cents to $10.60/Bu while May DCE soymeal fell $5.80/MT to $599.40/MT. Massive corn imports into China was the supply pressuring feature.
World equity and energy markets are weaker as Germany plans another lockdown to control a new Covid outbreak. The "Until Easter" lockdown cast doubt on the Europe's nascent economic recovery. The EU's roiling Covid troubles pushed WTI crude oil futures to sharp losses with the May contract priced at $59.00 or down $2.56/barrel. The US dollar rallied on the lockdown news. The macro financial markets are in "risk off" mode into the end of the month/quarter.
The USDA's ag attaché in Cairo estimated that Egypt would import a record 13.2 MMTs of world wheat in the 2021/22 crop year amid rising demand for flour. Egypt is the world's largest wheat importer.
Warm/dry weather is helping Brazilian farmers to quickly advance their soy harvest with ARC's sister firm – AgResource Brazil – forecasting that Brazilian farmers will have gathered 66-69% of their crop through Friday. However, the hot/dry weather poses yield risks to the just planted winter corn crop with limited rainfall and mid 80's to lower 90's temps into April 2nd.
AgResource holds to a bullish outlook with corn/soyoil to pace any CBT rally. Wheat is quickly nearing undervalued levels, while tightening US corn/soybean stocks underpin cash basis. Never sell a low volume break in a bull market.
South American Weather Pattern Discussion: The weather models agree in the position of a NE Brazilian high-pressure Ridge which raises our confidence in the 10-day forecast. Dry/warm weather dominates N and C Brazil which will speed the soybean harvest but raises long term soil moisture risks for winter corn.
Near to above normal rain will bring Argentine crops closer to full maturity.
The 10-day rainfall forecast is from the European model. The NE Brazilian high- pressure ridge is forcing upper air humidity southward into Argentina and RGDS in Southern Brazil. This is a winter like weather pattern for South America that seems to be starting 6-7 weeks early. Some rain will fall across Southern Argentina, but the activity will be convective which will diminish the coverage of rain greater than 1.00". The best rain chances will be across RGDS in far Southern Brazil and the northern half of Argentina.
Dry weather is forecast for N and C Brazil with the 11–15-day period offering a few showers. Our rain confidence this far out is low with a significant decline in soil moisture forecast for the remainder of March. The overnight forecast is also warmer with highs ranging from the mid 80's to the mid 90's. The warm/dry N and C Brazilian weather is raising the yield/production risk for Brazil's 2nd corn crop.
Overnight Forecast Warmer for E and NC Brazil Under High Pressure Ridge: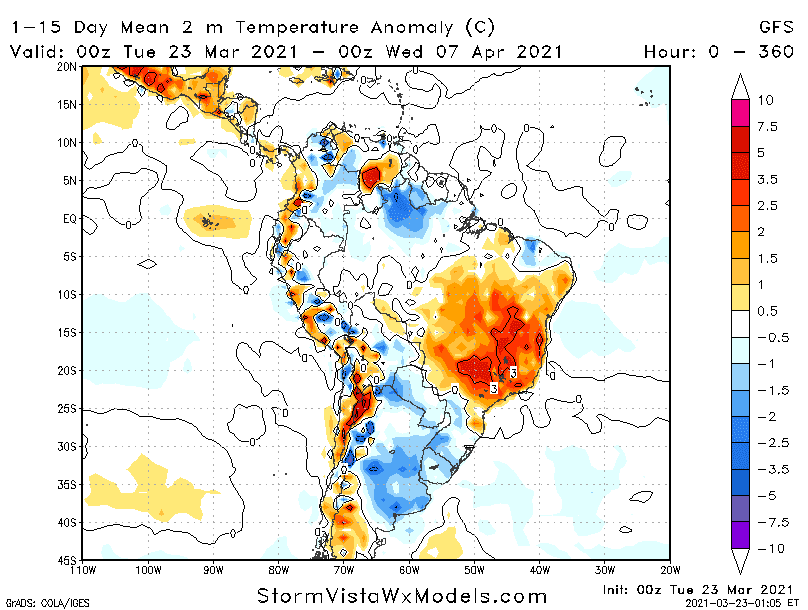 Virtually No Rainfall for Central and NE Brazilian Corn Areas Thru April 2nd:
Significant 2-3.00" Soil Moisture Draws for most of Brazilian Corn Area:
Above Normal Temps to Persist Across most of the US; Heat to Worsen N Plains Drought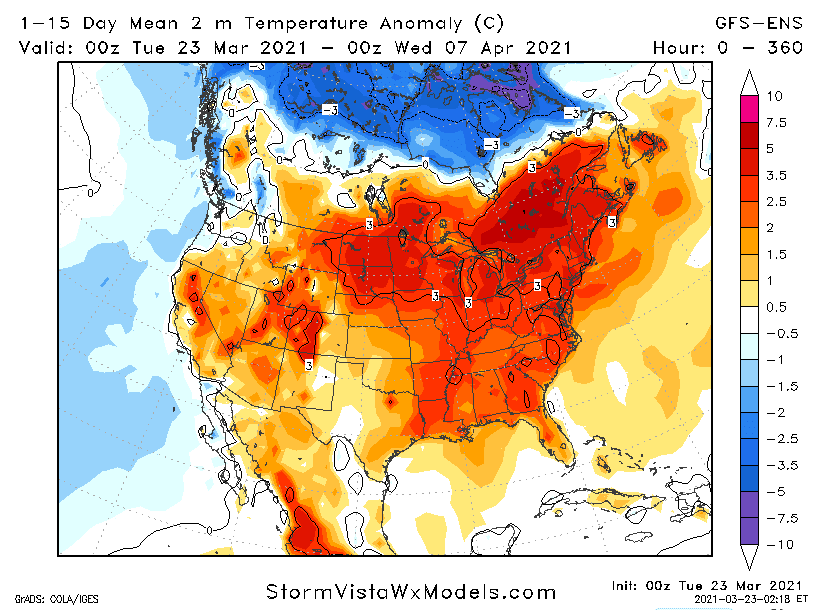 Still No Rain for N Plains Where a 6 month Drought is Deepening