Morning Commentary 3/18/21
CBOT Weakens on Correction in Palm Oil; Brazilian Soy Harvest to Finish Rapidly; Central US Forecast Stays Wet
AgResource Farm Marketing Advice for Thursday: 1/ No new advice.
6:30 AM CT CBT Prices: May soybeans are down 10.75 cents at $14.07, May corn is down 2.75 cents at $5.5525 while May Chi wheat is down 5.0 cents at $6.35.
Good Morning! CBOT markets overnight weakened amid a lack of fresh wheat/soy demand news and otherwise lack of fresh input. Coming heat and dryness across Central Brazil is a worry for safrinha corn yield potential if it continues into April, but soybean harvesting will accelerate and likely be completed in the next two weeks. Canola futures in Canada have traded sharply lower ($28/MT) this week as seasonal trends turn negative in the spring months, and as the market eyes the seasonal boost in Southeast Asian palm oil production between now and July. As ARC has highlighted previously, the markets are again transitioning – this time from S American weather to N Hemisphere climate patterns. This week's drought monitor will show sizable improvement in soil moisture across OK, KS and NE. Malaysian palm oil overnight fell 134 ringgits. Paris milling wheat futures are down €.50/MT.
CBOT corn open interest on Wed fell 4,650 contracts, with soybeans down 2,400 contracts and wheat up 224 contracts. A low-volume meandering marketplace is probable into NASS's stocks & seedings release.
US weekly export sales this AM will be supportive to corn but show ho-hum interest in wheat and soy ARC estimates corn sales through the week ending March 11 at 20-30 Mil Bu, with wheat & soy sales of 10-15 Mil. The soybean market's demand focus into late summer will center on domestic disappearance and interior soymeal basis levels.
The US and world wheat markets since early March have leaked lower based on the seasonal erosion in world trade. Supply dislocation is needed to sustain rallies in the near-term. But ARC cautions against chasing breaks. The further tightening of the exporter balance sheet was detailed in Wednesday's PM wire, and there is still no indication that Russian exporters will dominate trade until tax uncertainty there is resolved. ARC's sources suggests that dialogue between exporters and the gov't will be ongoing – but that nothing will change between now and late summer. There remains a sizable risk that the surge in importer demand in Aug-Sep will be funneled away from Russia, which is bullish the cash wheat market beyond harvest.
ARC similarly cautions against chasing breaks in corn and soy as interior basis levels indicate real supply tightness lies ahead. A violent reaction to stocks/seeding data is probable but fundamentally a lasting bearish trend only occurs when trend/above-trend yields are confirmed.
NOAA will release its updated spring and summer US climate forecasts later this morning. Plains dryness in Apr-Jun is expected.
South American Weather Pattern Discussion: The weather models agree on the overall pattern and outlay of rainfall which raises our confidence in the 10 day forecast. A high-pressure Ridge continues to dominate NE Brazil which will produce warm/dry weather for most of Central and Eastern Brazil. This is the primary South American weather pattern feature into early April.
The 10-day rainfall forecast is from the European model. The NE Brazilian high- pressure ridge is forcing upper air humidity southward into Argentina and RGDS in Southern Brazil. Mostly dry weather will prevail for the remainder of the week before a new system pulls across Argentina on Sunday/Monday producing .4-1.50" of rainfall over the northern 2/3's of the crop area. A second system is evident for late next week is weaker and will only produce .1-.7" across Southern Argentina. Thankfully, this area has enjoyed 1-2.50" of rain this week.
Dry weather is forecast for NE and E Brazil with the 10-15 day period offering a drier forecast for Mato Grosso. Mid-March normally starts a seasonal decline in N Brazilian rainfall and the forecasts are following thru with that idea. Critical will be rains in April and the first half of May for Brazil's winter corn crop.
High Pressure Ridge Keeps NE Brazil Dry and Warm into April:
Finally a Below Normal Rainfall Trend for Waterlogged N Brazil: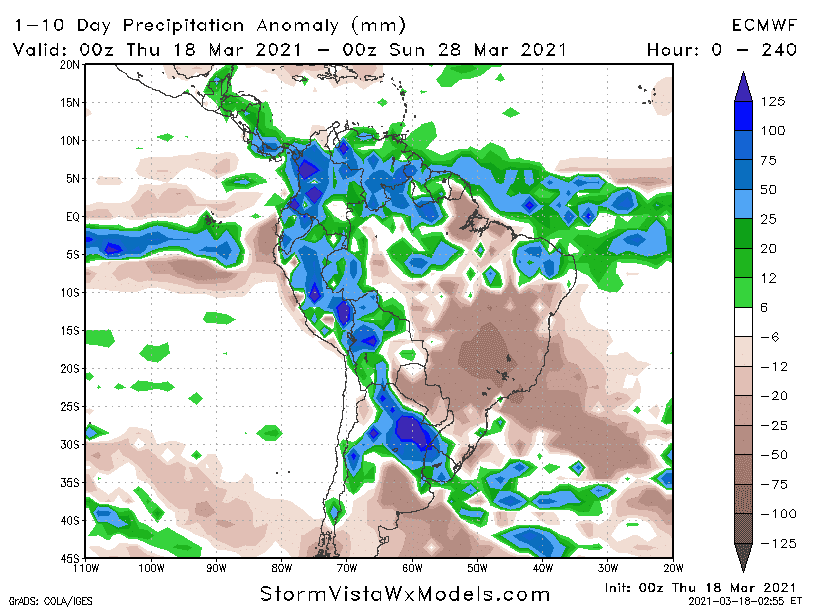 No Extreme Heat with Relative Coolness Across Argentina:
A Wet Weather Pattern Holds for Central US; N Dakota Stays Dry
Above Normal Temps for the Upper Lakes Area and Eastern US: