Morning Commentary 3/17/21
Will China Buy Additional US Corn? USDA Announcement Awaited; US/Argentine Weather Improves with Soil Moisture Recharge; US Central Bank Decision
6:30 AM CT CBT Prices: May soybeans are down 5.00 cents at $14.1825, May corn is up 1.00 cent at $5.5525 while May Chi wheat is down 4.50 cents at $6.425.
AgResource Morning Grain/Soy Comment & Analysis: Good Morning! CBOT futures are mixed with May corn futures higher on the hope for additional Chinese purchases while wheat/soy futures sag on a lack of fresh US demand and the soil moisture recharge that is occurring from the coming abundance of Central US rainfall. Some in the Delta will argue that is too wet for early corn seeding, buy in a general sense the coming rains will help recharge soil moisture levels before the onset of active Midwest spring seeding.
The US Central Bank will be releasing its interest rate policy this afternoon and there is zero chance that there will be any change. The market's focus will be on the Fed's future economic outlook and potentially when will US interest rates lift its self-off the 0% floor. Most argue that it will not be until 2023, but a close vigil is being kept on US inflation with raw material prices rising sharply so far in 2021.
The US dollar is little changed ahead of the Fed's policy announcement with US and world equity markets mixed following their record highs. WTI crude oil has been struggling to sustain its bull market this week amid the fear of increased US production as values reach above pre pandemic levels.
CBOT volume has been in decline as traders try to gauge market risks ahead of the always unpredictable USDA March 31st Stocks/Seeding report. US quarterly corn stock estimates have been in disarray for over a year, and traders' question if US farmers will embark on a campaign to plant every acre? Fund managers tell ARC that they would rather wait until early in the 2nd quarter before placing any sizeable new ag bets amid the report uncertainty. After today there are just 9 trading days before the big USDA March 31st event.
May corn futures are edging higher this morning on tightening domestic corn supplies and the hope for new purchases from China. Will FAS/USDA announce another 400,000-800,000 MTs of US corn purchases this morning? The Biden Administration and China will hold high level political meetings on Thursday in Anchorage, Alaska. The recent China corn purchase is a political olive branch ahead of the get together.
May Paris wheat futures are down €.25/MT at €221.75 while April Malaysian palmoil futures rose 30 ringgits to 4,200 RM/MT. Dalian May corn rose $.01/Bu to $10.66 while May soymeal posted a gain of $7.00/MT to $508.25/MT. Improved interest by pork producers in securing cash soymeal sparked the meal rally.
The South American weather forecast is mixed with 2 additional rain events slated for Argentina while Eastern Brazil enters a period of net drying. Debate continues to rage on the size of the Brazilian soybean harvest in a wide range of 128.5-136.0 MMTs with the harvest reaching the 50% mark.
A transition is underway in market thinking from South American crop sizes to what will be the Northern Hemisphere weather pattern. US new crop stock estimates stay tight with corn the upside CBOT price leader. The NASS March 31st reports are awaited amid all of their uncertainty. May corn will struggle to make new contract highs ahead of the USDA report. Don't chase rallies or breaks, trade the range which will hold for another 9 trading sessions.
South American Weather Pattern Discussion: The weather models are in better alignment on rainfall totals across Argentina, but the US GFS model is drier than its European counterpart. Near normal rain is forecast across Argentina which will stabilize crop conditions heading into their April harvest.
The 10-day rainfall outlay is from the European model. A high-pressure Ridge over NE Brazil has strengthened which is forcing upper air humidity southward into Argentina and RGDS in Southern Brazil. Following needed rain in the past 48 hours of .5-2.00", mostly dry weather will prevail for the remainder of the week before a new system pulls across Argentina on Sunday/Monday producing .4-1.50" of rain over the northern 2/3's of the crop area. A second system is evident for late next week that will water southern areas. No extreme heat is noted.
Dry weather is forecast for NE and E Brazil with the 10-15 day period offering a drier forecast for N Brazil. Mid-March normally starts a seasonal decline in N Brazilian rainfall and the forecasts are following thru with that idea. Critical will be rains in April and the first half of May for Brazil's winter corn crop with the recent drying trend for Parana worrisome.
2 Storm Systems in the Next 10 Days Promise Rain for Argentina: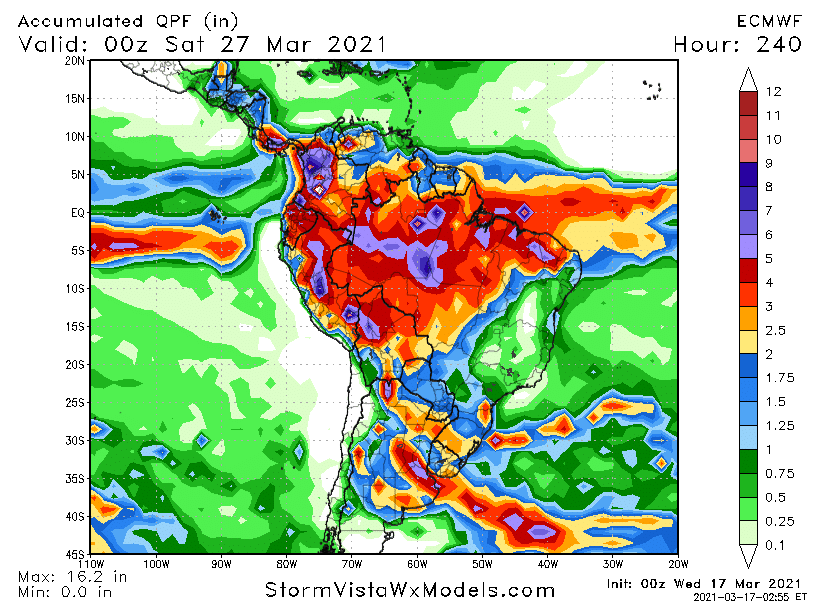 Argentine Soil Moisture Improves; Drying Trend for E Brazil into April:
Cool Temps Slow Argentine Crop Maturation into April 1st:
Above Normal Temps Across N and E US Next 2 weeks:
Soil Moisture Recharge for Midwest/Delta over the next 2 Weeks: