Morning Commentary 3/16/21
Russian Ag Minister Says Grain Export Duties to Come off Someday; Argentine Rains Arrive Overnight - Stabilize Yields; Wheat/Corn Spread Narrows
6:30 AM CT CBT Prices: May soybeans are down 4.25 cents at $14.1525, May corn is up 1.00 cent at $5.505 while May Chi wheat is down 6.25 cents at $6.3875.
AgResource Morning Grain/Soy Comment & Analysis: Good Morning! CBOT futures are mixed with wheat under pressure from errant translation of comments from the Russian ag minister on export duties while soybeans sag on needed rainfall across the drier areas of Argentina. Firming cash markets is offering May corn futures support while December sags on elevated private seeding estimates. A mixed Tuesday is ahead with a turnaround of Monday's rally effort expected.
Russian ag minister Dmitry Patrushev was asked on the sidelines of a lower congressional hearing (Duma) when Russian farmers could expect Gov't export duties would be relaxed or ended. Patrushev's response was that the tax should not be perpetual, and when the market situation allows, duties may be lifted!
Patrushev offered no timing, and it was a rather matter of fact comment that was already known by the Russian legislators and the marketplace. In fact, there was no reference as to timing. AgResource expects that the coming new crop variable export duties will last into the next Russian legislative election in September. There are 450 seats in the Duma at stake and Putin will want to make sure that food inflation is low or nonexistent. The variable export tax makes it impossible for Russian exporters to sell wheat forward. The point is that the Russian's ag minister's comment changes nothing for the foreseeable future. Russia would have to gather a record or near record wheat harvest for Putin to agree to end or relax the current tariff system. Amid reports of acute winterkill and ice smothering of SW Russian winter wheat, such a decision in months in the future. The current tax system stays "as is".
May Paris wheat futures are down €2.25/MT at €220.75 while April Malaysian palmoil futures fell 81 ringgits to 4,170 RM/MT in a rejection of the 2008 price peak. Amid a seasonal increase in palmoil production in coming months, traders are beginning to wonder if tropical oil futures have scored their seasonal and annual price highs?
Dalian May corn rose $.05/Bu to $10.65 while May soymeal increased $3.85/MT to $501.35/MT. Improved interest by pork producers in securing cash soymeal sparked the rally. Restocking of the meal pipeline could be the result which underpins Dalian soymeal futures going forward.
Traders are monitoring whether China will book US new crop soybeans or old crop corn/wheat as a political "olive branch" heading into Thursday's Anchorage Alaska US/China meetings. Commercials tell ARC that no new purchases can be confirmed, but that China is constantly checking US fob price offers.
Much needed rain started to fall over Argentine crop areas overnight with totals of .5-1.50" being reported so far. The system hangs around across C and N Argentine crop areas for another 12 hours before departing. The Argentine 10 day forecast features near to above normal rains into early April.
Fundamental CBOT cross currents abound, and key will be if fund managers pile into new corn length? The spot KC wheat/corn spread has narrowed to just $.46! The KC wheat/corn spread is starting to become attractive on the value of wheat as a feedstuff. This is no place to turn bearish of wheat with May corn futures rising on cash tightness.
South American Weather Pattern Discussion: The weather models agree on the overall pattern, but the EU model stays wetter for C Argentina. ARC Research forecast lean is to the EU model based on its recent favorable track record with somewhat diminished 10-day rainfall expectations. A blend of EU and GFS rain forecast is ARC's best bet for Argentina and S Brazil. In saying that some welcomed rains are falling this morning with additional totals to drop in the next 24 hours and again late in the weekend. The S American pattern is changing.
A high-pressure Ridge over NE Brazil is strengthening forcing upper air humidity southward into Argentina and RGDS in Southern Brazil. Showers/storms will result over 60-70% of Argentina's crop areas this week with totals of .5-2.00". ARC is upping our prior rainfall estimate by .50" on the week. The best rain targets Cordoba, La Pampa and Santa Fe. A new storm system waters Argentine crops late in the weekend and early next week.
Dry weather is forecast for NE and E Brazil with the 10-15 day period finally offering a drier forecast for N Brazil. Mid March normally starts a seasonal decline in N Brazilian rain. Seasonal rainfall trends are kicking in with a Parana dryness needing to be closely monitored in coming weeks.
Finally the Arrival of Argentine Rainfall to Stabilize Crop Production/Yields: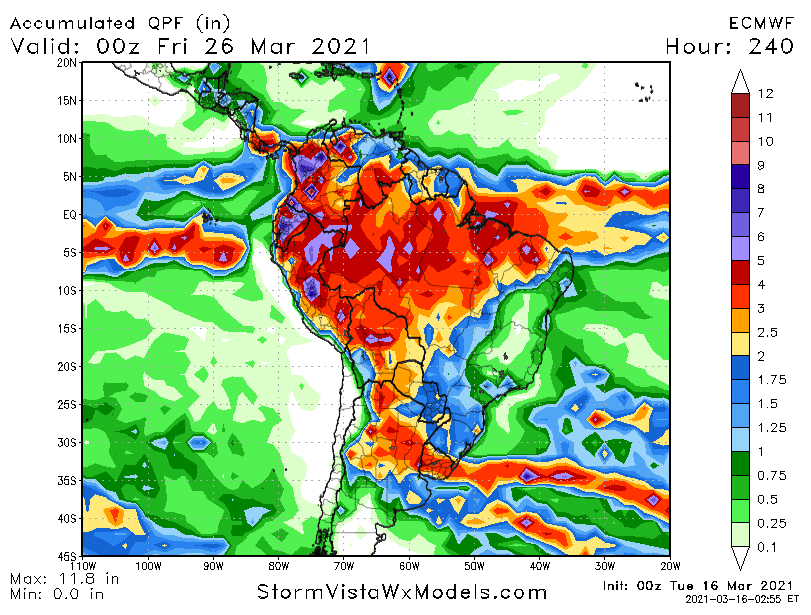 Cooler than Normal Temperatures to Prevail Across Argentina into April: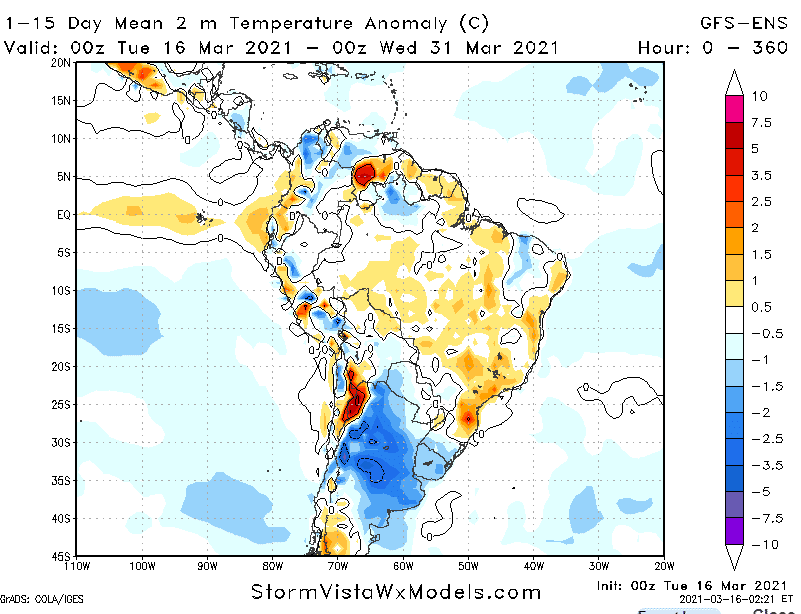 Dryness Trend Emerging for NE Brazil over next 10-14 days:
Additional Soaking Rain for Midwest to Restore Soil Moisture Profiles: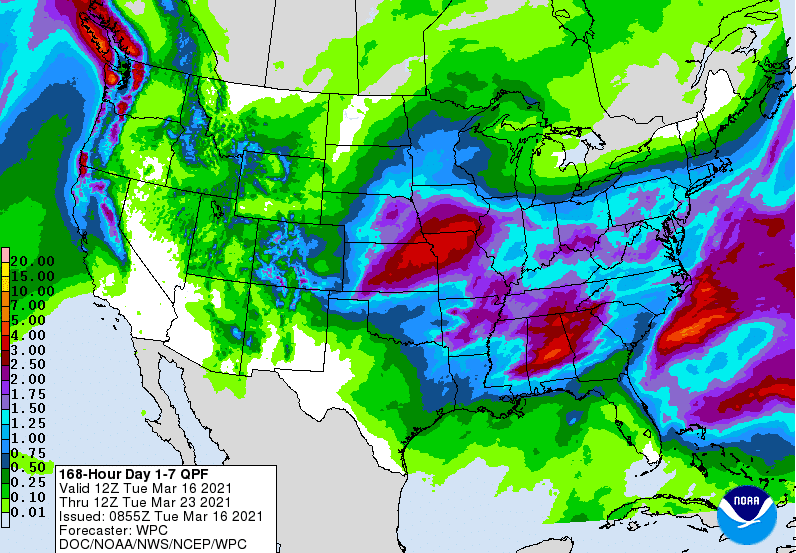 US/Canadian Temps Stay Warm into early April: Snows Abate!