Morning Commentary 3/12/21
CBT Sags Overnight in Modest Volume; NOPA Crush Due Monday - Another Record Expected; BAGE cuts Argentine Corn/Soy Crop Estimates
AgResource Farm Marketing Advice for Friday: 1/ No new advice.
6:30 AM CT CBT Prices: May soybeans are down 8.50 cents at $14.05, May corn is down 5.00 cents at $5.335 while May Chi wheat is down 3.00 cents at $6.3925.
AgResource Morning Grain/Soy Comment & Analysis: Good Morning! Unable to sustain Thursday's summer row crop bounce, CBOT futures are weaker with March corn back down testing key support at $5.30 while May soybeans target $14.00. Fresh US demand news is limited with traders focused on cash markets and weather. News of a cut of Argentine corn/soy crop from the Buenos Aires Exchange did not elicit new buying overnight.
AgResource looks for CBOT values to be down early with a bounce late day. CBOT position limits will be expanded on Monday which will allow some of the larger fund managers to double down on their bullish ag bets. The new Northern Hemisphere growing season starts in a just a few weeks and managers would like to expand their risk heading into the end of the quarter.
CBOT open interest was down 209 contacts in corn and 704 contracts in soybeans, while being up 3,691 contracts in Chicago wheat. The price drop in wheat appeared to be based on new speculative selling.
The Buenos Aires Grain Exchange (BAGE) lowered their Argentine corn and soybean crop estimates following weeks of dry weather. BAGE cut the soybean crop estimate to 44 MMTs (down 2 MMTs) and corn to 45 MMTs (down 1 MMTs). BAGE has a solid track record on Argentine crop sizes with early harvest results suggesting an even deeper crop decline is possible. Corn yields are coming in some 15-40% and early beans 10-30% below last year's yield and expectations. WASDE has the Argentine corn and soybean crops at 47.50 MMTs.
May Paris wheat futures are down €.75/MT at €223.75 while April Malaysian palmoil futures rose 63 ringgits to 4,274 RM/MT – a new 13 year high. The week ahead will be key in deciphering if Malaysian palmoil futures can score new historical highs on their limited supply/stocks.
Dalian May corn fell $.06/Bu to $10.61 while May soymeal rallied $1.50/MT to $499.40/MT. There has been widespread discussion on China's outbreak of ASF in its hog herd. ARC would remind clients that even during 2019/20 when ASF reportedly cut 40% of their hog herd, China's feed demand dropped just 3.7%! And now with the banning of 30 MMTs of hog food waste feeding, the outlook for China's feed consumption and soybean imports stays strong.
The Argentine weather forecast offers showers (.2-1.50" of rain) in the last half of next week for 50-60% of the crop area. However, 6-7 weeks of warm/dry weather has already inflicted its damage and condition ratings are unlikely to improve. The Argentine harvest kicks into high gear in early April.
Mato Grosso's IMEA will be out their soybean harvest and winter corn seeding data later today. The weather forecast stays wet for another 2 weeks which will further crop work. Yield cuts are expected amid elevated harvest losses.
NOPA is scheduled to release another record monthly crush report on Monday from its members. US corn/soybean demand shows no sign that high prices are rationing supply with strong cash basis bids arguing that CBOT price tops have yet to be set. The tightening US cash markets will underpin CBOT futures.
South American Weather Pattern Discussion: The forecast offers a near to above normal rainfall for N Brazil while RGDS/Argentina hold in an overall arid trend.
Dry weather will hold across Argentina until next Wednesday when a pesky low pressure votex produces showers/storms. Rainfall totals are estimated in a range of .2-1.50" for some 40-50% of the Argentine crop area. ARC notes that just 30% of the Argentine crop areas will receive more than 1.00" leaving the remaining 70% arid and left wanting more. The US/EU forecast models agree which raises our forecast confidence. This coming rain event will not end the sharp decline in soil moisture (flash drought) that has been ongoing across Argentina since late January. The damage to crops is irreversible, but the rains could stabilize conditions with harvest becoming active in another several weeks.
The attached 10-day rainfall forecast from the GFS model. The best Argentine rain will fall across southern and western areas. Near to above normal rain will persist across N Brazil. Rain totals are estimated in a range of 3.50-6.50" with the 11-15 day period adding another 2.50-4.00". The wetness is degrading soybean seed quality and slowing the winter corn seeding pace to 16 days behind normal.
Best Rain Chances Late Next Week for S and W Argentina: N Brazil Stays Wet
Soil Moisture Declines Persist Across Argentina and Eastern Brazil:
Seasonal Temps into Late March; No Extreme Heat: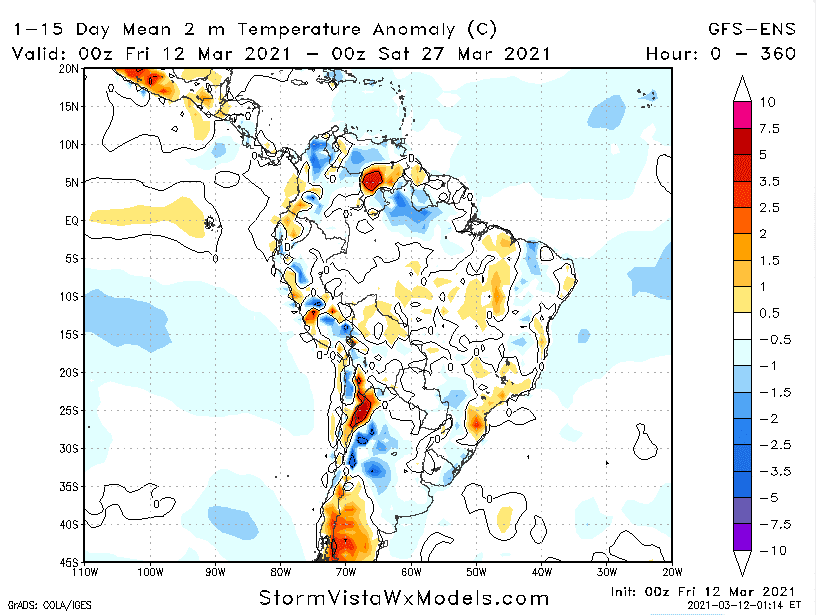 Delta and S Midwest Corn Seeding to Be Delayed by 2-4.50" of Rain: