Morning Commentary
Brazil's CONAB Follows USDA in Raising Brazilian Soybean/Corn Estimates; Soaking Rain for the US Plains This Weekend; GASC Wheat Offers Abundant
6:30 AM CBOT Prices: May soybeans are up 1.25 cents at $14.1125, May corn is up 2.75 cents at $5.3675 while May Chi wheat is down 5.25 cents at $6.4725.
AgResource Morning Grain/Soy Comment & Analysis: Good Morning! CBOT futures are mixed in routine volume with summer row crop futures higher while wheat lags on the prospect of soaking rain across the parched Plains this weekend.
7 Day QPF Rainfall Forecast for the US; Soaking Rain for the Great Plains this Weekend: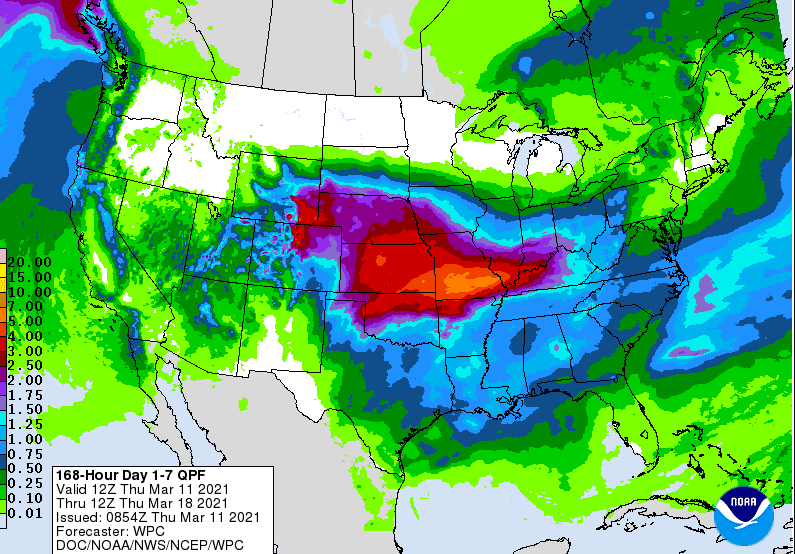 Snows to be Confined to CO/WY and the Upper Midwest: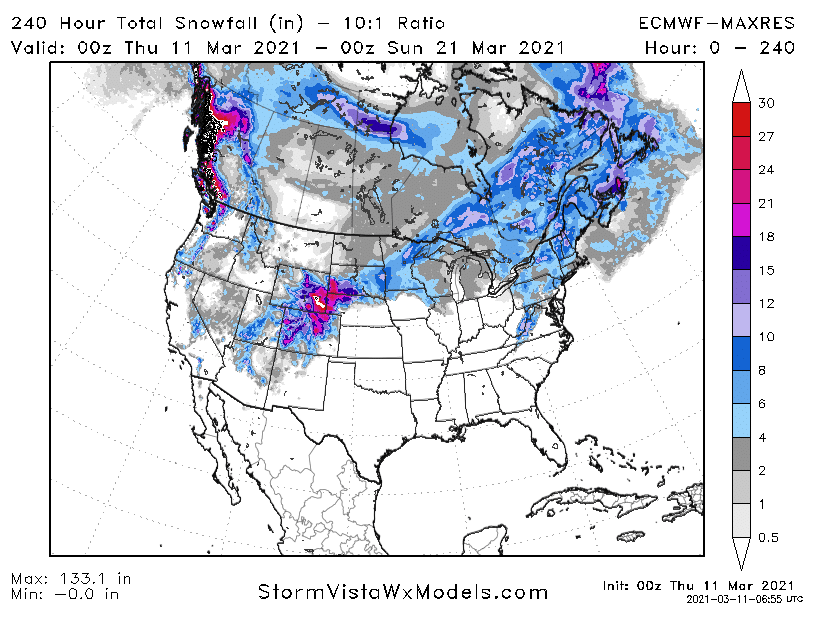 The Argentine weather forecast has taken out about half of the rain that was advertised on Tuesday (GFS drier/EU model wetter) while CONAB followed the USDA and slightly raised their corn/soybean crop estimates. ARC Research doubts that selling pressure can be sustained amid less certain Argy rains.
CONAB raised their Brazilian soybean crop estimate to 135.1 MMTs and corn to 108.1 MMTs citing favorable January and February rainfall. CONAB raised their soybean harvested area estimate and yield by .5%. Compared to their February estimate, the gain was 1.3 MMTs of soybeans and 2.6 MMTs of corn. As ARC indicated Wednesday, CONAB estimates show great variability until June, with the current winter corn planting campaign well behind recent years.
CONAB estimated the 2nd corn crop at a record 82.8 MMTs with the 1st corn crop at 23.5 MMTs – the smallest in a decade. The point is that Brazil (and the world) is placing a huge amount of reliance on Brazil's winter corn to boost supplies to the world. The big question is whether Mother Nature will fully cooperate with such a hefty crop with meaningful/regular April/May rains?
Egypt's GASC has tendered for April 15-25 shipment of world wheat late Wednesday. The fob lowest offer was from Romania at $281.49/MT with Russian offers at $287-293/MT. Two cargoes of French wheat were offered above $290/MT. All told, there was 17 offers of varied origin wheat to GASC which was large this late in the season. And the offers were mostly below what GASC paid on February 2nd at $293.73/MT. Both are viewed as slightly bearish.
May Paris wheat futures are down €1.50/MT at €226.00 while April Malaysian palmoil futures rose 107 ringgits to 4,211 RM/MT. Dalian May corn fell $.11/Bu to $10.67 while May soymeal eased $18.10/MT to $497.90/MT following Chicago's sharp losses on Wednesday.
Northern Brazil holds in an above normal rainfall pattern for the next 10 days with even heavier rains offered in the 11-15 day period. Harvest operations will be labored while the new winter corn crop needs sunshine.
Michael Regan won confirmation as the next head of the EPA in the Senate. Regan's confirmation was cheered by US biofuel producers as he is expected to fully implement the biofuel requirements and halt small refinery waivers.
Do not sell breaks or chase rallies has been ARC's market mantra of late. The cut in Argentine rains for late next week should boost CBOT prices with crop condition ratings to decline this afternoon. A CBOT trading low is forming!
South American Weather Pattern Discussion: The primary forecast models maintain a near to above normal rainfall for N Brazil while RGDS/Argentina hold in an arid trend. Lite to moderate rain is slated to drop across Argentina in the March 18-20th timeframe with totals of .1-1.25" favoring Cordoba. The forecast models have cut rainfall amounts in half from what was indicated yesterday.
The attached 10-day rain forecast from the GFS model. The GFS offers 10-day Argentine rains of .25-1.25" with coverage no better than 60%.
The next 6-7 days are dry with the next chance of rain being the last half of next week. The 11-15 day period offers a below normal rainfall trend with seasonal temperatures. Although some rain is indicated in the last half of next week, totals will not be enough to alter declining soil moisture. Concern for Argy crops stays high. But note that the EU model offers .5-1.50" of rain, but even this model is backing away from the 2-3.00 that was indicted yesterday.
Near to above normal rain will persist across N Brazil. High temps will be in the 80's/90's. The trend is wetter in the 10-15 day period with 2-6.50" of rainfall. The pattern of excessive rains for N Brazil shows no sign of ending.
Argentine Rain Prospects Look Limited for the Eastern half of Argentine Crop Areas. Best Rain in Cordoba Next 10 Days: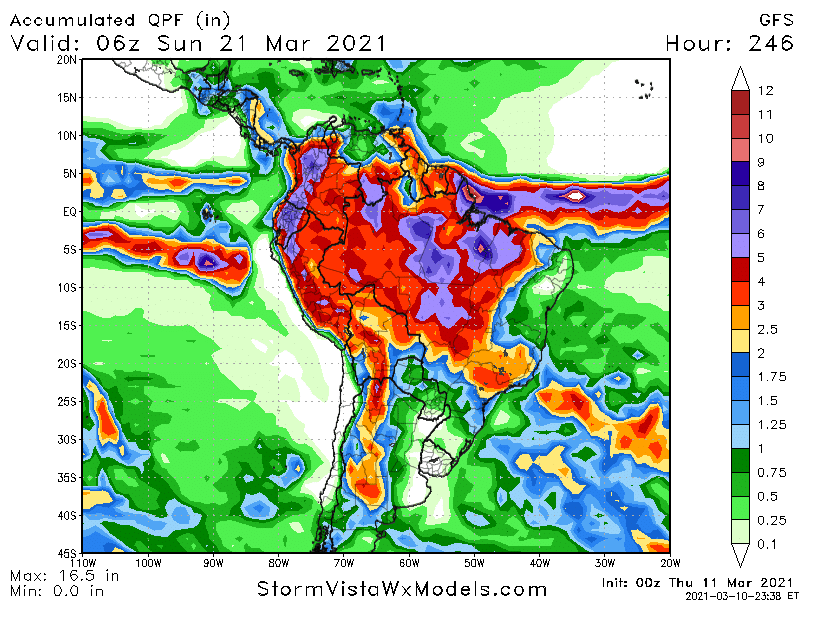 Additional Soil Moisture Declines in Argentina/S Brazil while Flooding Worsens in N Brazil: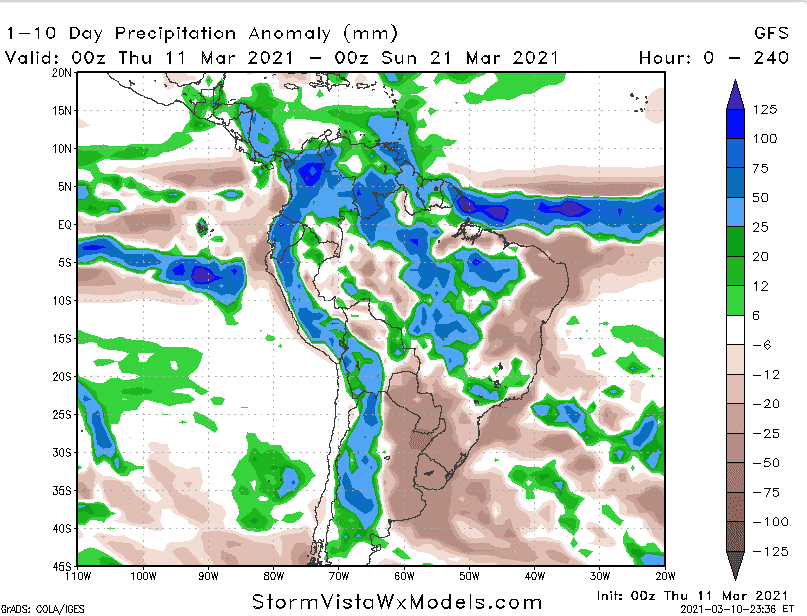 Temps Warm Next 5 days; Seasonal Thereafter; Average Out to Seasonal Levels: