Morning Commentary Feb 17 2021
AgResource AM CBOT Comment & Analysis: Good Morning! CBOT values are mixed this morning with wheat coming under profit taking while corn/soybean futures await the start of the USDA Annual Outlook Forum on Thursday. Argentine and S Brazilian weather forecasts stay arid while the Brazilian soybean harvest creeps slowly ahead. ARC looks for a mixed to slightly lower CBOT session as bullish wheat traders grapple to find fresh news to keep the rally going.
AgResource Research has noted that if the CBOT rally is to be sustained it must be rooted in South American crop losses and a historically slow Brazilian soybean harvest pace. The loss of South American corn/soybeans would push world demand back to the US by late summer and early autumn. Nearby US soybean demand is unlikely amid Brazilian offers that are $.30-.40/Bu cheaper.
Tuesday's CBOT open interest fell 20,519 contracts in corn and 16,299 contracts in soybeans, while rising 7,990 contracts in Chi wheat. The fall in corn/soybean open interest on the rally is a concern and must be monitored.
Paris March wheat futures are down €1.00 at €229.50/MT while April Malaysian palmoil futures rose 91 ringgits to close at 3,816 RM/MT. The rally produced a fresh contract high in palmoil futures which underpinned CBT soyoil overnight. Chinese traders will be returning from their weeklong Lunar New Year holiday early next week.
April Palmoil Futures Score Fresh Contract High to Accelerate Rally:
Parana announced that its soybean harvest crept ahead to 3% completed vs 1% last week, and 10% last year. Crop conditions held steady with 76% of their soybean crop rated as in good condition, while 19% was average and 5% poor. Parana producers suggest that the soybean harvest will kickstart next week.
South American weather is arid for Argentina/S Brazil for the next 10 days. N Brazil will endure ongoing daily showers with 10-day totals of 4-8.00". Such regular and heavy rain will delay the N Brazilian soybean harvest. The general South American weather pattern holds stable for the next 2 weeks suggesting that any rainfall will be critically important for crop yields in March.
There just is not any additional fresh news that inspire a big rally or big break ahead of the USDA's Annual Outlook Meeting that starts Thursday morning. AgResource sees adverse South American weather (dry south/too wet N Brazil) as supporting to the CBOT on breaks. March CBOT options expire on Friday which will increase trading volumes along with WASDE's first US 2021/22 balance sheets on corn/soy/wheat. Clients should pay close attention to South American weather/yield data for the next potential rally leg.
South American Weather Pattern Discussion: The primary weather models agree which keeps our confidence high in the 10-day forecast.
Argentina and Southern Brazil were dry in the past 24 hours under blazing sunshine. High temps ranged from the 80's to the lower 90's. Showers continued across N Brazil with totals of .15-1.25". High temp was in the 80's.
The attached 10-day rainfall forecast from the GFS model (EU model similar) which offers limited rainfall for Argentina/S Brazil for the next 10 days. A high-pressure Ridge over SC Argentina will produce arid weather with rising temperatures. No extreme heat will be noted, but there will be numerous days when Argentine high reach into the lower 90's. Soil moisture is fast decline.
ARC sees the Argentine/Southern Brazilian weather pattern as stable, which raises our concern that the dry trend could last.
On the other side of the jet stream is a wet weather pattern for the northern 1/3 of Brazil with above too much above normal rain of 4-8.00" in the next 10 days.
The extended forecast offers no sign of a return of lasting dryness for N Brazil to accelerate the harvest. N and C Brazilian high temps will be holding in the 80's to the lower 90's with clouds/regular showers. The harvest will be slowed by all of the rain.
Little or No Rain For Argentina/S Brazil over Next 10 Days:
Warmth Starts to Build from the core position of the Ridge over S Argentina: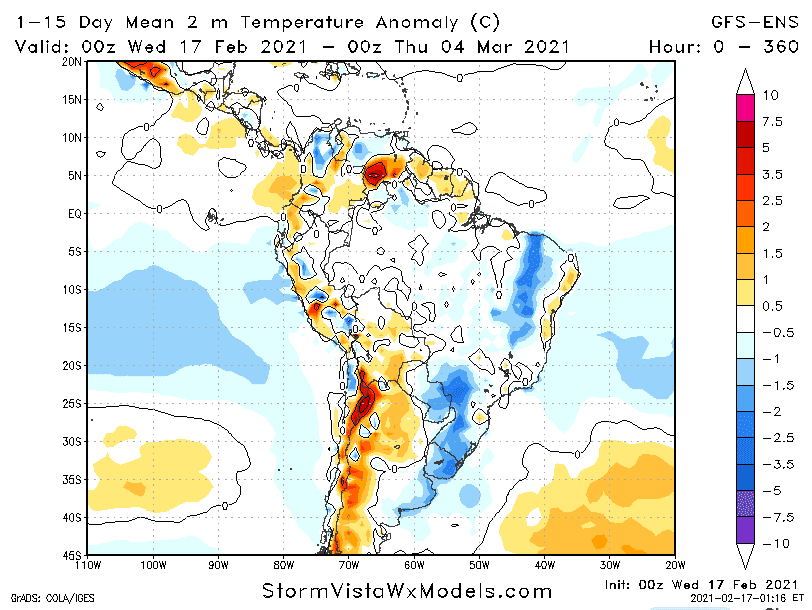 Large Draws in S Brazil/Argentine Soil Moisture Next 10 Days: