Morning Commentary 2/8/21
Argentine Drought Worry Returns at Time of World Corn/Soy Shortfall; Bitter Cold for Central US & Russian Wheat Area; USDA Feb Report due Tuesday
AgResource Farm Marketing Advice for Monday: 1/ No new advice.
6:30 AM CBOT Prices: March soybeans are unchanged at $13.6675, March corn is up 2.50 cents at $5.51 while March Chi wheat is up 5.50 cents at $6.46.
AgResource AM CBOT Comment & Analysis: Good Morning! The week has started out mostly higher at the CBOT with corn/wheat being the upside price leaders in moderate volume. World and US weather appears to be the bullish driver ahead of Tuesday's USDA February crop report. And Brazil's CONAB will be releasing their updated crop forecasts on Thursday while NOPA is forecast to release a record large January NOPA crush estimate next Monday.
Friday's preliminary CBOT open interest data showed a decline of 7,245 contracts in corn, 5,393 contracts in soybeans, and 4,340 contracts in wheat. It was the 1st trading session since early December when the three primary grains witnessed a decline in open interest.
The week starts with weather looking threatening across several areas of the world. Bitter cold will prevail across the Plains which looks to threaten the uncovered HRW wheat crop with the potential for winterkill damage. The crop was not very well established across the W Plains with cold winds likely to increase crop stress. And bitter cold also threatens the SE Russian winter wheat crop with similar conditions. Yet, most threatening is the new arid weather trend for Argentina/S Brazil which will return drought concern.
South American weather offers a lasting period of dry weather for Argentina and S Brazil into Feb 24th. La Nina has positioned a blocking high pressure Ridge in the far Western Pacific which will limit storm systems and produce a dry/warm trend. Thankfully, there is no evidence of extreme heat, but highs in the 80's to lower 90's will draw down soil moisture to critically low levels.
February 1-21st (including the 14 day rainfall forecast) Percent of Normal Rain: Sharp Losses in Soil Moisture Ahead: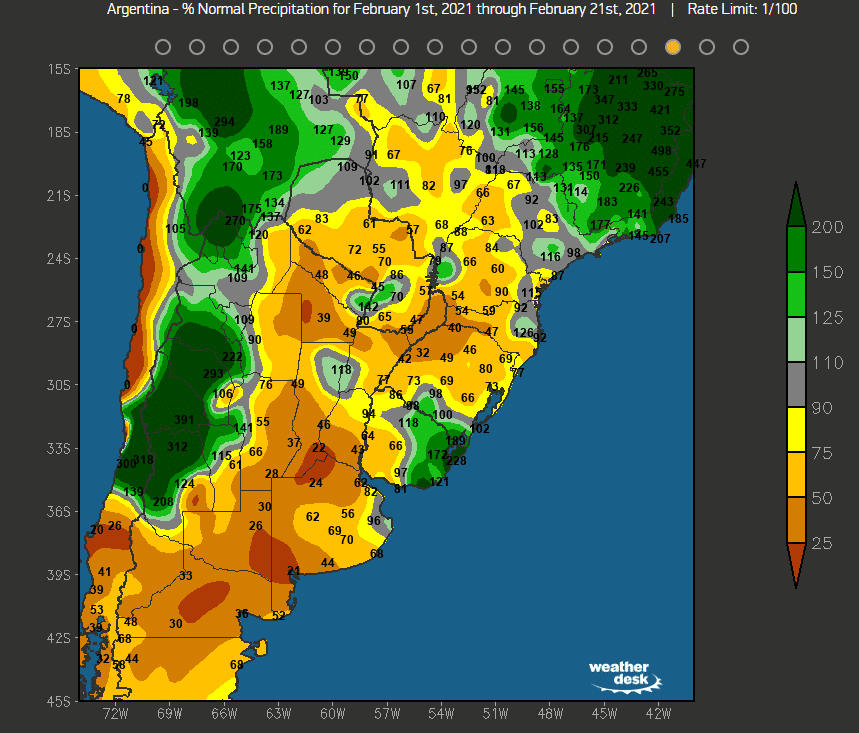 The arid Argy weather is forecast to persist into late February which makes the return of needed March rainfall critical. ARC Research is worried by the dry/warm Argentine/S Brazilian weather trend and its impact on South American crops. The early Mato Grosso soybean yield data offers a disappointing trend.
In non US ag markets, Paris March wheat futures is up €1.00 at €225.00/MT while March Malaysian palmoil futures rose 59 ringgits to 3,688 RM/MT. China's May Dalian corn futures fell $.03/Bu to $10.94/Bu while Dalian May soymeal futures fell $1.85/MT to $539.80/MT.
Chinese hog futures rose 4% on the concern of expanding disease outbreaks of China's hog herd and return of post-holiday meat demand. China will be out for their Lunar New Year starting Friday, but with travel restricted, commercials argue that China's demand for world grain/soy will be ongoing. China's soybean crush data shows no slowdown on feed demand via diseases.
US soybean exports have been record large in each month since September with Census indicating that total US soybean exports of 1,850 Bu thru January. US February soybean exports are also expected to post another record.
Tightening US cash soybean/corn markets and the new South American weather threat should sustain the CBOT rally. Following Tuesday's USDA Crop Report its all about South American weather, its crop size and Brazil's soybean export ability. The loss of any South American crope is unwanted following a dire Black Sea drought and sharp fall in 2020 US corn and soybean production amid record large demand. Monitor South American weather forecasts carefully following Tuesday's USDA report.
South American Weather Pattern Discussion: The primary weather models agree which raises our confidence in the 10-day forecast.
The weekend was dry across Argentina and S Brazil with any rainfall limited to far Southern Buenos Aires. Northern Brazil was wet with 2-day rainfall totals ranging from .5-3.00". High temps ranged from the upper 70's/low 90's.
The attached 10-day rainfall forecast from the GFS model (EU model similar) which offers limited rains for Argentina and the southern ½ of Brazil over the next 10 days. A blocking high pressure cell in the W Pacific looks to shunt weather systems either north or south of key Argy/S Brazilian cropping areas.
The W Pacific Ridge is stronger than what was depicted late last week which allows the southern half of Mato Grosso to be in a more normal rainfall trend. This will aid the coming soybean harvest. However, a new and lasting period of dry weather is offered for Argentina with warming temperatures in the 10-15 day period. The abundant sunshine will draw soil moisture levels lower and increase crop stress. The Argentine dryness will extend into the 11-15 day period implying that February will be arid with just 20-60% of normal rainfall. Based on La Nina, this arid trend should extend into March. Our concern for South American crop sizes is elevated with a new drought risk for Argentina/Southern Brazil.
Rainfall limited to far Northern Argentina; Main Crop Areas Dry with less than .50" over the next 10 Days:
10 Day Rainfall Trend Shows Sharp Fall in Soil Moisture and Increased Crop Stress: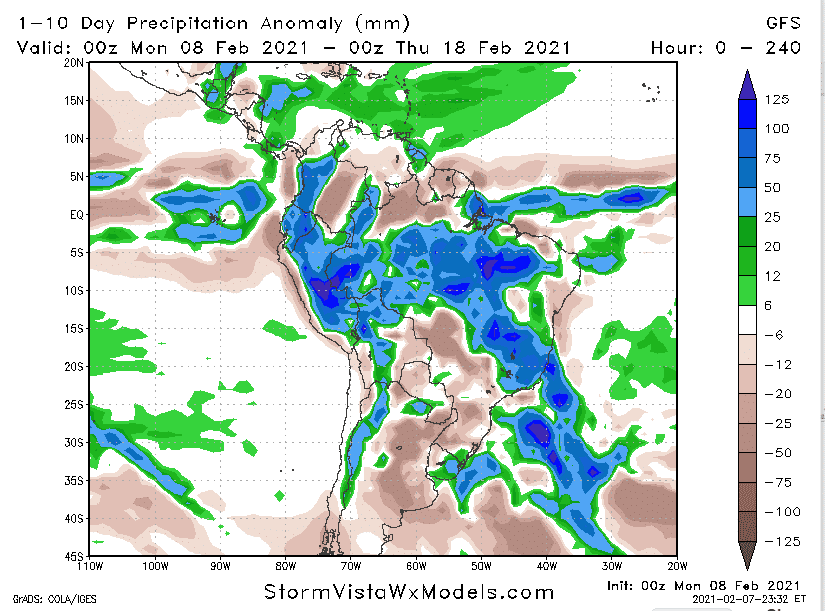 Thankfully, No Extreme Heat with Near to Below Normal Temps; Highs in the 80's to lower 90's: