Morning Commentary 2/24/21
CBT Rallies on South American Weather/Left Over Chart Based Bullishness; US Corn/Soy Non Competitive in World Market; Vilsack Confirmed as USDA Sec
6:30 AM CBOT Prices: March soybeans are up 15.25 cents at $14.2325, March corn is up 3.25 cents at $5.57 while Mar Chi wheat is up 2.75 cents at $6.685.
AgResource AM CBOT Comment & Analysis: Good Morning! CBOT futures are mostly higher at the start of the day as traders point to parched Argentine and S Brazilian weather forecasts and building stress on reproducing 2nd corn/soybean crops. Also, left over fund buying on the charts is lifting soybean futures.
Preliminary CBOT open interest data showed corn falling 1,394 contracts and wheat 4,166 contracts, while soybeans rose 720 contracts. The decline in grain open interest must be watched as a warning signal for a potential correction.
The Senate confirmed USDA Sec Vilsack to another term by a vote of 92-7. Bernie Sanders and several Republicans provided the no votes, but overall, there was overwhelming support for Sec Vilsack. He will be sworn in today and immediately start to move ahead with the release of Covid-19 Food Assistance.
US Central Bank Head Powell in testimony to the Senate Banking Committee said that the US economy could expand 6% this year but played down inflationary risks tied to rising bond yields. He signaled that the US Central Bank would continue to provide hefty amounts of liquidity ($120 Bil/month of bond buying) and hoped that US lifestyles would return to normal sometime later this year. Powell indicated the rise in US bond rates is a "vote of confidence" in that the US is on track for a full recovery. He went further to argue that no one can identify a bubble when asked about US equity valuations.
The Argentine and S Brazilian weather forecast is arid with below to much below normal rains over the next 2 weeks. The dryness/budding warmth is occurring right as the soybean and corn crops enter their reproductive stages. Traders will be closely watching South American weather in early March.
Paris March wheat futures is up €.50 at €241.25/MT while April Malaysian palmoil futures fell 38 ringgits to close at 3,836 RM/MT. Palmoil futures could not hold new highs based on the widespread discussion that price had reached levels that would slow exports. The weakness in palmoil will act as drag on soyoil futures today.
China's May Dalian corn futures rose 4 cents to $11.00/Bu while May soymeal rose $9.20/MT to $555.20. Post-holiday demand for soymeal is said to be increasing as hog farmers restock piglet inventory.
The US EAI will release their Weekly Biofuel Report today which should indicate a negative impact from last week's bitter cold weather and slowing of plants. Midwest US ethanol plants slowed their grind due to equipment concern.
For April/May, Argentine fob corn is offered at $239.50/MT or some $11.50/MT ($.29/Bu) cheaper while Brazilian soybeans are offered at $528/MT or $20/MT ($.54/Bu) cheaper than the US Gulf. Based on soaring world freight costs, US wheat is noncompetitive into N Africa and the Mideast.
Its all about South American weather with dryness for Argentina/S Brazil offering support. However, US corn/soy are noncompetitive in the world marketplace which will make the rally erratic. Don't chase rallies, bull markets always let you in corrections from 7.5 year price highs.
South American Weather Pattern Discussion: The forecast weather models agree and stay consistent with prior day runs. This keeps our forecast confidence high.
The attached 10-day rainfall forecast from the GFS model (EU/Canadian models similar). The overnight forecast offers below to much below normal rainfall for Argentina/S Brazil for the next 10 days. There could be a few spotty showers but organized and meaningful rains are not expected. The forecast maintains dry weather conditions for Argentina/S Brazil into March 10th – exacerbating the fall in soil moisture levels as the 2nd soybean and corn crops reproduce.
A high-pressure Ridge is holding over SC Argentina which will produce arid weather and warming temperatures. There will be numerous days when Argentine highs reach into the 90's which is creating a rapid fall in soil moisture. A few spotty showers are possible, but rainfall totals will be less than .40" with coverage no better than 20%. The best chance for showers is in the 10-15 day period.
Except for RGDS, a near to above normal rainfall pattern is forecast. Parana is again targeted for some of the heavy rains. The rains will slow, but not stop the harvest. The good news is that the rains will rebuild the soil moisture profile for winter corn. The optimal window to seed winter corn is into March 10th.
Below Normal Rain for Next 10 Days Across Argentina/S Brazil: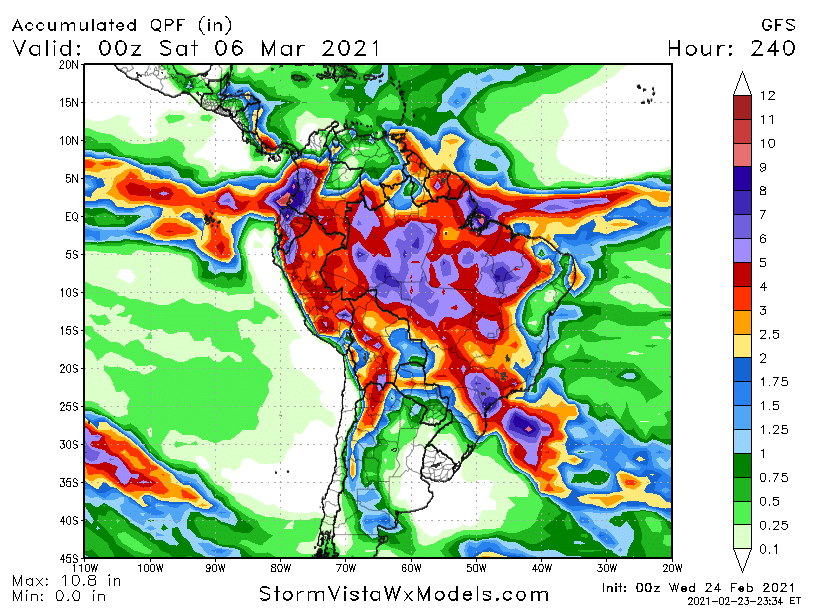 Soil Moisture Draws to Continue across RGDS and all of Argentina: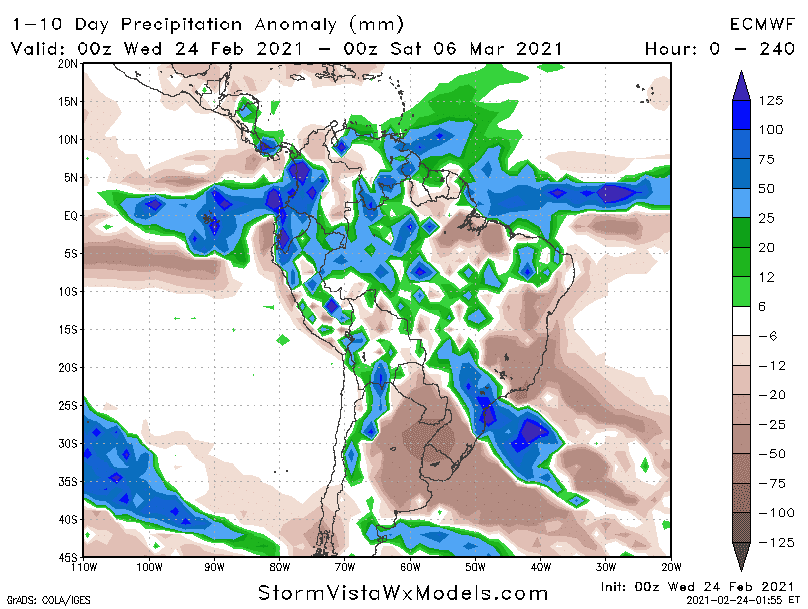 Numerous Days in Argentina with highs in the 90's into March 10th