Morning Commentary 2/22/21
Arid Argentine/S Brazilian Weather To Produce Flash Drought in Early March; China Policy Strives for Food Self Sufficiency; Inflation Worry Dominates
6:30 AM CBOT Prices: March soybeans are up 2.50 cents at $13.7975, March corn is up 5.50 cents at $5.4825 while Mar Chi wheat is up 1.00 cent at $6.5175.
AgResource AM CBOT Comment & Analysis: Good Morning! CBOT futures are mostly higher to start the week on concerning South American weather with new crop November soybeans scoring a new contract high at $12.0725 while December corn tests its contract high at $4.665. Wheat has been a tag along. Old/new crop spreads are still adjusting to USDA's bullish new crop stocks estimate.
Overnight CBOT volume has been more active than prior weekly starts with over 33,000 contracts of May corn and over 22,500 contracts of May beans changing hands. May Chi wheat volume has been more average at over 6,500 contracts.
Friday's preliminary CBOT open interest showed a 14,511 gain in corn, while soybeans fell 15,631 contracts and wheat 3,417 contracts. It appeared that new selling in old crop corn futures was balanced by new end user pricing.
Rising economic inflationary fear has pushed US bond yields to the best level in a year with the 10-year US note yield approaching 1.38% while the US dollar slips on the Biden Administration's push for the proposed $1.9 Trillion in new ad hoc Covid-19 aid to Americans. Copper futures hit a fresh 9 year high while US WTI spot crude oil futures hover near $60/barrel.
China in a major policy statement called the "Number 1 Document", indicated that it will step up support for its domestic seed industry as it tries to place more emphasis on food security than prior years. The document could push China to allow the use of GMO seed in 2022 and beyond. Moreover, the Number 1 Document argued that China must build modern animal agriculture and protect its hog production capacity. China's ag minister, Tang Renjian, indicated that China's hog herd would reach the end of 2017 levels by June thereby allowing China's pork supply to return to normal in the last half of 2021. Such a growing hog herd would push China to accelerate corn/soybean imports.
China also prodded the Biden Administration to lift trade tariffs as a goodwill gesture and stop interfering in the affairs of Hong Kong and Taiwan. The US Senate will be reviewing and likely confirming the Biden Administration's Trade Representative nominee, Katherine Tai on Thursday. This will likely start a period of negotiation and dialog with China.
Paris March wheat futures are up €.25 at €239.00/MT while April Malaysian palmoil futures rose 27 ringgits to close at 3,739 RM/MT. China's May Dalian corn futures fell 1 cent to $11.08/Bu while May soymeal rose $4.80/MT to $541.80. The volume of cash soymeal trade rise considerably post-holiday.
The weather forecasts were consistent in offering much below normal rainfall for the southern 1/3 of Brazil and the entirety of Argentina for the next 10 days. Above to much of above normal rain will slow the N Brazilian harvest. Temps will be seasonally warm across Argentina with many days in the 90's.
Declining South American crop production prospects and the return of China as a world buyer following the Lunar New Year is likely to push CBOT values higher into the USDA March WASDE report. However, a secondary test of March soymeal support at $420/ton along with May soybeans unable to rise above the downtrend line of a continuation pennant formation (see below) has caused an overnight retreat. Its all about South American crop weather and crop sizes going forward and the high pressure Ridge across South Central Argentina is worrisome. Buy CBOT breaks in soy and corn. Central US warming weather looks to cap rallies in US wheat futures.
Daily CBOT May Soybean Futures Chart; Continuation Pennant Forming: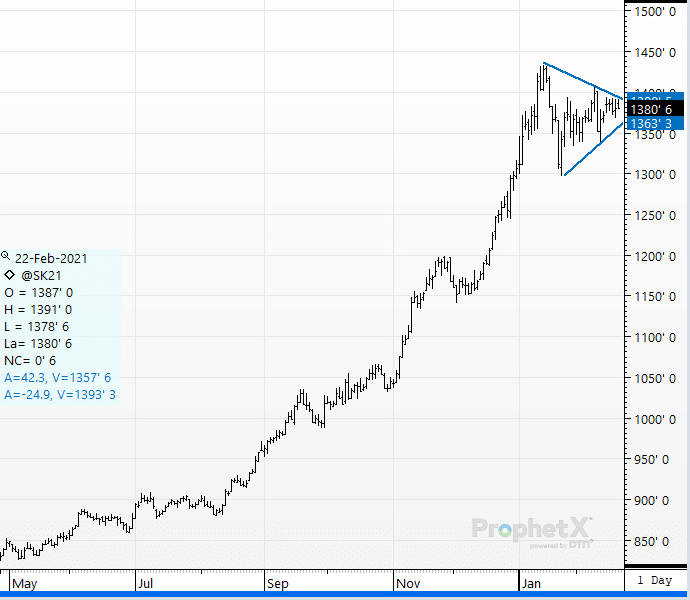 South American Weather Pattern Discussion: The forecast weather models agree and stay consistent with prior day runs. This keeps our forecast confidence high.
A few lite showers fell across Buenos Aires overnight with totals ranging from traces to .5" on coverage of 35% of the area. The remainder of Argentina and S Brazil was dry. Rains persisted across N Brazil with weekend totals of .50-2.50" which added to harvest delays. High temps ranged from the 80's to mid 90's.
The attached 10-day rainfall forecast from the GFS model (EU/Canadian models similar). The forecast offers below to much below normal rainfall for Argentina/ S Brazil for at least the next 10 days. The GFS/Canadian models maintain the arid weather trend for Argentina/S Brazil into the 11-15 day period while the EU model offers a few lite showers. The EU model continues to underperform the GFS.
A high-pressure Ridge is holding over SC Argentina which will produce arid weather and warming temperatures. There will be numerous days when Argentine highs reach into the 90's which is creating a rapid fall in soil moisture levels.
The northern half of Brazil is forecast to be wet with above normal rainfall hindering harvest and causing soy seed crop quality concern with 10-day rains of 4-8.50". There is no sign the N Brazilian wetness abates into March. The soybean harvest and seeding of winter corn will be slowed by regular heavy rains. Crop/yield concern is increasing.
Above to Much Above Normal N Brazilian Rainfall; Near or Nothing for Argentine/S Brazilian Crop Areas into March 4th:
Late Season Flash Drought Underway as Soil Moisture Levels Plummet Across S Brazil/Argentina:
Temperatures to Warm to Hottest Levels of 2021 Over Next 2 Weeks; 90's to Prevail for Argy/S Brazil: