Morning Commentary 2/18/21
CBOT Retreats on Sharp Fall in Malaysian Palmoil/Drop in Paranagua Paper Trade in Soybean Basis; USDA 97th Outlook Forum Starts Soon
6:30 AM CBOT Prices: March soybeans are down 4.00 cents at $13.795, March corn is down 3.75 cents at $5.495 while Mar Chi wheat is up 3.00 cents at $6.47.
AgResource AM CBOT Comment & Analysis: Good Morning! CBOT values are mostly lower ahead of the start of the USDA's 97th Outlook Forum - which kicks off virtually in a few minutes. Overnight CBOT trade volume been average with selling coming for a further fall in Brazilian fob paper trade in the Paranagua soybean basis to just 10 cents over. On the bull side is South American weather which is warmer/dry for Argentina/S Brazil into March 2nd.
USDA Sec nominee, Tom Vilsack, will not be presenting at the 97th Conference as he awaits confirmation in the Senate. However, today's keynote speech will be given by USDA Chief Economist Seth Meyer who will offering USDA's forecast for 2021 US farm income and crop seeding. The market is expecting about 89.5 Mil acres of soybeans, 93 Mil acres of corn, and 45.5 Mil acres of wheat will be planted in 2021. Economist Meyers will start his presentation at 7:10 AM CT with key crop seeding data details to follow.
USDA chief Meteorologist, Brad Rippey suggested that the current polar vortex has caused widespread agricultural damage to livestock, citrus and to the Plains winter wheat crop. Rippey suggested that the TX/OK wheat crops may have been lost along with sugarcane and any of the unharvested citrus crop.
In comforting words to US farmers, US Sec of State Tony Blinken indicted on NPR that the US can keep doing business with China, while also holding China accountable for humanitarian and other abuses. China continues to secure massive amounts of US ag goods which is likely to continue as the Biden Administration starts negotiation on a Phase 2 Trade Deal. Remember that China has pledged to secure $43.5 Bil of US ag goods in 2021 vs $27.3 Bil last year.
Wednesday's CBOT open interest rose 13,218 contracts in corn, 4,372 contracts in soybeans and 403 contracts in Chi wheat. The open interest gain is bullish.
Paris March wheat futures are up €2.00 at €231.00/MT while April Malaysian palmoil futures lost 145 ringgits to close at 3,671 RM/MT.
Brazil's March Paranagua soybean basis trade fell to $.10 over March futures late Wednesday, a drop of $.20/Bu. The last time that the Paranagua soybean paper trade was this cheap relative to Chicago was in 2014. The Paranagua soybean paper trade does not mandate a loadout certificate, which amid the backlog of over 12 MMTs of vessels, its trading at a near record premium. China's return from holiday next week should boost demand for March soybeans.
South American weather is arid for Argentina/S Brazil for the next 10 days. N Brazil will endure ongoing daily showers with 10-day totals of 4-8.00". Such regular and heavy rain will delay the N Brazilian soybean harvest.
Concerning South American weather pushes ARC to advise clients to buy breaks. The loss of South American soybean and corn crops will become more concerning next week following the USDA Outlook Forum with the return of Chinese buyers.
South American Weather Pattern Discussion: The primary weather models agree and they are consistent with prior day runs which keeps our forecast confidence high.
Argentina and Southern Brazil were dry in the past 24 hours. High temps ranged from the 80's to the lower 90's. Showers continued across N Brazil with totals of .25-2.50". High temp was in the 80's under cloud cover.
The attached 10-day rainfall forecast from the GFS model (EU model very similar) which offers limited rainfall for Argentina/S Brazil for the next 10 days. A high-pressure Ridge over SC Argentina will produce arid weather with rising temperatures. No extreme heat will be noted, but there will be numerous days when Argentine high reach into the lower 90's. Soil moisture is in fast decline.
ARC sees the Argentine/Southern Brazilian weather pattern as stable, which raises our concern that the dry trend could last well into March. This is a big worry for Argentine crops.
On the other side of the jet stream is a wet weather pattern for the northern 1/3 of Brazil with above too much above normal rain of 4-8.00" in the next 10 days. There is no sign that this wet trend will abate anytime soon.
The extended forecast offers no sign of a return of lasting dryness for N Brazil or rains for S Brazil/Argentina. ARC's concern for South American weather stays elevated.
Limited or No Rain for Argentina or Southern Brazil for next 2 Weeks:
Soil Moisture Levels in Fast Retreat into March 7th: Flash Drought Looming?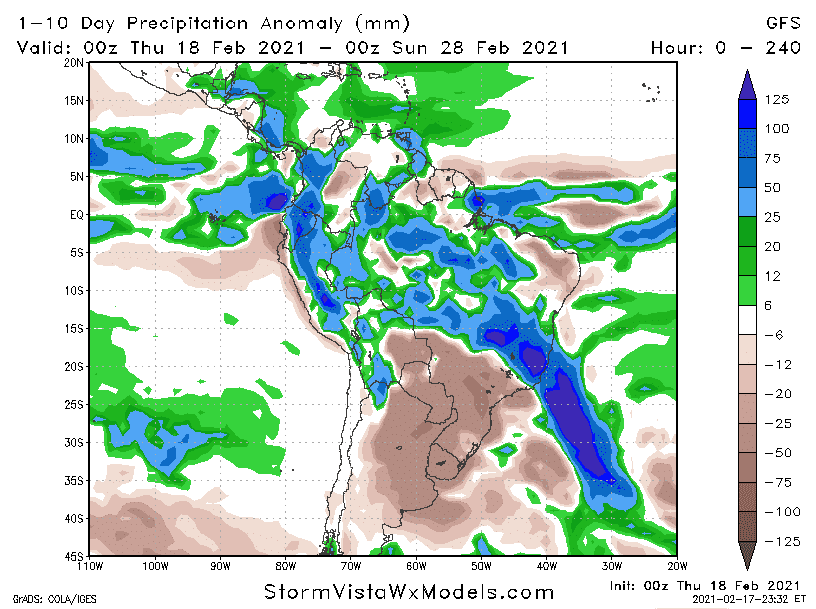 Warming Temperatures for Argentina with Lots of 90 Degree Days: