Morning Commentary 2/16/2021
New Weather Threats Emerge in the Bitter Cold in the Plains & Acute Dryness for Argentina/S Brazil; NOPA January Crush Data at 11 CT; La Nina Hangs On!
AgResource Farm Marketing Advice for Tuesday: 1/ No new advice.
6:30 AM CBOT Prices: March soybeans are up 14.00 cents at $13.86, March corn is up 5.50 cents at $5.4425 while Mar Chi wheat is up 12.00 cents at $6.4875.
AgResource AM CBOT Comment & Analysis: Good Morning! CBOT futures roared higher following the long US 3-day weekend on adverse weather. Winterkill worry in the W Plains of the US with bitter cold 0 to -20 degree with snow cover of 1-5" along with arid 10-14 day weather forecasts for Argentina and Southern Brazil pushed CBOT values higher. Traders are starting the week questioning if a new bullish CBOT leg is about to begin on supply losses?
Estimating winterkill damage in dormant HRW wheat is difficult, but weekly crop condition ratings that start in early April are to be historically low on the wind, the bitter cold and the deepening drought. Whether wheat will form new tillers in March/April will be closely followed by farmers/traders.
The threat of a deepening drought in Argentina and S Brazil along with actual Brazilian soybean yields could start a new bull trend in soy/corn should the threatening weather persist into the middle or later portions of March. Drought is easier to follow each day and with G3 (US, Argentina, and Brazilian soybean stocks) forecast at a 23 year low on April 1st, any crop loss is important and with upside price ramifications. A southern South American drought following the USDA Outlook Conference could produce new CBOT highs.
NOPA will release their January member soybean crush estimate this morning at 11 AM CT. The average estimate for the NOPA January crush is 183 Mil Bu – a record. January soyoil stocks are pegged at 1.75 Bil pounds, up from the end of December's 1.70 Bil pounds. NOPA crush data will not offer any statistical signs that 7-year high soy prices are slowing or rationing demand.
Paris March wheat futures are up €1.50 at €230.00/MT while April Malaysian palmoil futures rose 10 ringgits to close at 3,725 RM/MT. A double top is forming in Malaysian palmoil unless futures can push to new highs.
The South American weather forecast offers well below normal rainfall for Argentina/S Brazil for the next 10 days. N Brazil will endure ongoing daily showers with 10-day totals of 4-8.00". Such regular and heavy rain will delay the N Brazilian soybean harvest. The extended range EU weekly model forecast maintains arid Argentine/S Brazilian weather into March 7th. The weather risks are rising again for South American crops.
Monthly La Nina readings indicate a moderate strengthening in the equatorial Pacific and growing odds that this weather phenomena will hold on well into the middle of 2021. This raises drought risks for the Plains and the western half of the US. Whether this dryness pulls eastward into the Midwest by late spring will be a big deal for CBOT values amid depleted exporter stockpiles.
The USDA's Outlook Forum starts Thursday and an initial presentation by US Chief Economist Seth Meyers will be closely followed to measure USDA's initial 2021 US corn, wheat, cotton, and soybean seeding forecasts.
Adverse weather is pushing CBOT futures higher. ARC's biggest worry is the arid forecast Argentina/S Brazil amid record large world corn/soybean demand. The loss of 6 MMTs of South American soybean production would be enough to push CBOT May soybean futures to $15-16.00 on exporter supply depletion.
South American Weather Pattern Discussion: The primary weather models agree which keeps our confidence high in the 10-day forecast.
The attached 10-day rainfall forecast from the GFS model (EU model similar) which offers well below normal rainfall for Argentina and the southern third of Brazil for the next 10-14 days. A high-pressure Ridge over SC Argentina will produce arid weather with rising temperatures. No extreme heat will be offered, but there will be numerous days when Argentine high temps reach into the upper 80's to the lower 90's. The combination of heat/dryness will be adverse to corn and soybean crops that will soon be entering their reproductive stage.
ARC sees the Argentine/Southern Brazilian weather pattern as stable, which raises our concern that the dry weather trend could last well into mid-March.
On the other side of the jet stream that crosses Central Brazil is a wet weather pattern for Northern Brazil with above to much above normal rains of 4-8.00" in the next 10 days. Here too, the models offer few signs of any return of lasting dryness to accelerate the harvest. N and C Brazilian high temps will be holding in the 80's to the lower 90's with clouds/regular PM showers.
ARC sees the South American weathers as a growing concern for crop yield/production.
Acute Dryness offered for S Brazil and Argentina over the next 2 weeks: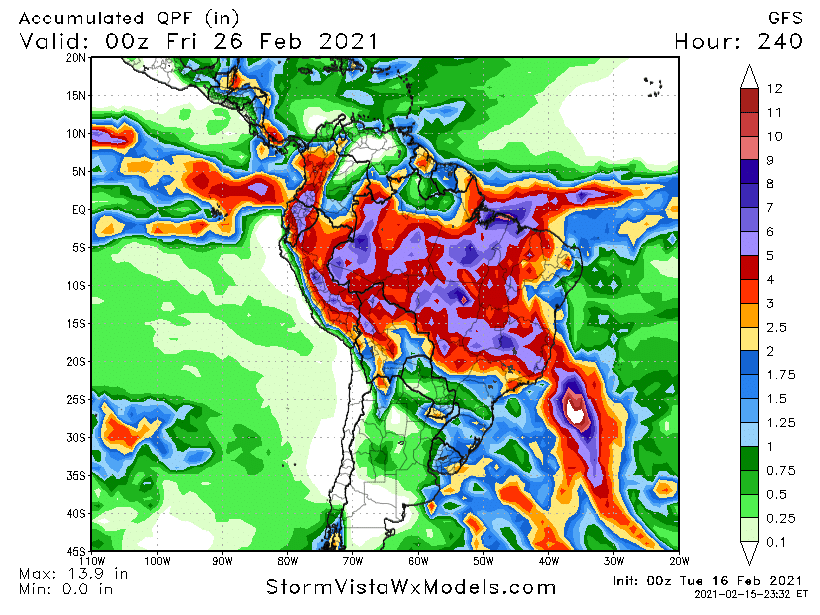 Argentine Soil Moisture Falls Are Estimated in Range of 2-3.00" in the next 10 Days: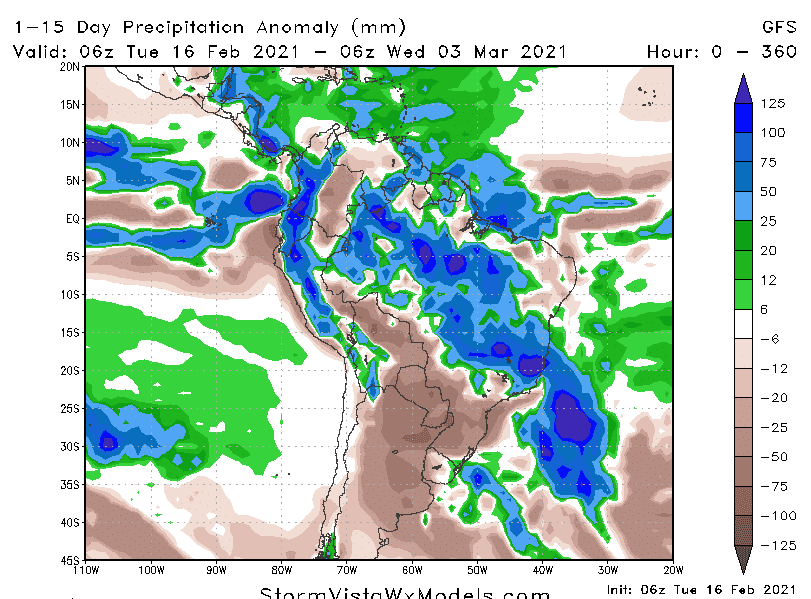 Thankfully, No Extreme Heat, but Plenty of Days with Highs in the 90's: