Morning Commentary 2/11/21
CONAB Soybean Crop Estimate at 133.8 MMTs - up 200,000 MTs from January on Acres; USDA Weekly Export Sales Awaited; Holidays Abound Next Week
AgResource Farm Marketing Advice for Thursday: 1/ No new advice.
6:30 AM CBOT Prices: March soybeans are up 8.50 cents at $13.62, March corn is down 1.00 cent at $5.335 while Mar Chi wheat is up 5.50 cents at $6.41.
AgResource AM CBOT Comment & Analysis: Good Morning! CBOT futures are recovering and mixed in early morning trade. It is estimated that managed money sold nearly 120,000 contracts of CBOT grain and soy futures on Wednesday that pressured futures to sharp daily losses. The selling continued overnight with the losses deepening. March soybeans tested key support below $13.40 while March corn fell to support at $5.20-5.25. End user and new speculative buying allowed a bounce heading into the Brazilian crop estimates released by CONAB this morning.
CONAB forecasted the 2021 Brazilian soybean crop at 133.8 MMTs, a modest upward adjustment of 200,000 MTs from January. CONAB raised their harvested acreage area by .2% while trimming yield by .1%. The crop was smaller than traders were rumoring on Wednesday and near the USDA forecast of 133 MMTs.
CONAB raised their 2021 corn crop estimate from 102.3 MMTs to 105.4 MMTs citing better 1st crop yields and a modest expansion in winter corn area. The USDA estimate holds at 109 MMTs and is still well above CONAB. ARC estimates more than 40% of the 2021 winter Brazilian corn crop will be planted outside the optional planting date that runs until March 10th.
The Argentine Gov't and the Argentine Farmers Union announced late Wednesday that it had reached an agreement in principle not to raise export taxes or limit exports for the 2021 crop. Argentine farmers were threatening to withhold grain from the market in protest. This action would shut down the flow of hard currency (dollars into the Argentine Central Bank).
In non-US ag markets, Paris March wheat futures is up €1.25 at €222.75/MT while April Malaysian palmoil futures lost 71 ringgits to 3,558 RM/MT. China's Dalian Grain Exchange is closed for the Year of the Ox – the Lunar New Year.
The South American weather forecast offers below normal rain for Argentina and S Brazil for the next 10 days while N Brazil endures daily showers. 10-day rains across N Brazil will range from 3-7.00" which will delay the harvest as producers fight daily afternoon tropical showers. The Argentine dryness is worrisome with soil moisture already short to very short. The return of regular rainfall will be needed in late February to maintain current crop condition ratings. Otherwise, crop rating and yield falls are feared.
It is surprising but on Wednesday's big CBOT price fall, open interest expanded 12,702 contracts in soybeans, 5,193 contracts in soymeal and 1,649 contracts of soyoil. Either end users added purchases on the decline or funds did not liquidate much (if any) of their length. Corn open interest fell 3,990 contracts while wheat declined 2,477 contracts.
FAS/USDA will release their weekly export sales report this morning which is expected to show large corn sales but slowing soybean/wheat sales.
The CBOT dumped within 36 hours and reached key chart support. ARC looks for values to chop in a general sideways trend until China returns from holiday in 7-10 days. Remember, we are still in transition from a demand led bull market to one that will be driven by South American supplies. In other words, don't chase rallies or sharp declines. The CBOT is closed Monday for President's Day, while China is out on their Lunar New Year and South America next week for Carnival. And the 2021 US Outlook Forum starts next Thursday.
South American Weather Pattern Discussion: The primary weather models agree which keeps our confidence high in the 10-day forecast.
It was dry overnight across Argentina and S Brazil with any rainfall limited to far N Argentina – away from the primary crop area. High temps ranged from the 70's/80's in Argentina to the 80's\90's in Northern Brazil.
The attached 10-day rainfall forecast from the GFS model (EU model similar) which offers below normal rainfall for Argentina and the southern third of Brazil for the next 10 days. Low pressure over Argentina is creating a easterly upper air flow which limits upper air humidity. And a blocking Ridge in the far Western Pacific is producing the arid weather trend. ARC sees the Argentine pattern as being stable with continued dryness in March. Seasonal temps are forecast with highs holding in the 70's to lower 90's across Argentina/S Brazil. There are hints in the 11-15 day forecast of some rain for C Argentina, but our confidence is low.
Near to above normal rain will fall across N Brazil which will delay the harvest. 10-day totals are estimated in a range of 3-7.00" with isolated heavier. The rain falls in the form of afternoon tropical showers which leaves limited harvest opportunities.
Seasonal Temps Next 2 Weeks; No Extreme Heat for Crops: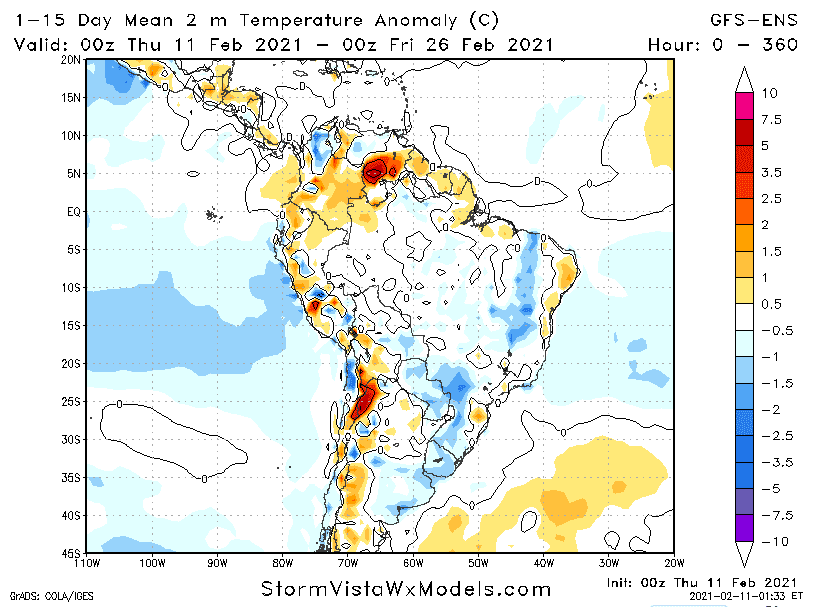 Limited Rainfall for Argentina/S Brazil; Soaking Rains Across Mato Grosso/Goias: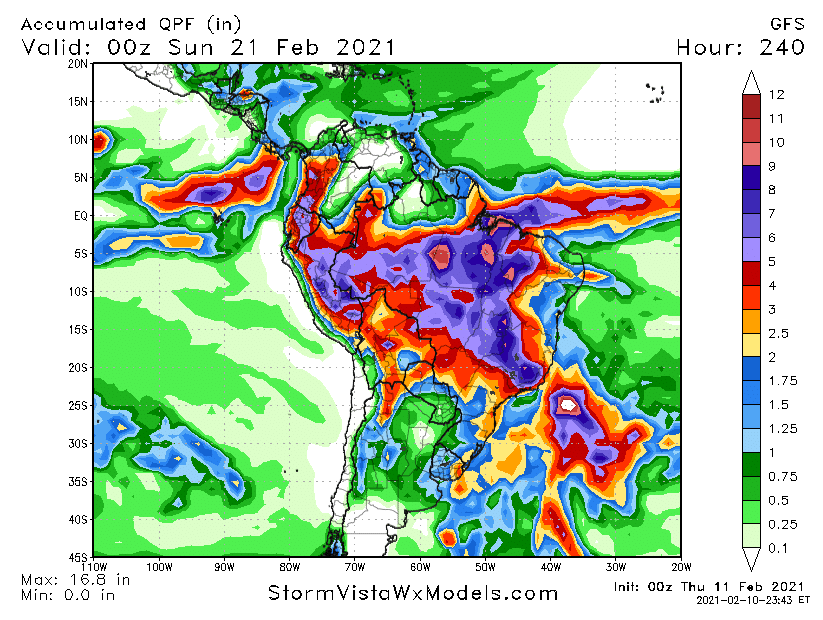 Soil Moisture Draws Accelerate Across Argentina into February 22nd.