Morning Commentary 2/10/21
CBOT Lower Overnight as EU/SE Asia React to USDA Crop Report Data; China Goes on Week Long Holiday Friday; January Malaysian Palmoil Stocks Bearish
AgResource Farm Marketing Advice for Wednesday: 1/ No new advice.
6:30 AM CBOT Prices: March soybeans are down 6.25 cents at $13.955, March corn is down 6.75 cents at $5.495 while Mar Chi wheat is down 7.50 cents at $6.415
AgResource AM CBOT Comment & Analysis: Good Morning! CBOT corn, soybean and wheat futures are lower this morning as the rest of the world (EU/Asia) reacts to the disappointing February USDA Crop Report. The modest bump in US 2020/21 US corn and soybean exports left the bulls wanting more from USDA amid record large US corn/soybean export commitments. The report was a disappointment.
The plodding nature of WASDE left world traders flat-footed in the marketplace with world demand shifting to South America amid their new harvests. Brazil is offering April-May soybeans some $.50/Bu less than the US Gulf while Argentine April-May corn is $.16-.20 cheaper. The US will be losing its "export competitiveness" and CBOT rallies must be based on South American supply losses. For now, the marching demand led rally of August-January has ended. The bulls need South American supply losses to back their reasoning.
Post the USDA report, AgResource advises clients that CBOT values will likely chop in a wide trading range awaiting South American yield data, fresh China buying of Brazilian soybeans, and some unwind of the large speculative long position in CBOT futures. This does not mean that the 6-month bull market is over, it's just taking a pause awaiting the next statistical bull driver.
China and much of SE Asia will hold weeklong Lunar New Year celebrations starting Friday. This will slow interest in South American crop purchases.
Brazil's CONAB is expected to release their February corn/soy crop production estimates on Thursday. Early Brazilian soybean yields are disappointing and down 4-15% from what Mato Grosso farmers were hoping for. However, producers argue that the later planted soybean varieties will perform better.
Malaysia January palmoil stocks were nearly 5% better than expected at 1.324 MMTs due to exports of just 947,395 MTs, which was down 26% from the year prior. Malaysian January palmoil production fell to 1.126 MMTs, down 4% from last year and the smallest month of production since February 2016. The report was deemed as bearish which should pressure palmoil futures in coming days.
Double Top Forming on Malaysian Weekly Spot Futures Chart?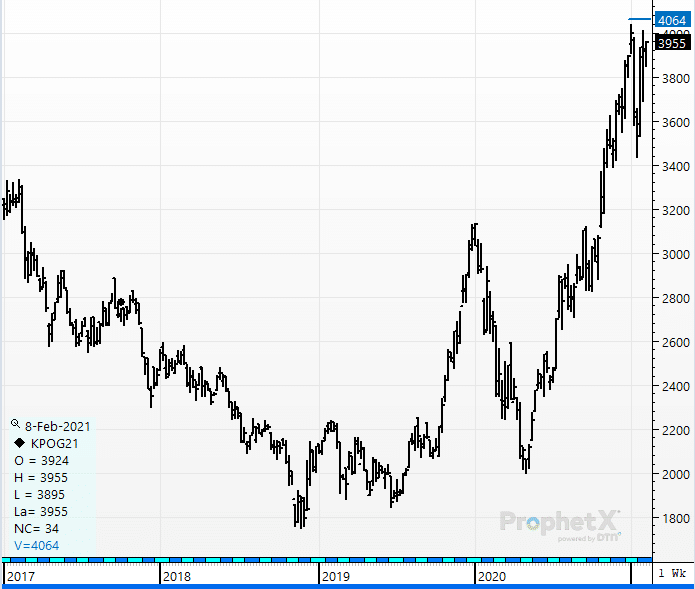 The Argentine truckers strike which had limited the flow of grain/soy to ports for 20 days ended late Tuesday with a rise in hauling rates. Argentine inflation is running at over 50% annually, and labor and trucking unions are adjusting to the pressure of sharply rising costs.
In non-US ag markets, Paris March wheat futures is down €.75 at €223/MT while April Malaysian palmoil futures rose 57 ringgits to 3,629 RM/MT. China's May Dalian corn futures rose $.03/Bu to $10.88/Bu while Dalian May soymeal futures fell $1.80/MT to $539.70/MT.
The South American weather forecast offers below normal rain for Argentina and S Brazil for the next 10 days while N Brazil endures regular daily rainfall. Temps will stay cooler than normal into late February.
US cash market basis will be rising on tightening supplies, but bulls need to eat, and US export opportunities will be fading on S American competitiveness. New highs demand a loss of supply in Brazil or Argentina thru adverse weather or actual harvest yield data.
South American Weather Pattern Discussion: The primary weather models agree which keeps our confidence high in the 10-day forecast. It was dry overnight across Argentina and S Brazil with any rains limited to far NW Argentina – away from the primary crop area. High temps ranged from the 70's in Southern Argentina to the 90's in Northern Brazil.
The attached 10-day rainfall forecast from the GFS model (EU model similar) which offers below normal rainfall for Argentina and the southern ½ of Brazil over the next 10 days. A blocking high pressure Ridge in the W Pacific and just off the SE coast of Argentina is shunting weather systems either north or south of key Argentine/S Brazilian cropping areas.
The arid Argentine/S Brazilian weather pattern does not feature any real heat. Highs will hold in the 70's to lower 90's across Argentina/S Brazil for the next 10 days. Soil moisture will be in fast retreat adding stress to developing corn/soy crops. There are hints in the 11-15 day forecast of some rains for C Argentina, but our confidence this far out stays low.
Near to above normal rain will drop across N Brazil which will slow the harvest. 10 day totals are estimated in a range of 3-7.00" with isolated heavier. Drier weather is desired. The rain falls in the form of afternoon showers.
Below Normal Rainfall Trend for Argentina/S Brazil into February 25th: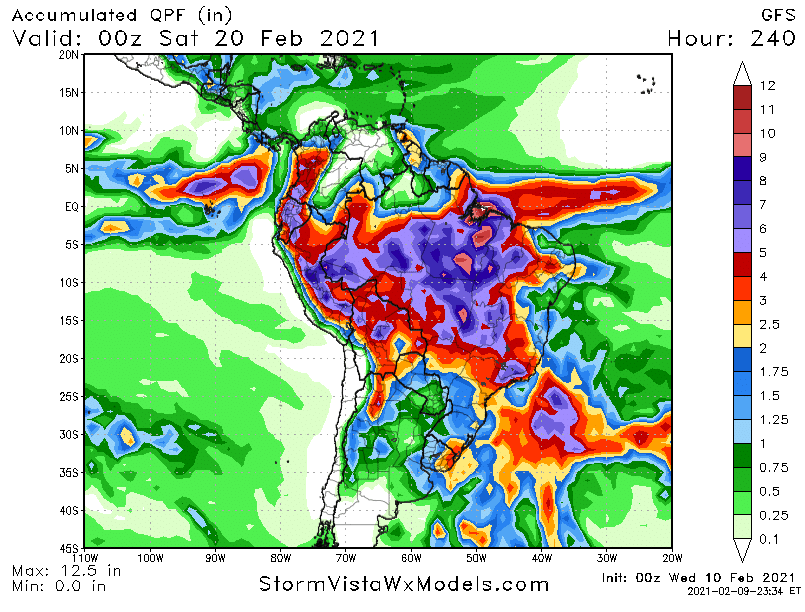 Broad Area of Soil Moisture Fall Across Argentina/S Brazil: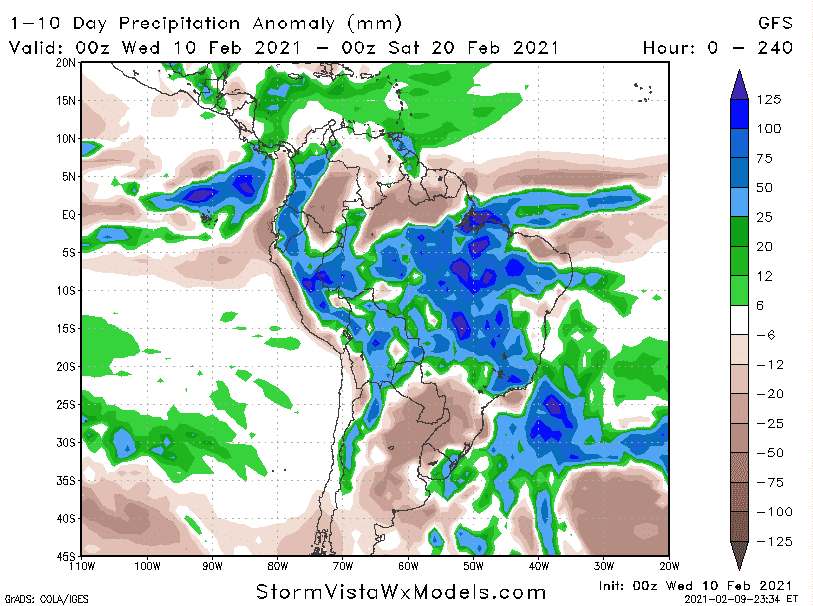 No Extreme Heat for South American Crops into Late February: