Morning Commentary 1/28/2021
Corn Presses Recent High on Weekly US Export Sales Report - China Demand Hope: S Brazilian Wetness Worrisome
AgResource Farm Marketing Advice for Thursday: 1/ No new advice.
6:30 AM CBOT Prices: Mar soybeans are up 10.00 cents to $13.8525, Mar corn is up 7.00 cents at $5.41 while Mar Chi wheat is down 2.50 cents at $6.5525.
AgResource AM CBOT Comment & Analysis: Good Morning! CBOT futures are mixed with the weakness in US macro financial markets providing a bearish headwind for CBOT grain bulls. US stock values dropped sharply on Wednesday amid disappointing earnings for several high-flying tech companies while the US Central Bank indicated low interest rates and ongoing massive US liquidity injections via US bond purchases for months to come. The US dollar is slightly weaker amid the growing scale of US Central Bank liquidity.
For those doubting the power of social media, GAMESTOP is up another $117 this morning as the game reseller targets $500/share, a better than 10X increase in the past month. The stock is rising on short covering social media engineering against hedge funds. If social media ever starts fearing a US or world shortage of a foodstuff or touts a US ag commodity, the result will be herd buying and a breathtaking rally. There is a market message in GAMESTOP.
CBOT open interest was mixed in Wednesday's CBOT trade with corn rising 4,331 contracts, while soybeans fell 7,663 contracts and Chi wheat 526 contracts.
USDA will release their weekly export sales report this AM. The weekly report becomes more market important amid the record large US corn/soy sales pace. It's the chore of the CBOT corn/soybean futures market to slow demand through price rationing. US corn/soybean export sales cannot continue their blistering pace or the US will simply run out of stocks. The US weekly export sales report is a "measuring stick" of whether price is doing that work.
Algeria's state buying OAIC purchased 630-660,000 MTs of mostly EU wheat overnight at CIF prices that range from $312-314/MT. Some Argentine wheat could be included, but its expected that France will win the demand. EU wheat sales are maintaining an active pace which is likely to worsen their coming feedgrain shortage amid the limited supply of high-priced Ukrainian corn.
In world ag markets, Paris March wheat futures are down €2.25 at €228.75/MT while March Malaysian palmoil futures were closed for a national holiday. China's May Dalian corn futures fell $.12/Bu to $10.81/Bu while May Dalian meal closed steady at $539.90/MT. The drop in China's corn price was related to larger imports with some suggesting that China's 2 MMTs US corn purchase is just the start of a 5-6 MMTs new corn import program.
Additional heavy rain fell across the already saturated areas of S Brazil with overnight totals of 1-3.00". Ongoing exceptionally wet weather is forecast for Parana, Santa Caterina, and RGDS with 10-day rainfall forecast at 4-9.00". And a trend of below normal rainfall persists across Mato Grosso, Goias, Minas Gerias and Sao Paulo where just 20-80% of normal rain will drop. Harvest delays and crop quality downgrades are becoming a reality in Parana.
A growing list of US soy crushers are no longer offering soy products beyond May amid tightening soybean supplies. The CBOT must more actively ration US demand (higher prices) to preserve declining end stocks of US soybeans/corn. The threat of continued wet weather across S Brazil along with a February 1st truckers strike is real which could push additional (unwanted demand) to the US for February/March. Its appearing that the US crushing industry is going to take the supply hit with reduced soy product production. ARC looks for additional Chinese demand and new highs in corn/soybean futures.
South American Weather Pattern Discussion: The primary weather models agree which raises our confidence in the 10-day forecast. Another round of heavy rain has fallen across the already saturated areas of S Brazil with totals ranging from .75-2.00" across RGDS, Santa Caterina, Parana and Mato Grosso do Sul. There were scattered showers across Northern Brazil with E Mato Grosso seeing rains of .1-1.00" with the coverage of rain greater than .50" being just 15% of the area.
An above normal rainfall pattern will persist across Parana/RGDS and Santa Caterina into February 7th with the extended 11-15 day forecast holding onto that same wet profile. The regular heavy rain is causing fungal crop diseases and low level flooding. Our concern for crops is rising with each wet day.
Northern and Eastern Brazil holds in a near to below normal rainfall trend which is taking the top edge off yield potential. Brazil crop potential is in decline.
Argentina will see near to above normal rain over the northern half of the country with a drier trend across the south. Below normal temperatures prevail. The 10-day rainfall forecast map is from the GFS model showing the wet S Brazil weather profile.
Cool Temps is Slowing Crop Maturation and Adding to the Disease Risk in S Brazil: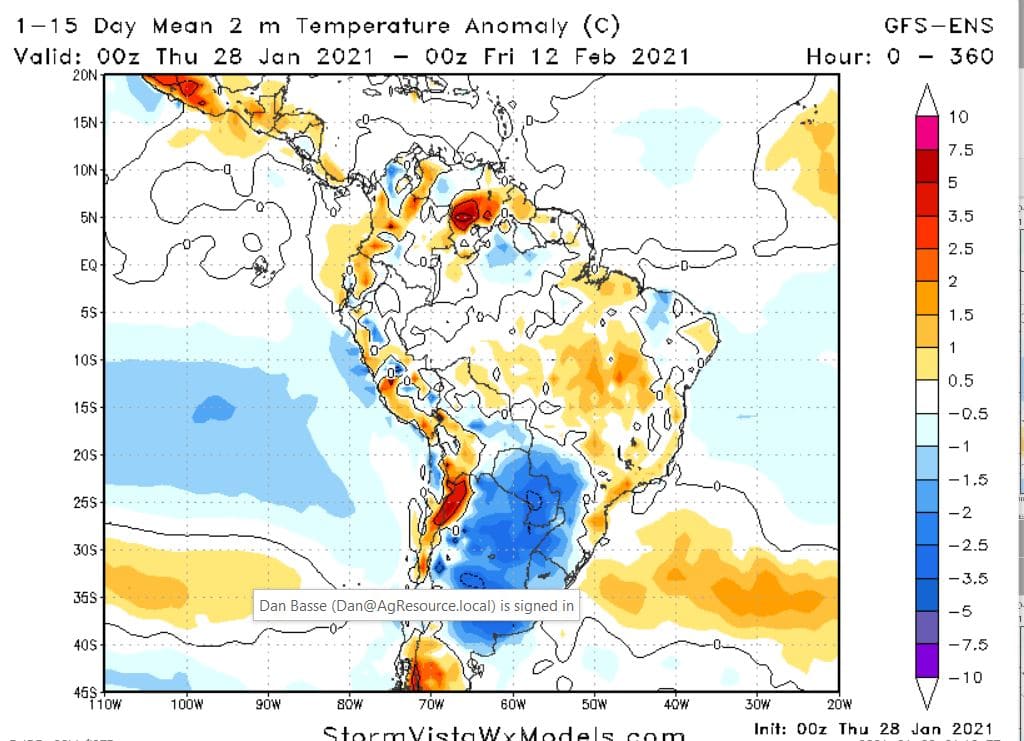 Additional Excessive Rain for S Brazil and Paraguay Thru February 7th:
200-300% of Normal Rainfall for S Brazil in the next 2 weeks:
Crazy Cold GFS for February 7-12th: Risks to Winter Wheat and Livestock: