Morning Commentary 1/25
CBOT Back and Forth Trade Trying to Form Bottom: Turkey Takes Less Wheat; 5 Month Grain Bull Unlikely Over
AgResource Farm Marketing Advice for Monday:1/ Corn Producers: Exit 15% (half) of existing 2021 corn hedges relative to December futures at $4.29. Hold Short May $4.00 puts sold at $.13. This would reduce 2021 corn sales to an estimated 15% of the 2021 corn crop. Filled!
2/ Livestock Feeders: Cover 50% of Sept-December soymeal needs if December soymeal futures fall to $360.00. ARC advises livestock producers to have half of the protein needs covered in '21. Filled!
6:30 AM CBOT Prices: Mar soybeans are up 2.00 cents to $13.1375, Mar corn is down 2.25 cents at $5.15 while Mar Chi wheat is up 3.00 cents at $6.3725.
AgResource AM CBOT Comment & Analysis: Good Morning! CBOT futures are mixed in active volume. Grain futures have traded both sides of unchanged following Friday's sharp price fall amid bearish chart considerations. Corn has been the downside price leader as March futures slipped below $5.00 and is back testing the low prior to the January USDA crop report. March soybeans traded to a low of $12.98 before recovering. More than 79,000 contracts of March corn and more than 43,000 contracts of March soybeans have changed hands as of this wire. Heightened market volatility is the CBOT theme going forward.
World and US stock markets rose on the prospect of additional Gov't stimulus packages and that the US Central Bank will stay extremely accommodative. The US dollar is holding broadly steady while US WTI crude oil futures are up $.40/barrel at $52.57. It's a big week for US corporate earnings and the proposed Biden $1.9 Trillion Covid aid package. US Treasury Chief nomination Janet Yellen is expected to be approved today by the US Senate.
Turkey's TMO confirmed on the weekend that it only purchased 95,000 MTs of wheat its latest tender due to high prices. This helped confirm that Russian exporters are not willing to dump cash wheat prior to the installation of a €25 duty on February 15th and its doubling to €50/MT on March 1st. The Russian Gov't is deciding to measure wheat export quotas via contract holders instead of shipper's data. The change is causing confusion with domestic cash wheat values staying stubbornly high at near record levels.
In world ag markets, Paris March wheat futures is steady at €223.2/MT while March Malaysian palmoil futures fell 24 ringgits to close at 3,396 RM/MT on slowing January export trade data. China's May Dalian corn futures lost 15.00 cents to $10.98/Bu while May Dalian soymeal fell $11.15/MT to at $532.45/MT. China sold over 4 MMTs of stored wheat from their reserve today.
South American weather forecasts call for a continued trend of below normal rainfall for N and EC Brazil and the southern half of Argentina. It has now been weeks for a below normal rainfall trend to hold across N and EC Brazil which is likely trimming crop yield potential. The rains start later today across Argentina with another chance of rain late week. The southern half of Argentina holds in a drier than normal weather pattern into February 5th.
Big bull markets like this do not end in just 5 months! Fundamentals and money make up markets, when the money leaves, prices correct like Friday. It will take a few days of chart based healing, but the fundamental outlook for CBOT and world grain and oilseeds is bullish. Demand rationing is not occuring at $13.00 March soybeans nor below $5.00 in March corn. World wheat cash markets have not fully followed Chicago lower. Once the money stops leaving the marching demand led bull market should return.
South American Weather Pattern Discussion: The primary weather models are in good agreement which raises our confidence in the 10-day forecast.
A below normal rainfall pattern will persist across Northern and East Central Brazil for another 2 weeks. This arid pattern has been in place here since late December with soil moisture levels in decline. And above normal rain will fall across Parana/RGDS and Santa Caterina. The regular heavy rainfall is causing fungal diseases soy and corn crops according to producers.
Argentina will see near to above normal rainfall over the northern half of the country with a drier trend across the south. Following a hot/dry weekend with high temps in the 90's to lower 100's, a cold front will pull through the region with showers of .25-1.25" with another like system late week. Improved weather looks to persist into the 11-15 day period.
The 10-day rain forecast map is from the GFS model. Note the unusual dryness that stretches across much of N and E Brazil and then thru the southern half of Argentina. Excessive regular rain will fall from Paraguay into Parana with low level flooding forecast in the coming weeks. Soil moisture levels here are saturated with soybean rust difficult to combat.
Erratic Weather Pattern Across Brazil; Too Much rain in South and Not Enough in the North: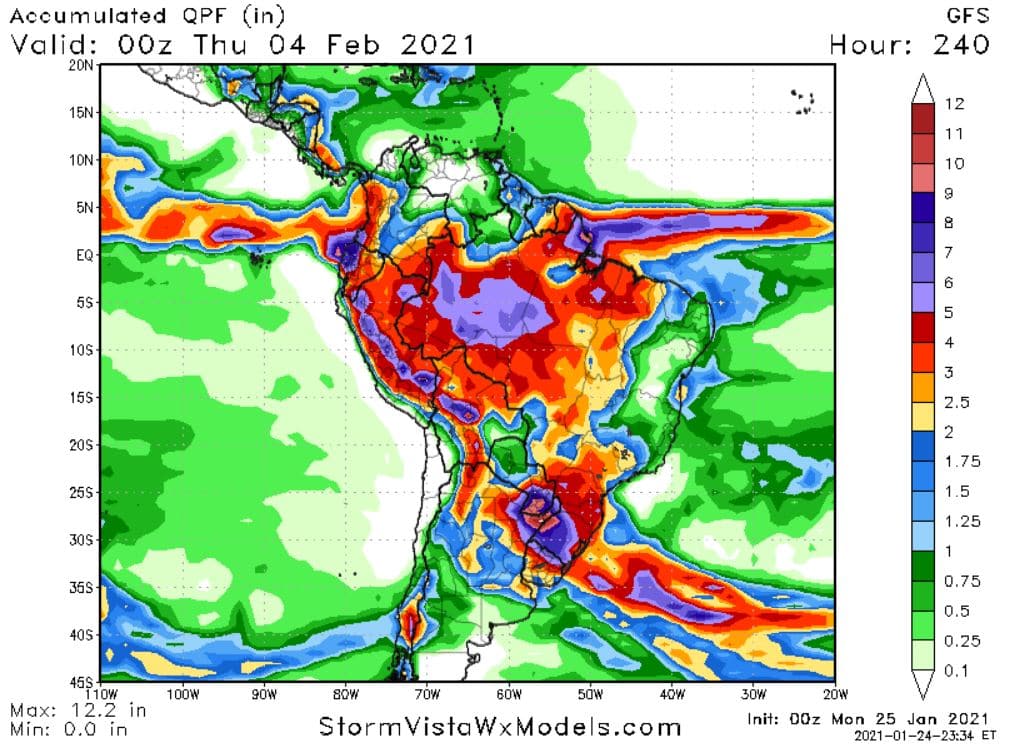 Soil Moisture Decline Across much of Northern and EC Brazil: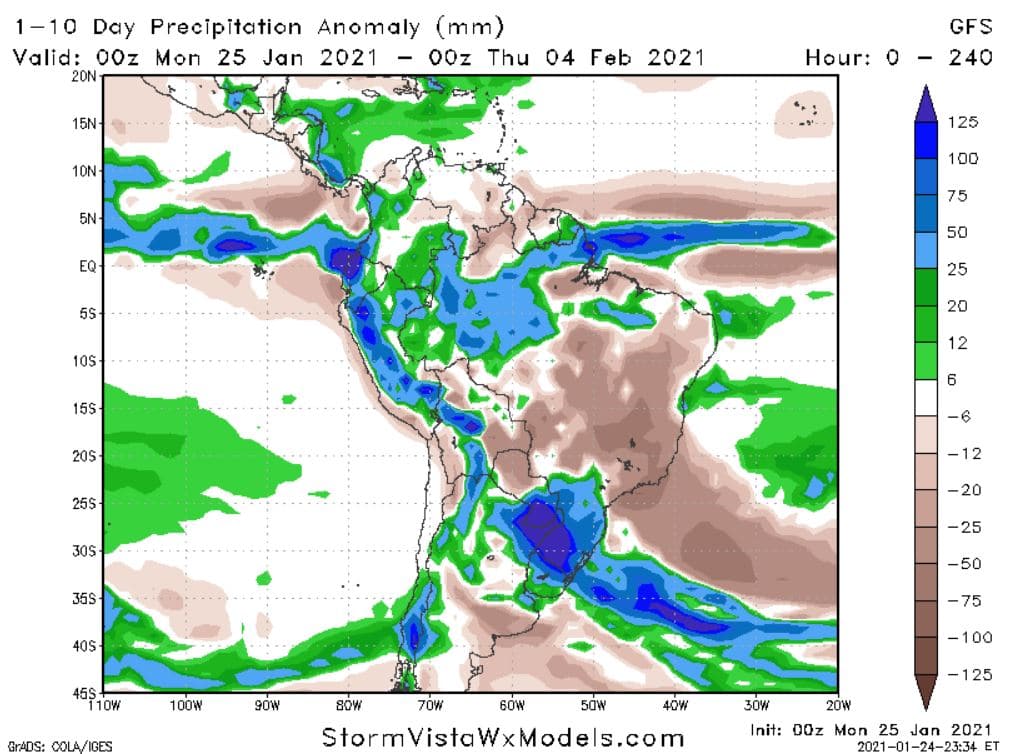 Drying Soils Across Brazil Fan Above Normal Temperature Trend