Morning Commentary 1/21
CBOT Recovers After 3 Day 6% Slide; USDA Weekly Export Sales Report Due Friday; China Buying US April/May Corn?
AgResource Farm Marketing Advice for Thursday: 1/ No new advice.
6:30 AM CBOT Prices: March soybeans are up 9.50 cents to $13.79, March corn is up 6.75 cents at $5.2875 while March Chi wheat is up 3.00 cents at $6.7075.
AgResource AM CBOT Comment & Analysis: Good Morning! CBOT futures are higher this morning with corn/soybeans pacing the rally. Following 3 days of corrective CBOT pricing, the market is bouncing on newfound importer demand and domestic end user pricing. The liquidation of speculative excesses has ended – at least for now. The 5-6% CBOT correction of recent days fell within normality of demand led bull markets, and ARC Research doubts that seasonal or annual highs have been forged in either corn, soybeans or wheat.
CBOT open interest increased 13,025 contracts in corn, 792 contracts in soybeans, and 3,475 contracts in wheat. The open interest gain argues that end users used the break in prices to add to their forward coverage. In a speculative liquidation break, CBOT open interest was expected to decline.
In the first full day of the US Biden Presidency, the US dollar declined, US and Global equity indexes are new historic highs while crude oil futures dipped awaiting weekly EIA demand and stocks data. Most financial analysts argue that the reflation trade that started in September, has additional room to run which could gain speed as vaccines are rolled out at faster clip in the US, Asia and most of the EU.
World grain traders are watching to see if China rewards the Biden Presidency with fresh purchases of US ag goods. There were rumors Wednesday that China is looking to add to US corn purchases and secure US soybeans for February to bridge the new crop supply lag in Brazil due to its latent harvest.
Argentine truckers are using roadblocks to stop grain from arriving at key export ports due to low rates/wages. There was over an 80% decline in arrivals in recent days which looks to cripple export loadings and soybean crushing. Brazilian truckers are monitoring the efforts of their Argentine brethren with they own truck strike planned to commence on February 1st.
In world ag markets, Paris March wheat futures is unchanged at €234/MT while March Malaysian palmoil futures rallied 83 ringgits to settle at 3,395 RM/MT. New flooding in Malaysia and Indonesia threaten future palmoil production. And China's May Dalian corn gained 3.00 cents to $11.24/Bu while May Dalian soymeal fell $2.00/MT to at $549/MT. China crush margins are deep in the black
South American weather forecasts are arid for N and EC Brazil and the southern half of Argentina. The extended 11-15 day forecast has also gone dry for Argentina which means that next week's rain has grown in yield importance. ARC Research maintains that the historic dry start combined with erratic rains (flooding Parana while Goias and Mato Grosso rainfall down 20-50%) will trim the Brazilian soy crop to 128 MMTs – down 5 MMTs from the Jan WASDE forecast.
The FAS/USDA Weekly Export Sales report will be released Friday due to Monday's MLK Holiday.
Demand rationing occurs at unprofitable/high prices. The recent CBOT break helped end users extend their forward coverage - ARC's outlook stays bullish. There is no evidence of demand rationing and ARC is pessimistic that Brazil will be able to fulfill world soybean demand until the last half of February. China demand for US ag goods and South American weather and crop sizes are the 2 key price drivers in coming weeks.
South American Weather Pattern Discussion: The primary weather models are in better agreement today which raises our confidence in the 10-day forecast.
A high pressure Ridge off just off the coast of E Argentina and a weak upper air flow across N Brazil produces a mixed South American weather pattern over the next 10 days. Above normal rain will fall across Parana and S Mato Grosso do Sul with totals of 4-7.00", but Northern and East Central Brazil will hold in a below to well below normal rainfall pattern. This is normally one of the wettest periods of the year across N and C Brazil, but a large swath of this area will endure arid weather into February. This dryness is occurring as the soybean crop is in the critical podding stage.
The major crop areas of Argentina are forecast to see below normal rainfall with high temps in the 90's from Friday into the first half of next week. The best rain looks to drop during the last half of next week with totals of .25-1.00". The extended range 10-15 day Argentine weather forecast is drier overnight making the rain mid next week critical for crop yields & production.
The 10-day rain forecast map is from the EU model. Note the unusual dryness that stretches across much of N and E Brazil and then thru the southern half of Argentina.
Drier Forecast for Argentina in the next 2 Weeks; Makes Next Week's Rain Important:
Northern Brazilian Dryness Occurring at the Wrong Time- Soybean Podding: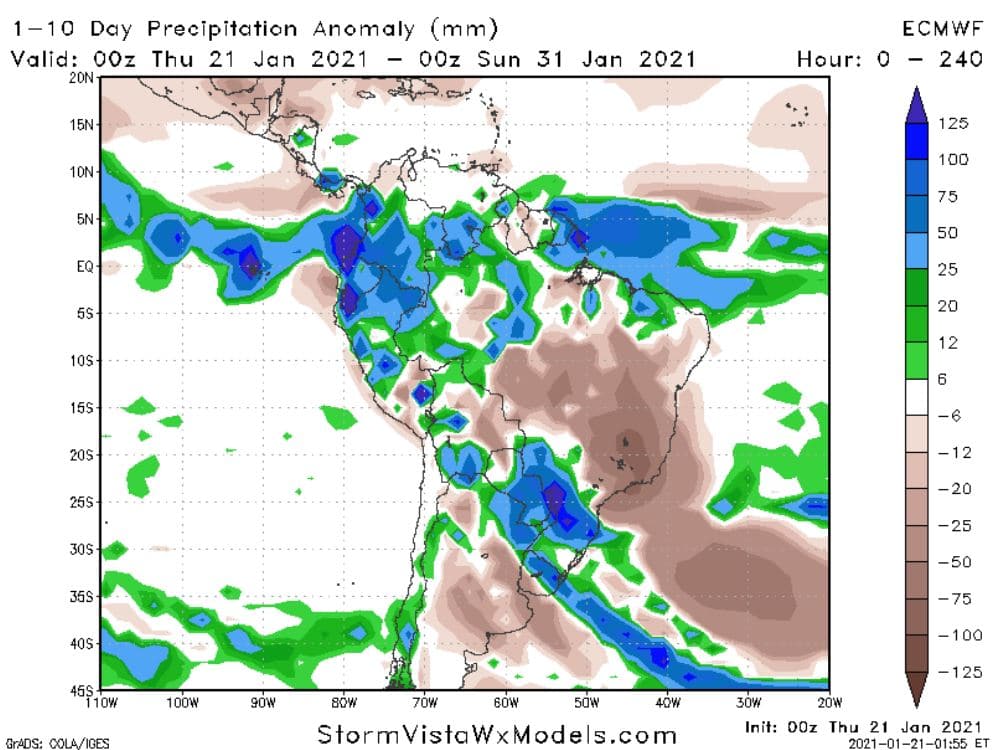 Extreme Heat Next 5 Days Across Argentina; Seasonal Readings Return Next Week: