Morning Commentary 1/20/21
Deepening CBOT Correction on Chart Based Selling; Price Drop to Fuel Improved Demand - Which is not Needed!
AgResource Farm Marketing Advice for Wednesday: 1/ No new advice.
6:30 AM CBOT Prices: March soybeans are down 26.75 cents to $13.59, March corn is down 10.0 cents at $5.16 while March Chi wheat is down 11 cents at $6.6125
AgResource AM CBOT Comment & Analysis: Good Morning! CBOT values fell in a sharper corrective loss overnight with March soybeans pressing key chart-based support at $13.50 while March corn fell to $5.15. The rout against the bulls has extended to 3 days with momentum selling from the faster moving trading fund managers. Soybean futures have declined $.85/Bu from their post USDA report high while corn/wheat futures are down $.30/Bu. The 5-6% correction in price is historically normal and does not indicate a price pattern change in AgResource's Research of the 5-month demand led bull market.
Chart-based healing is anticipated in the days ahead, but ARC Research doubts that either corn, soybeans or wheat have scored their seasonal or annual highs. Remember that WASDE is forecasting US soybean stock/use ratio at a record 3% low in January, and the recent break in CBOT prices encourages the continuance of record large demand – it does not ration or dissuade use.
Overnight CBOT trading volume remained active with more than 48,000 contracts of March corn and more than 67,000 contracts of March soybeans changing hands. Tuesday's CBOT open interest data showed an 8,474 fall in corn and a 6,737 drop in soybeans, while wheat open interest gained 6,540 contracts.
US President elect Biden will be sworn in at 12 Noon ET today with departing President Trump's EPA granting 3 biofuel waivers in a last-minute political move. ARC expects that the Biden Admin will challenge the biofuel waivers. And Biden will be signing a slew of executive orders today with one directing the EPA to consider raising US fuel standards and rejoining the Paris Climate Accord. President Biden's EPA head Regan is expected to adhere to the US Energy & Security Act of 2007 - favorable to the US Biofuel Industry. Regan wants the EPA to partner with American farmers on biofuels and the environment
Key Truck Unions in both Argentina and Brazil are planning protests regarding high fees and low wages which could cause new struggles in moving crops to market. The Brazilian Trucking Union is calling for February 1st protest. The last time this union went in strike it dramatically slowed Brazilian soy transport to ports for 2 weeks. Sporadic truck strikes are occurring in Argy.
In world ag markets, Paris March wheat futures are down €2.25/MT to €233.50 following Chicago. Malaysian March palmoil futures fell 44 ringgits at 3,312 RM/MT as export sales have declined more than 40% in the first 3 weeks of '21. China's Dalian May corn lost 11.00 cents to $11.21/Bu while May Dalian soymeal fell $16.40/MT to at $551/MT.
Daily Continuation Malaysian Palmoil Chart; Key Support Looms: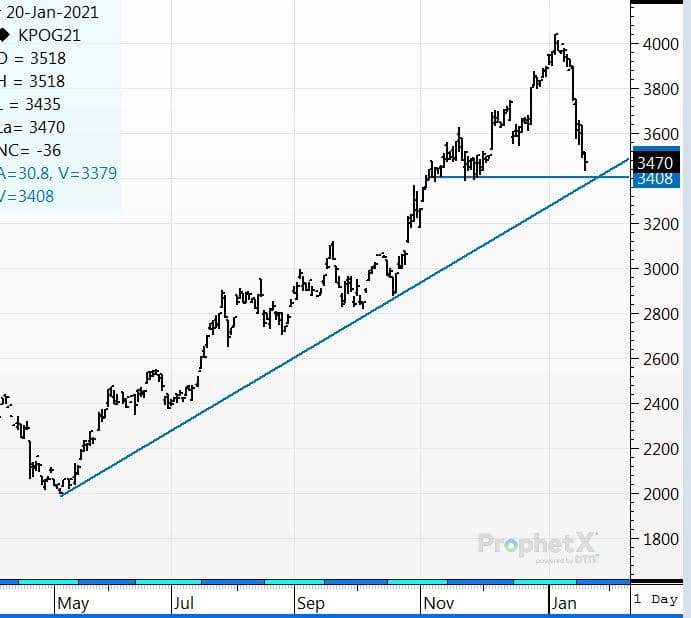 South American weather forecasts are arid for N and EC Brazil and the southern half of Argentina. Above normal rains will drop across Parana and SE Mato Grosso do Sul. An abnormal weather pattern is forecast to persist into February. ARC Research sees the 2021 Brazilian soybean harvest at 128 MMTs.
The CBOT correction was needed on a technical basis. But there is no fundamental evidence that argues for an end of the 5-month-old grain bull.
South American Weather Pattern Discussion: The primary weather models are in better agreement which raises our confidence in the 10-day forecast. A high pressure Ridge off just off the coast of E Argentina and a weak upper air flow across N Brazil produces a mixed South American weather pattern.
A below normal rainfall forecast holds across N, NE and EC Brazilian crop areas for at least 10 days. This is normally one of the wettest periods of the year across N and C Brazil, but a large swath of NC and NE Brazilian crops will see limited rain into early February. This dryness is occurring as the soybean crop is podding. Near to above normal rain falls from RGDS into Parana and the southern half of Mato Grosso do Sul which will keep crops here well-watered.
The major crop areas of Argentina are forecast to see below normal rainfall with high temps in the 90's from Friday into the first half of next week. The best rain looks to drop during the last half of next week with totals of .3-1.25".
The 10-day rain forecast map is from the GFS model. Note the unusual dryness that stretches across much of N and E Brazil and then thru the southern half of Argentine crop areas. No extreme heat is noted, but Argy highs in the 90's will be stressful.
Areas of rain and Areas of Building Dryness; Abnormal Weather Pattern Persists: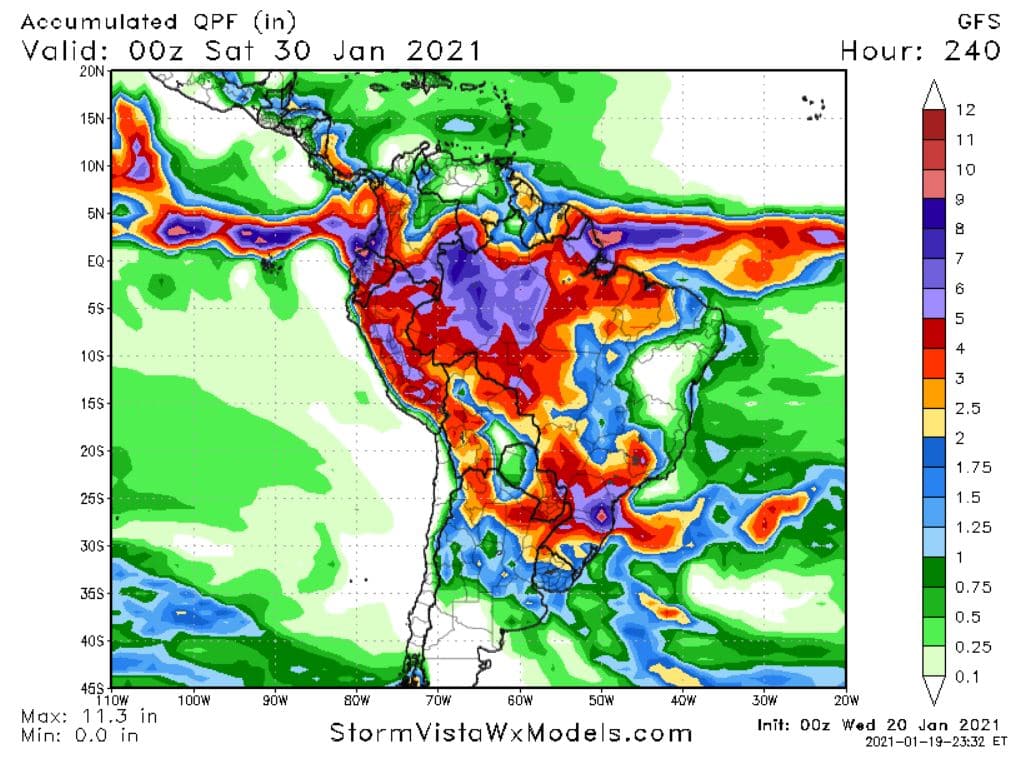 Soil Moisture Draws for N and EC Brazil and the southern half of Argentina:
No Lasting Extreme heat for Argentina or N Brazil; 5-7 Days of 90's: