Morning Commentary 1/14/2021
CBOT Mixed, Little Changed; Argentine Crop Risks Stays Elevated; Russian Export Tax Details Awaited
AgResource Farm Marketing Advice for Thursday: 1/ No new advice.
6:30 AM CBOT Prices: March soybeans are up 5.25 cents to $14.115, March corn is down 0.25 cents at $5.2475 while March Chi wheat is down 3.0 cents at $6.575.
Good Morning! Ag markets are mixed this AM, with beans higher and grain markets steady to modestly weaker. The pace of the rally has slowed as the market awaits late Jan/early Feb South American weather and crop conditions, but breaks will be shallow and short in duration. ARC expects the market to more accurately digest falling Argentine crop potential, while Russia's looming wheat export levy will act to keep the cost of wheat trade execution at multi-year highs.
The Rosario Grain Exchange late Wednesday pegged the Argentine corn crop at 46 MMTs, vs. 47 previously and vs. the USDA's 47.5. Northern crop areas of Argentina will see stabilization of vegetation health, while key areas of Southern Cordoba, Buenos Aires and La Pampa face the return of net draws in soil moisture. Equally important is that the corn crop in Argentina is not yet fully planted, which suggests the bulk of Argentina's new crop corn surplus won't find its way to the world market until mid-summer. The Buenos Aires Exchange will update Argentine corn and soy conditions this afternoon.
Paris milling wheat futures are steady/higher as that market has taken a more pronounced leadership role amid the absence of Russian offers.
German fob wheat for Mar-Apr delivery has rallied to $287/MT. This reflects a 7-year high and using current Gulf basis is comparable to $6.35, basis March KC. A sizable move is expected in global wheat markets next weeks, as ARC's contacts indicate a decision on the details of Russia's wheat export tax should be revealed on Friday.
As of today, it appears Russia will tax wheat exports $30/MT beginning Feb 15, with a possible higher tax of $54/MT to be implemented on Mar 15. Any tax level, on paper, raises the cost of Black Sea wheat. Key is whether the Russian farmer shares the burden by selling at deflated interior prices? If the Russian farmer does not become a more active seller, then nearly the full value of the tax will fall upon the exporter. In this scenario the EU wheat market must rise further to slow future export demand and shift trade to North American Feb-Jun.
US export sales will rebound as the world's holiday season has ended. ARC estimates US soy sales at 20-30 Mil Bu, corn sales at 30-40 Mil and wheat sales at 15-25 Mil. Brazilian truckers plan to strike on Feb 1. Strikes in Brazil, based on mostly on the cost of fuel and minimum freight rates, are not unusual but this year will exist in addition to tight nearby stocks and delayed seeding/crop development.
WTI crude is steady at $52.75/barrel. The Dow is set to open 80 points higher. Malaysian palm oil futures ended 1.7 cents/Lb lower.
Spot CBOT corn has rallied $1.00/Bu in the last 30 days, with spot beans up $2.25. A pause is needed but there's still no evidence of needed demand rationing. Additional S American weather premium is expected by mid-Feb.
South American Weather Pattern Discussion: The South American forecast into the very end of January is consistent with prior runs. A more pattern rainfall is scheduled to evolve in Central and Northern Brazil moving forward while an arid trend resumes in Argentina and far Southern Brazil. The GFS model's 10-day precip forecast is attached.
Cumulative precip of 2-5" is forecast across a vast majority of Brazil's soy belt, which if realized will begin to ease short-term dryness. However, sizable long-term moisture deficits will remain intact across Mato Grosso and northeastern growing areas.
Moderate showers will impact Argentina over the next 72 hours but needed soaking rain will favor fringe producing areas in the far north. Complete dryness is offered to Argentina and RGDS in S Brail Jan 17-25. Argentine temps begin to rise into the 90s in late Jan as soil moisture levels retreat.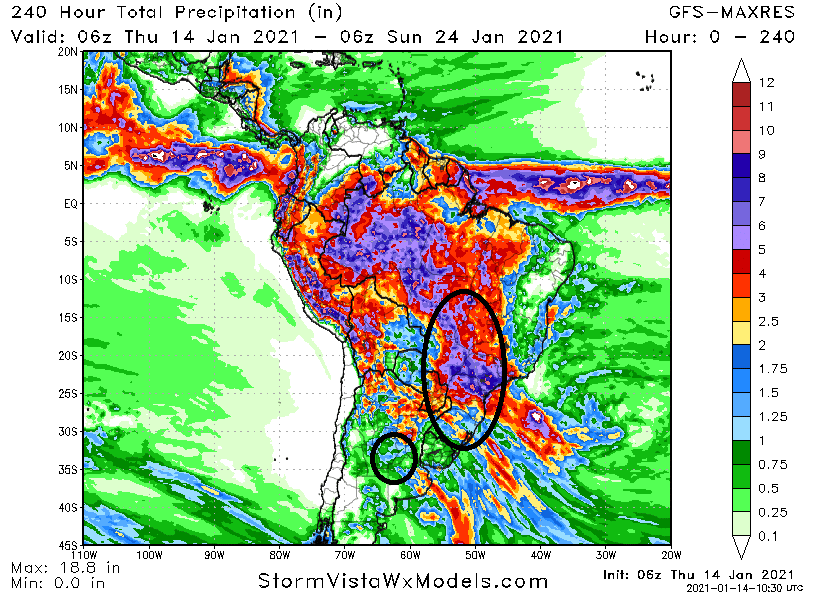 AgResource Daily Cattle Analysis: Cattle futures closed lightly mixed, but little changed on Wednesday and a steady outlook is offered for early trade today. Feb cattle were under pressure early Wednesday but found support near the early month lows and recovered losses late in the day. The back end of the cattle curve again pushed to new contract highs, which along with a weaker technical close in corn, lifted March feeders off an 8-week low.
Boxed beef prices moved extended gains through midweek. The choice value gained $1.86 on Wednesday to $211, and the select value gained $.97 to $199.
On Wednesday, cash trade was quoted at $110 in TX and $1-3 lower in KS at $109-111. Light dressed trade was reported in NE at $172.
At Wednesday's low, March feeders were $11 under the high traded 3 weeks ago. The market is very oversold, but the rising cost of gain will continue to pressure feeder values without a strong rally in deferred fed cattle values. The chart shows that Midwest average DDG's are now the highest since 2014 at $214/ton, with the price at 124% of corn on a per pound basis.
Technical targets hold at $120-121 April futures. Our view has shifted to neutral on rallies above $120.00 April cattle.