Morning Commentary 1/29/2021
Rumors Swirl on China Corn Demand; Dalian Corn Falls Sharply on Massive Import Talk; Palmoil Futures Soar
AgResource Farm Marketing Advice for Friday: 1/ No new advice.
6:30 AM CBOT Prices: Mar soybeans are up 11.75 cents to $13.65, Mar corn is up 8.00 cents at $5.425 while Mar Chi wheat is up 6.00 cents at $6.5325.
AgResource AM CBOT Comment & Analysis: Good Morning! CBOT futures are higher after a mixed overnight opening. The "sell the fact" selling that has occurred after the past 2 days of China corn purchase announcements has been brushed aside as rumors of additional China corn demand swirl. If fresh China corn demand is confirmed, ARC doubts that CBOT futures will decline. The sales purchase pace is bullish and impressive as world primary exporter corn stock/ use ratio falls near or to a fresh record low.
Cash connected sources indicate that China is securing a 6-8 MMTs package of US corn with 4 MMTs already announced. The means that the USDA could still announce another 2-4 MMTs of new purchases (in a week of already record large US export corn sales). Whether these new sales are announced today or in coming days is unknown, but China looks to be willing to book as much as 20-22 MMTs of US corn with an estimated 14 MMTs already on the books (12 MMTs known and an estimated 2 MMTs unknown).
The new Chinese corn demand argues that USDA's US 2020/21 corn export estimate is woefully too low by some 250-300 Mil Bu and that world corn trade is too low by 10.5-12.5 MMTs. Upward adjustments are awaited in the Feb WASDE.
The week is already statistically memorable, but clients need to understand that the week will resonate well into mid 2021. The US now needs to seed any additional 3-4 Mil acres of corn along with 7-8 Mil acres of soybeans to make sure that 2021/22 supplies allow minimum end stocks.
Moreover, history shows that the US farmgate price of soybeans is related to the price of US corn. As corn prices rise, the acute demand rationing need for soybeans follows. $6.00 corn models out to $15.50-16.00 soybeans. And wheat cannot find itself priced cheaply as a feedgrain either. The point is that China is on a mission to import 28-30 MMTs of world corn (5 MMTs Ukraine/3 MMTs Brazil, 20-22 MMTs US) which is bullish across the CBOT.
In world ag markets, Paris March wheat futures are down €1.25 at €228.50/MT while March Malaysian palmoil futures rallied a sharp 127 ringgits to 3,679 RM/MT. China's May Dalian corn futures fell $.10/Bu to $10.71/Bu while May Dalian meal closed down $3.40/MT at $536.50/MT. This week's decline in Dalian corn is the largest in years and begets the huge corn imports that will arrive
Rumors continue to swirl in Argentina that higher export taxes are being widely discussed in the Gov't with proposals for a 7% rise in their soybean export tax rate from 33% to 40%, while soy product taxes rise 2% to 31%, and wheat/corn taxes rise 8% to 20%. The rumored taxes have not boosted farm sales
Southern Brazil stays wet for another 10-14 days which is delaying harvest and causing quality issues with soybeans. GRACE soil moisture maps show that dryness has quickly grown across N Brazil after weeks of below normal rainfall.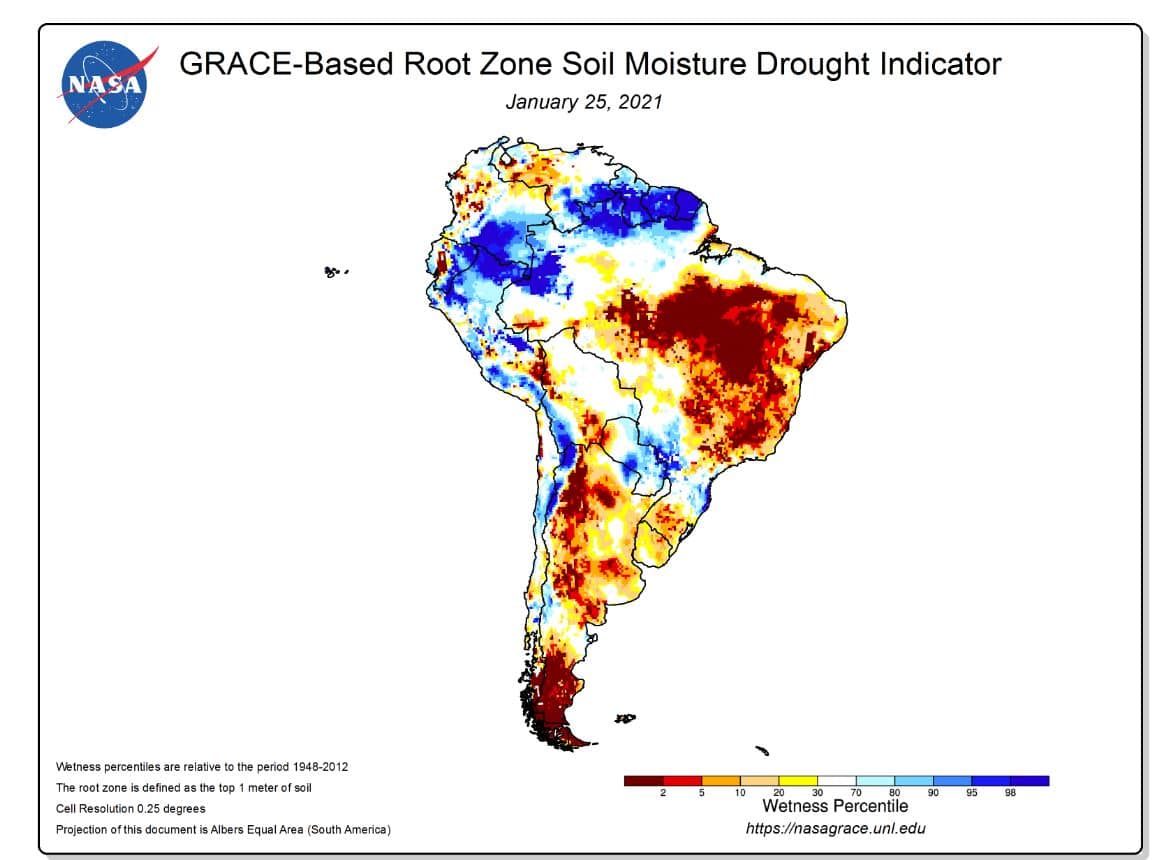 This bull market that has not yet attained any measure of demand rationing. It's the last trading of January and monthly charts look bullish for February.
South American Weather Pattern Discussion: The primary weather models agree which raises our confidence in the 10-day forecast.
Another round of rain has fell across saturated S Brazil with totals ranging from .50-2.50" across RGDS, Santa Caterina, Parana and Mato Grosso do Sul. Scattered showers also dotted Northern Brazil with the best totals falling across N Mato Grosso with amounts of .25-1.00". The remainder of Brazil was dry
An above normal rainfall pattern will persist across Parana/RGDS and Santa Caterina into February 8th with the extended 11-15 day forecast holding onto that same wet profile. The regular heavy rain is causing fungal crop diseases and low level flooding. Our concern for crops rises with each wet day.
Northern and Eastern Brazil holds in a near to below normal rainfall trend which is taking the top edge off yields.
Argentina will see near to below normal rain with the forecasts having difficulty pegging the exact locations and amounts. The GFS model is drier for key crop areas with 1.50" plus rain from S Cordoba into Buenos Aires. High temps hold in the 70's to 80's – below normal.
The attached 10-day rainfall forecast map is from the GFS model.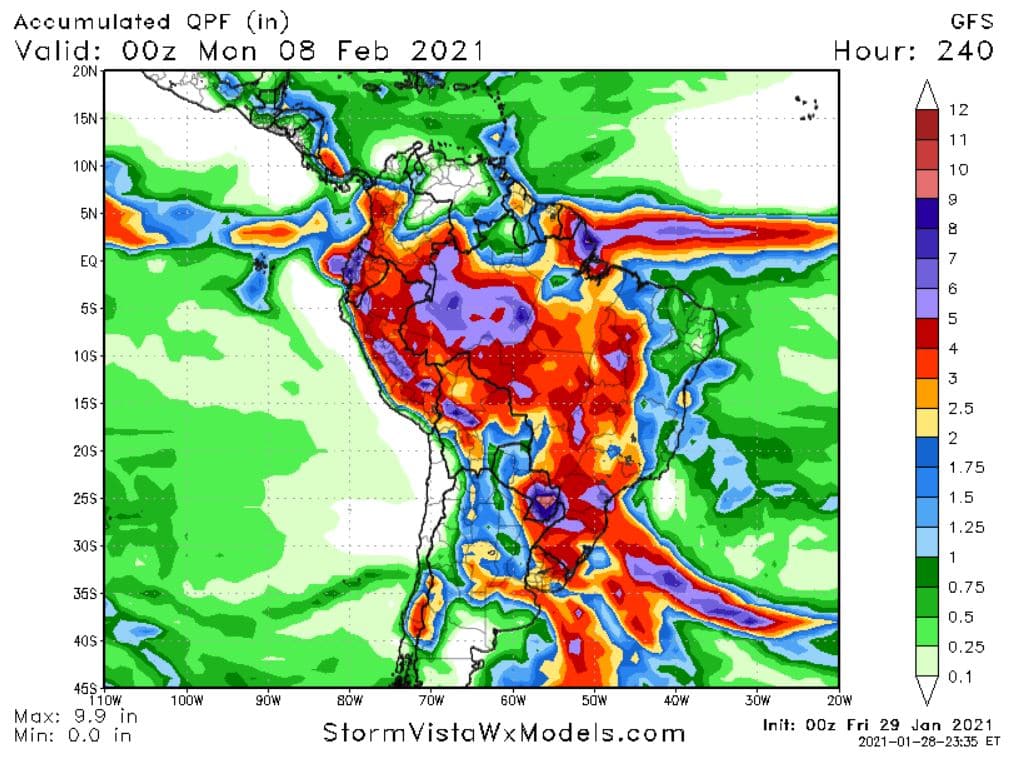 200-300% of Normal Rainfall for S Brazil Produces Low Level Flooding:
Cool Temps Prevail Across S Brazil and Argentina: